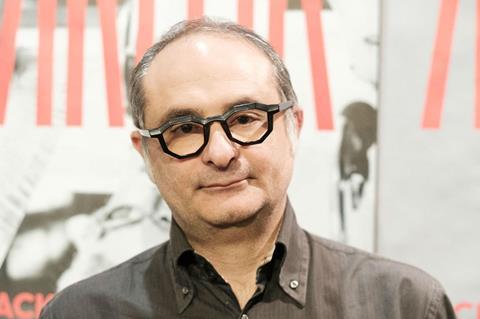 Giona Nazzaro has helped to revitalise Film Critics' Week, the Venice sidebar managed by the national association of Italian film critics, in his four years at the helm.
Of the total 21 films he has now programmed, 11 have been directed by women, achieving gender parity well before the creation of the 5050x2020 agreement And in his championing of debut films from international filmmakers including Deborah Haywood (Pin Cushion), Bertrand Mandico (The Wild Boys), Rahi Anil Barve (Tumbbad) and Abdelhamid Bouchnak (Dachra), he is also helping to refer back to an early tradition of Film Critics' Week in which the debut features of filmmakers such as Harmony Korine, Olivier Assayas and Bryan Singer were screened.
Nazzaro talks to Screen about being part of a dynamic new generation of Italian programmers now heading up some of the world's biggest festivals.
How can a small section secure high-level debut films in such a crowded festival season?
With the exception of the big American movies, major festivals tend to be a series of medium-quality, festival-like films. Too often you come out from them with very few titles to remember. I never wanted to screen 'festival films'. My aim is that everything can happen to you when you come to see a film at the Film Critics' Week, everything except that you will be bored.
Does this attitude help to achieve a gender balance?
Major festivals tend to go fishing in the same pond. It is very difficult for them to screen small movies not backed by big sales agents or big international distributors in competition. On the other hand, developing countries are the ones in which women are directing the most. North Africa or the Middle East are building their audiovisual industries right now and it's easier for women to catch opportunities there than in more monolithic industries such as the American, the Japanese or the Indian ones.
In my first year at the Film Critics' Week I was in London looking for a great opening film but everything I was exposed to were post-realist flicks. I asked for genre films and received this small movie labelled as "not for Venice". It was Prevenge, an all-female very gruesome film shot in 11 days, directed by Sightseers' screenwriter Alice Lowe who also stars in the film as a pregnant serial killer. And she really was pregnant! It was very far from the image we have of a woman-driven film. Even before it was finished I wanted it.
What drives you and your team through the selection process?
My ambition is to programme each edition so that a future student who looks at what was happening in my sidebar in these years should be able to see how we are aware of what is happening in the world.
Selecting Bombay Rose by Gitanjali Rao, a cartoon by a self-taught Indian animator that tackles gender stereotypes in Bollywood is a political statement. Premiering a film such as Scales by Saudi Arabian director Shahad Ameen, that tells a coming-of-age story about a non-Caucasian mermaid, is a political statement. A thriller-melodrama like Marie Grathø's Psykosia, directed by a woman with an all-woman cast is in itself a political statement. And so is closing with a movie like Joshua Gil's Sanctorum, some kind of metaphysical Narcos episode.
You, Paolo Moretti at Cannes' Directors' Fortnight and Carlo Chatrian at the Berlinale have all worked together previously. Do you think you share an approach to the job?
I think everything changed when we realised festivals actually make editorial choices discovering talents. Pietro Marcello is now in competition in Venice but brought his first experimental work to a small festival in Alba created by Carlo Chatrian and Luciano Barisone. It makes me proud that Italians are bringing a new breeze into cinema. Not only Moretti and Chatrian but Giulio Casadei now director of Brieve, Barisone at Vision du Reel, Eva Sangiorgi the artistic director of the Viennale, Rebecca De Pas at the Czech documentary institute, Nico Marzano at London's ICA.