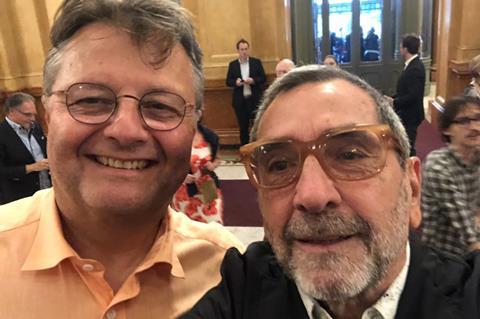 Like other audiovisual markets in 2020, Ventana Sur, the largest film, TV and digital event in Latin America that typically takes place in Buenos Aires, will look and operate differently when the largely online edition runs next week (Nov 30-Dec 4).
Yet co-heads Jerome Paillard and Bernardo Bergeret are encouraged by the number of accredited participants and have lined up a full slate of activities.
The hub of the 12th annual event, organised as ever by Cannes Marché du Film and Argentina's national film institute INCAA, will exist on a digital portal powered by Marché du Film and Cinando and will be accessible via the official website.
Crucially, Ventana Sur has received ongoing support from the European Union's Creative Europe MEDIA programme and INCAA, whose president Luis Puenzo participated in Ventana Sur as a filmmaker and according to Bergeret is keen to preserve support "despite Argentina's considerable economic problems".
At time of writing there were close to 2,100 accredited "attendees" compared to 2,559 in 2019. The organisers say they have tried to keep costs down for attendees. Registration (€40 early bird, rising to €60), booth costs (€110) and online screenings fees (€50 early bird, rising to €75) were a little less than in 2019, while theatrical screening fees (€200) remain at last year's levels.
"We are quite optimistic now to have maybe more attention from people who were usually not coming to Buenos Aires because they will be able to meet from home," notes Paillard, who has accredited more than 250 buyers and sellers.
Physical screenings in six cities
As the pandemic's devastating impact became clear early on this year, Paillard and Bergeret discussed how to stage Ventana Sur. "In September, we knew it would not be possible to have the physical part," says Paillard, who had his hands full pioneering the acclaimed virtual Cannes Marché that took place last summer.
Ventana Sur 2020 will feature online panels, pitching sessions, virtual one-on-one meetings, and a full complement of more than 100 Latin American and 50 European screenings.
Argentina only recently allowed international flights to resume; however, restrictions remain in daily life. While there will be no Cannes Week screening series curated and hosted by festival head Thierry Fremaux this year, Ventana Sur plans to stage physical screenings in six cities for approximately 70 films from the market's screenings selection.
Provided cinemas in each locale will be operational and safe, the "magical mystery tour", as Bergeret puts it, encompasses Mexico City, Sao Paolo, Bogota, Santiago, Paris and Madrid.
"Each of these cities we will have two or three screens depending on each city for three or four days, and we'll be able to screen 30 to 40 films in each city for distributors and sales agents," said Paillard. "We got a positive response because people are tired of watching films online. Our plan is to have the screenings during the day so we will not be impacted by curfews."
The tour will include works from returning programmes Primer Corte (six Latin American films in post), Copia Final (six recently finished and unreleased films), Blood Window (genre sidebar of works in post, market screening debuts, and projects in search of completion financing), and Animation! (16 projects in a showcase hosted with MIFA, Annecy's Animation Festival and Market).
Among the anticipated market highlights is Proyecta, the third annual showcase of feature projects in search of co-production partners hosted with San Sebastian, as well as several new initiatives.
Punto Genero is in association with the travelling film showcase Mujeres de Cine. Bergeret describes it as a forum for projects "by women and non-binary content creators, with round tables and conferences".
El Principio del Film will present winning screenplays from various contests in the region. Bergeret is encouraged by the proliferation of TV and streaming platforms, and adds: "The showrunner is a screenwriter in some way, so we are trying to increase the importance of the screenwriter in Latin America. The weakness in Latin America is usually the script."
There are two initiatives dedicated to producers: The Producers Network is adapted from Cannes and will host meetings for 150 regional producers, while Producers Bond facilitates introductions between Latin America and Europe through an informal speed-meeting format.
Conferences will cover a varied roster of topics ranging from inclusion, global funding opportunities, and the growth of digital platforms during the pandemic, to case studies on animated shows Masha And The Bear (Russia) and Rick And Morty (US).
Returning to the subject of online screenings, Paillard elaborates on how they will work.
"We did a technology transfer to the team on the Buenos Aires platform based on the code we developed in Cannes," he says.
"It will be very similar. We keep this idea of momentum of the screenings, so basically it will be on a schedule and the schedule will always be in local time. It will be easy for everyone to watch the themes during the day. Nobody will have to wake up during the night to watch.
2020 Ventana Sur online runs from November 30-December 4.