New collaborations, new funding and new ideas of storytelling are driving a 'tsunami' of fresh indigenous films.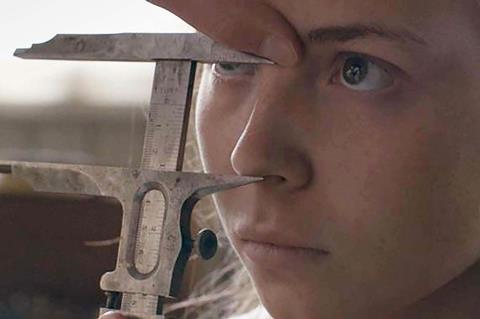 Anne Lajla Utsi, managing director of the International Sami Film Institute (ISFI), brought out a ceremonial chest, known as a giisá, during the recent Indigenous Film Conference in Kautokeino, Norway.
The chest is traditionally used to hold precious things such as silver and silk, but this one was full of papers — cementing the new Arctic Indigenous Film Fund with four other partners; the co-production agreement between ISFI and the Canada Media Fund; and a partnership with Telefilm Canada on a project to fund an indigenous microbudget feature.
That chest was the symbol of years of striving to strengthen ties between indigenous filmmakers and funders across the globe. The conference, held in early March, welcomed about 130 industry experts, ranging from local Sami filmmakers to funders, filmmakers and programmers from the US, Canada, Australia and New Zealand.
Utsi noted that the ISFI was now getting nearly as much support from Canada as from its national agency in Norway. "It shows the possibilities when we create a platform for collaboration," she said.
Valerie Creighton of the Canada Media Fund, who announced that ISFI is the 12th co-production partner for the organisation, pledged C$100,000 a year for four years "to bring our creators and producers together directly to build a much stronger relationship."
Utsi said: "If we set up strong allies and work together, we can reclaim our silence and invisible stories." She noted that the establishment of the fund came at "an important time, with the Arctic being the focus of much global attention due to the effects of climate change. This adds an urgency to the need of the voices of Arctic indigenous peoples to be heard."
As Huw Eirug of Canada's Nunavut Film Development Corp, a partner in the Arctic Indigenous Film Fund noted, "Co-production makes your dollars go further but it also offers a greater scope for a footprint for your film." (For full details of the Fund, see here).
Authentic stories
One key theme at the conference was the need for indigenous people to tell their own stories. Bird Runningwater, director of the Sundance Institute's Native American and Indigenous Film Program, explained that Sundance's approach is "to nurture the voice, to support the voice, to at all cost protect the voice during development".
Emile Hertling Peronard, producer and representative for Greenlandic filmmakers, added, "Indigenous cinema is about us telling our own stories, it's about finding the courage and the confidence to represent ourselves in the world. We have more attention in the Arctic than every before, and it's our responsibility to seize it. We know if we don't, others will."
Sweden's Amanda Kernell was inspired by her own grandmother's story of abandoning her Sami heritage in the 1930s for her award-winning 2016 debut feature Sami Blood — a festival and audience hit.
Kernell put a lot of thought into how the Sami people in her film were represented, shooting it in an intimate style as "a counterimage to anthropological images" and avoiding "postcard-ism" in shooting the Sapmi landscapes. "The gaze, who is making the film and how, that is so important," she said.
She realised the power in telling a very specific story in a very small language (South Sami, which today has only about 500 fluent speakers). "You can be so specific and it's so universal. Many people have moved from one culture to another, it's this experience of being caught in the middle…From the beginning I saw it as a parallel story of assimilation today."
Jesse Wente, the director of Canada's new Indigenous Screen Office, added: "We know what it is to lose our stories to other people, and the harm that can do. I always relate narrative sovereignty with physical and political power."
Reaching audiences
Jason Ryle, executive director of the ImagineNATIVE Film & Media Arts Festival – the leading indigenous festival held in Toronto every October – has seen huge changes in indigenous film since that festival was founded 19 years ago. "It's remarkable what filmmakers have done in such little time with such little funding."
"People are interested in this work, this is an area that has become of interest internationally, climate change has got a lot of eyes and minds looking north," he said.
Through the years, there have been a number of game-changing indigenous films, most of which launched at film festivals before becoming international hits: Nils Gaup's Pathfinder (1987); Taika Waititi's Boy (2010); Lee Tamahori's Once Were Warriors (1994); Niki Caro's Whale Rider (2002), Chris Eyre's Smoke Signals (1998), Zacharias Kunuk's Atanarjuat: The Fast Runner (2001), and more recently Kernell's Sami Blood and Warwick Thornton's Sweet Country.
There are growing indigenous festivals like the ImagineNATIVE in Toronto or the Maoriland Film Festival in New Zealand, and increasingly more focus on indigenous films at festivals from Toronto to Sundance to Berlin and beyond.
Berlinale NATIVe curator Maryanne Redpath said that the Berlin festival strand, and NATIVe's presence at the EFM, "is going from strength to strength. It's an amazing hub of activity and things getting done, [filmmakers] are also getting skilled on what the market really means."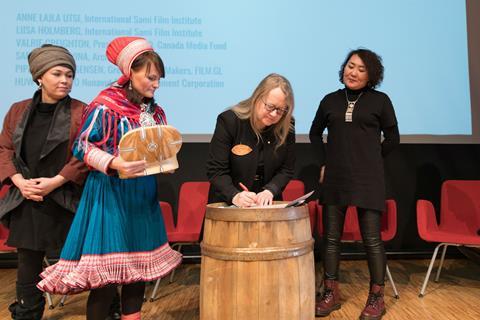 Beyond festivals, digital distribution can also help indigenous films reach wider audiences; indeed ISFI has now launched its SVoD platform, Sapmifilm.com and National Film Board of Canada has launched 200 films available on its Indigenous Cinema streaming website.
Sundance's Runningwater said that the digital revolution "has benefited indigenous people — we now have a quicker route to getting our films seen".
Creighton added, "I am encouraged by the barriers new technologies are breaking. Today's borderless media landscape….[means] regardless of linguistic and cultural barriers more and more stories are reaching audiences."
Penny Smallacombe pledged at the Conference that Screen Australia would invest an additional A$10,000 ($7,800) into "further investigation into the distribution of indigenous films".
Forms of storytelling are also evolving, as indigenous creatives are exploring web-based content (web series Polar launched at SXSW) or virtual reality content (2167: An Indigenous VR Experience), as well as more TV projects (Kernell is developing a Sapmi-set TV series now). Genre films are also becoming more popular — in March, ISFI hosted Arctic Chills, a workshop for Arctic screenwriters who have genre film ideas.
Veteram Sami filmmaker Nils Gaup (Pathfinder) was one of the mentors at Arctic Chills. "I read all the ideas at Arctic Chills, 20% of those could be mass audience movies, 30% could be festival movies, and some of the others, you don't know what kind of movies that will be, that's also really interesting that's something completely new."
Maori producer Tainui Stephens, a co-producer on action film The Dead Lands, agreed that there should be innovation in indigenous storytelling. "It's the cinema of survival. Survival is not just preserving and being guardians of these traditions, it's about explorations and striking out into new territory."
With new generations of storytellers, a greater range of formats, and new ways to reach audiences — plus, of course, vital boosts in funding — the experts were hopeful. Berlinale's Redpath said the growth of indigenous film was, "a tsunami that is happening at the moment. And the tsunami is about to come crashing on the world."