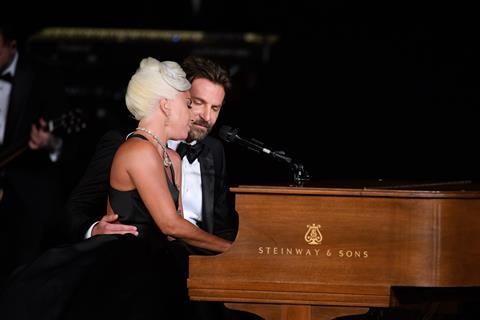 This year's Oscars have been and gone, but the 2019 festival schedule is already well underway.
Titles screening for the first time this year will be winning awards at future Oscars ceremonies – but which festival has the best record of launching Oscar winners?
After looking at which festivals have launched the most Oscar-nominated titles, Screen has now analysed the data for feature film Oscar winners across the past twenty years.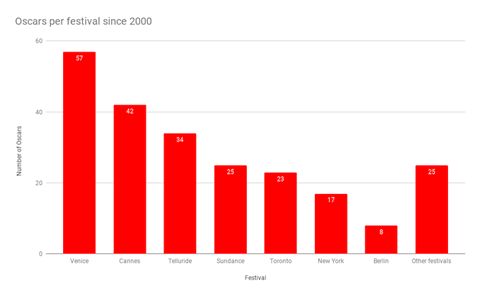 Venice is again the top event for premiering a future Oscar winner, with 57 of the 418 Oscars in the past two decades going to films that had their debut on the Lido. This includes multi-award winning films such as 2010 best picture The Hurt Locker, 2017 success La La Land, and four films from this year's ceremony – A Star Is Born, First Man, The Favourite and triple winner ROMA.
Cannes is the second most prolific for Oscar winners, with films that started on the Croisette taking home 42 Oscars in the last 20 years. Its most successful year was 2012 when films it premiered took six Oscars (five for The Artist including best picture, actor and director, plus one for Midnight In Paris).
Non-festival premieres are represented amongst the Oscar winners at a decreasing rate, suggesting the increasing importance of a festival premiere to securing a statuette.
The 2019 Oscars saw eight awards given to non-festival titles; six to Venice; four to Toronto; and one each to Cannes, Telluride and Sundance.
Below, Screen surveys the major festivals and the trends for their awards success over the years.
Non-festival premieres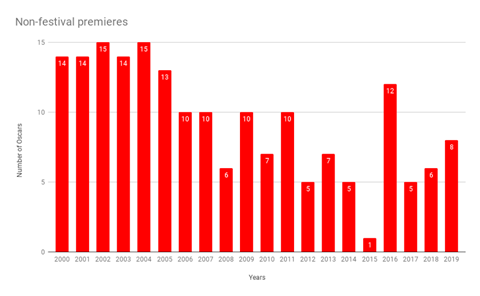 187 Oscars (44.7%) in the past two decades have been awarded to films that premiered outside of a festival. These are commonly multiplex favourites, such as Bohemian Rhapsody and Black Panther, which won four and three awards respectively at this year's ceremony.
This number is going down across the years. From 2000-2004, either 14 or 15 awards each year went to films which had non-festival premieres. In 2015, it was only one – the best visual effects Oscar won by Interstellar – while the number has been in single figures for eight of the last 10 years.
This suggests that a festival premiere is becoming increasingly important to securing an Oscar.
The rate of non-festival winners (44.7%) is slightly below the rate of non-festival nominations (46.7%), which indicates that once nominated, festival titles do slightly better in making the final step to taking an award. With the major festivals occurring at roughly the same time every year, it is easier for distributors to build platforms around an awards campaign.
However the three victories for Black Panther at this year's awards are significant; the film had both a non-festival premiere and a release date well before the traditional awards season, and still converted its commercial popularity into trophies.
Venice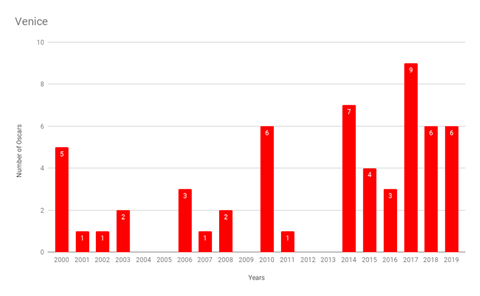 As the most prolific festival for nominations, its little surprise that Venice has also premiered titles which have won the most Oscars since 2000. Its total of 57 nominations has been significantly bolstered in recent years. It achieved only six in the six years between 2004-2009, but has picked up 35 in the past six years. 2017 was its most dominant year to date: multi-Oscar winning La La Land and Hacksaw Ridge both started their journey on the Lido. With 13.6% of the Oscars in the last 20 years going to Venice titles, it has a conversion rate slightly ahead of its 12.5% nomination percentage.
Cannes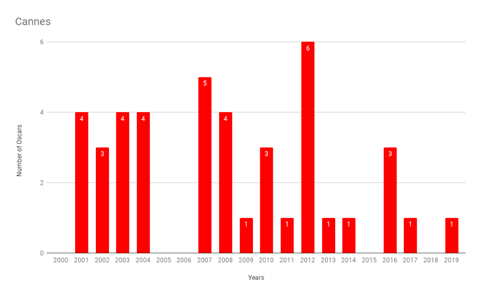 With its embrace of high-profile international cinema, Cannes always has a good shot at the foreign language Oscar; it has premiered the winning film in this category on seven occasions in the last twenty years, more than any other festival. Those seven wins come from a wider field of 36 nominations. The festival has launched the path of 42 Oscar victories since the 2000 ceremony, although those numbers are on the decline – it has only achieved seven awards over the past seven years, with three of those coming in 2016 (one each for Amy, Inside Out and Son Of Saul). It also has a negative nomination-to-victory conversion rate, with 11.2% of nominations across twenty years, but only 9.8% of awards. This could be partly down to the prominence of international titles, with the predominantly English-speaking Academy membership favouring their native tongue when picking winners.
Telluride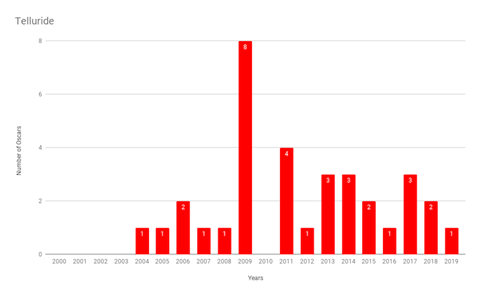 As a smaller, more remote festival, Telluride was outside of the awards picture for the first few years of the century, launching no Oscar victories from 2000 to 2003. However since then it has maintained a steady if unspectacular run of success, having only one year (2010) without a victory. No other festival – not even Cannes or Venice – can match this consistency. It's best year was 2009, when the Telluride-premiered Slumdog Millionaire picked up eight prizes including best picture and director. It also punches slightly above its weight once at the ceremony, with an 8.1% victory rate ahead of a 7.5% nomination rate. Telluride has premiered more Oscar winning fare than much bigger events such as Sundance, Toronto and Berlin.
Sundance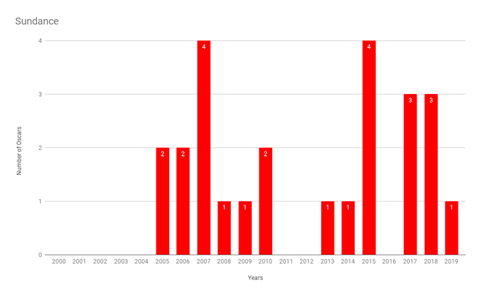 Taking place before the Oscars ceremony each year, Sundance titles that make it to the biggest stage always do so at the following year's event. This long lead-in time can make selecting distribution dates to maximise awards potential tricky. 6% of Oscars in the past twenty years have gone to Sundance-premiered films, against a nomination rate of 7.5%, although this is partly because the festival's main success has come in the best documentary category, where it often has several titles competing against each other. In 2018 it achieved the notable feat of launching both the original and adapted screenplay winners, cult hits Get Out and Call Me By Your Name.
Toronto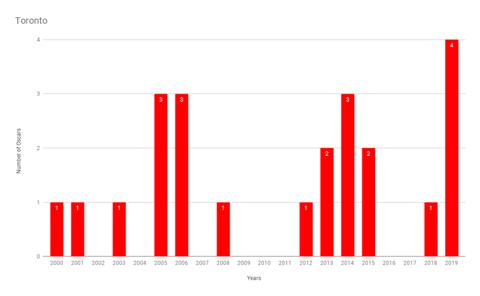 Toronto's Oscar-claiming record is inconsistent. It picked up four this year, three of them through best picture Green Book, which previously won the coveted TIFF Audience Award. The winner of that prize has now gone on to take the best picture Oscar on five occasions in the last twenty years. However Toronto has also failed to launch an Oscar-winning title on eight occasions in this time. A big reason for this is that many of its top titles have already had their world debut at Venice, and are introduced to the North American circuit just days later. The success of Green Book and other recent titles such as Lion, The Martian and The Theory Of Everything shows that the Canadian event can be an important stage of a film's awards journey. It has a victory percentage of 5.5%, compared to a nomination rate of 6.7%.
New York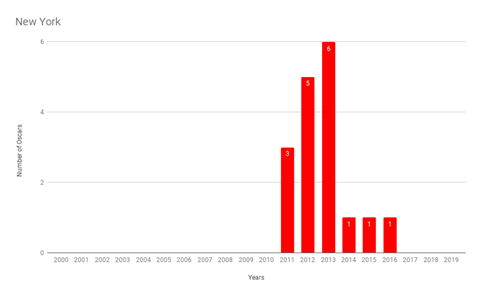 As with its nominations, New York experienced a spike of success between 2011 and 2015, with titles it premiered winning 17 Oscars across those years, more than any other festival. Particular highlights were the five awards from 11 nominations for Hugo in 2012, and the six prizes shared by Life Of Pi (four) and Lincoln (two) the following year. However it hasn't launched a single Oscar-winning title outside of that period; the industry has moved far more towards Venice in recent years.
Berlin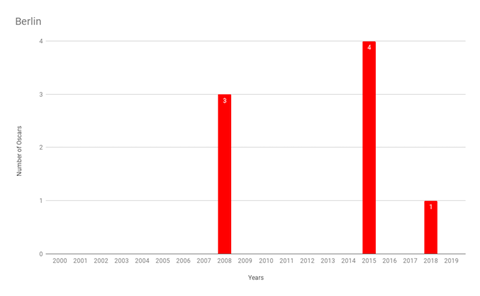 Berlin-launched titles only occasionally make it all the way to the Oscars stage – it has only been represented amongst the winners on three occasions in the past two decades. 2015 was its banner year, with four victories for Wes Anderson's Berlinale 2014 opener The Grand Budapest Hotel.