The 2019 Oscars is the end of a journey for many films. But where did they begin? Screen looks at which festivals premiered the 2019 nominees, and the festival nominee counts for the last ten years.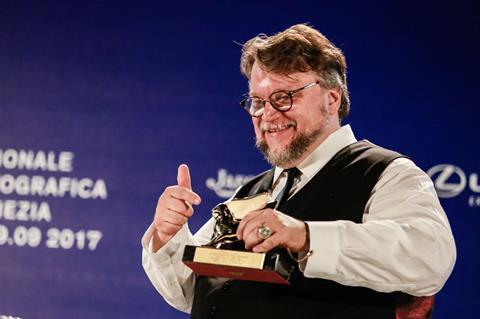 The 2019 Oscars take place this Sunday (February 24), but many of the nominated films have been playing on the festival circuit for months – some more than a year.
Screen has looked back at the festival debuts for each nominated film, with Venice the dominant festival for launching Oscar-nominated titles this year.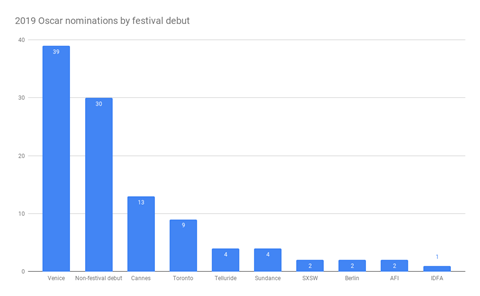 Of the 106 Oscar nominations across all feature film categories in 2019, 39 (36.8%) come from Venice. It also premiered the top three titles by total nominations: The Favourite (10), ROMA (10) and A Star Is Born (eight, tied with Vice) all launched on the Lido.
28.3% of the nominations came from titles which premiered outside of a festival. These are led by Vice, which premiered in LA on December 11, and the seven nominations for Black Panther, which had its LA premiere on January 29, 2018.
Cannes was the second most-represented with 13 of the 106 nods. BlacKkKlansman (six) and Cold War (three) are its two main titles, both of which played in Competition at last year's festival.
The North American festivals have launched fewer Oscar-nominated films than in previous years. A total of 21 nods (19.8%) come from the US and Canada, with Toronto (nine), Telluride (four), Sundance (four), SXSW (two) and AFI Fest (two) all represented.
This is down on the films coming from North American festivals in previous years, with 40 in 2018 (37.4%), 33 in 2017 (30.8%) and 35 in 2016 (33%).
Finally, Berlin picked up two nominations this year through its 2018 festival opener Isle Of Dogs; while best documentary nominee Of Fathers And Sons first played at International Documentary Festival Amsterdam (IDFA).
Previous years
Comparing this year's data with the last ten years of Oscar nominees, the numbers suggest Venice has, over the last decade, clearly established itself as the primary location for premiering awards hopefuls.
While it achieved just five nominations from its line-up in 2012 (4.8%) and three in 2013 (2.8%), since the 2017 Oscars it has recorded more than 20 nominations each year.
Across the last three years (2017-19), Venice has seen its films garner 95 nominations. No other festival has totalled more than 30 in that time (Sundance is second with 30).
On the other side of the coin, this decade has seen the New York Film Festival go from being a key launchpad for Oscars glory to largely disappearing from the trail. In 2013, it premiered the two most nominated titles, Lincoln (12 nominations) and Life Of Pi (11). However, it has not launched a single Oscar-nominated title in the past two years, and the last film it premiered to score multiple Oscar nods was Bridge Of Spies, at the 2016 ceremony.
Below Screen surveys each major festival, looking at how the titles it has premiered have fared in the last ten years of Oscars.
Venice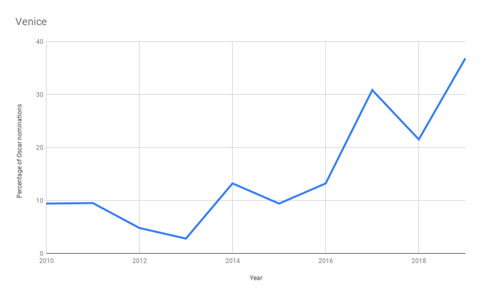 The world's oldest film festival has emerged in recent times as the key site to launch a title with Oscar ambitions. As well as the bumper crop of nominations this year, it scored highly at the 2018 ceremony with 23 nods, led by 13 for eventual best picture winner The Shape Of Water. It did even better the year before, providing debuts for La La Land (14 nominations), Arrival (8) and Hacksaw Ridge (6) as part of 33 nominations.
Venice appeals due to its position in the calendar; strong reviews in late August/early September feed well into a release later in the year. Its unique, enticing location and proximity to other major European cities has also attracted top talent to the event. Olivia Colman, Emma Stone, Bradley Cooper and Lady Gaga were among those to attend last year's festival, and have since followed the path all the way to Oscar recognition on Sunday.
Cannes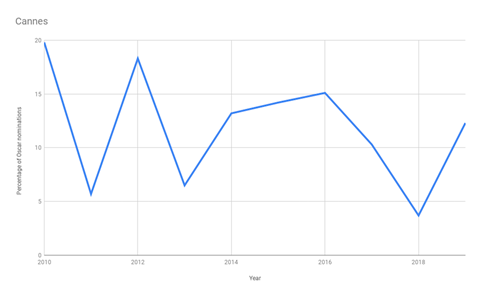 Cannes splits opinion like few other events: for some it is still the centrepiece of the festival schedule, while others consider it out-of-touch with the contemporary landscape. Its Oscar relevance has held reasonably well throughout this polarisation, with this year's 13 nominations up from a low of four last year.
Cannes attracts many high-profile international projects, which in turn fuels the awards success of foreign-language titles such as Cold War, Capernaum and Shoplifters – all nominated at this year's Oscars. The festival's spat with Netflix this year, however, meant it lost out to Venice for the premiere of Alfonso Cuaron's ROMA.
Speaking to Screen last year, Lawrence Atknson, CEO at communications agency DDA, said, "With the glut of 'awards films' that get shovelled into Toronto or Venice, a huge number don't make the cut. Cannes offers you a standalone platform and if you have the distribution support to get you through the rest of the year then you have the same chance on the awards circuit."
Non-festival premieres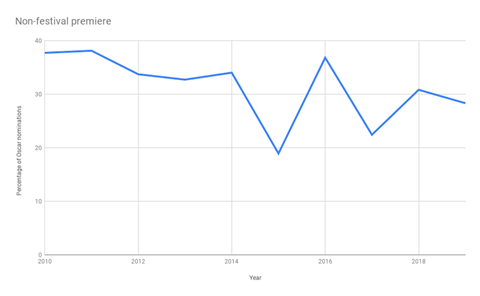 Across the last decade, between 20% and 40% of Oscar-nominated titles have had their premiere outside of a festival. This number is coming down significantly, with the rolling average at 31.3% this year (down from 52.4% in 2010), suggesting that a festival launch is increasingly useful to an Oscar campaign. As homes for arthouse and independent features, festivals appear to be benefitting from the Academy's widening scope of genres. There are changes in the other direction though: Marvel's Black Panther scored seven nominations this year, becoming the first superhero film to record a best picture nod along the way. With the Academy continuing to mull over some form of a popular film award, there should be a place for more commercial, non-festival films in years to come.
Toronto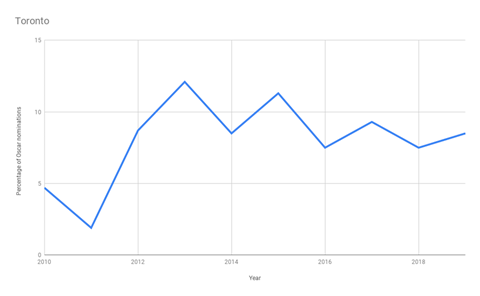 Sitting adjacent to Venice in the calendar, Toronto has benefitted from the same lead in to autumn release dates. In 2010, titles debuted at TIFF garnered just five Oscar nods; the following year was lower with two. However since then its fortunes have improved, and it typically records around 10 nominations per year, with successful titles including Silver Linings Playbook, The Martian and this year's Green Book. It hasn't hit the heights of Venice, although many of Venice's biggest successes have played at TIFF immediately after, with distributors looking to ensure momentum on both sides of the Atlantic.
Telluride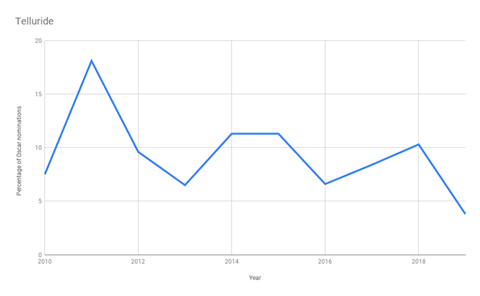 With its more-remote location and smaller scale compared to late summer rivals Venice and Toronto, Telluride doesn't draw the same level of high-profile talent and press attention. Its Oscar success has decreased over the years, after the peak of launching 12-time nominated The King's Speech in 2010 as part of 19 nominations from that year's festival. It still makes its mark, with last year's event debuting three-time nominee Can You Ever Forgive Me?, although the film notably missed recognition in the best picture and director categories.
Sundance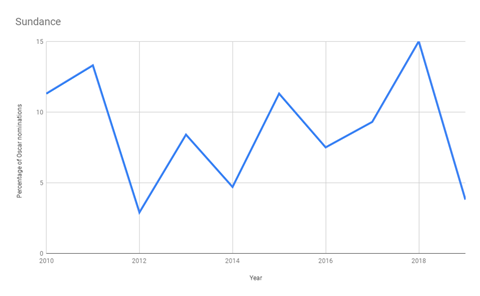 Sundance takes place less than two months before the Oscars each year, so a premiere at the festival means Academy recognition typically doesn't come until at least the following year. This sizeable gap could dissuade some distributors with potential awards titles; however the festival has still provided a strong selection of nominated films, with its number each year fluctuating between three (in 2012) and last year's impressive 16.
The 2018 flourish was led by four nods each for Call Me By Your Name, Mudbound and Get Out, the latter two of which were released outside of the traditional awards corridor (Get Out rolled out theatrically in February 2017, and Mudbound on Netflix in November that year). Sundance's reputation as the home of independent and alternative cinema in the US stands it in good stead to benefit from a widening Academy membership and broadening of scope. It also does consistently well with documentary titles; of the last 50 best documentary nominees, 24 (48%) had their debut in Park City.
Berlin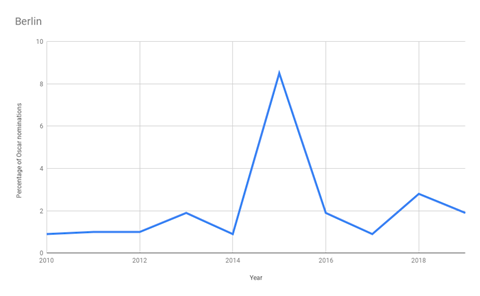 Sitting even closer to the Oscars than Sundance, Berlin is traditionally the place for more esoteric fare than is rewarded by the Academy. It usually scores one or two nominations a year, although the nine nods for Wes Anderson's 2014 festival opener The Grand Budapest Hotel at the 2015 awards bucked this trend. That was a rare title to open outside of the autumn awards corridor with a March release. With the 2020 Oscars changing dates to earlier in February, next year's Berlin Film Festival will move to a post-ceremony date.