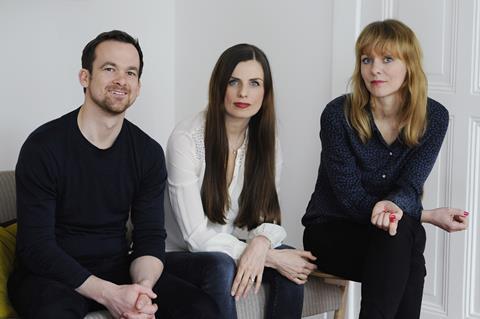 Maren Ade, Jonas Dornbach and Janine Jackowski of German production company Komplizen Film will take to the stage of Locarno's Piazza Grande on Thursday (Aug 8) to receive the Swiss festival's Raimondo Rezzonico Award.
Past recipients of the honour – feting achievement in independent production – include US indie players Christine Vachon and Ted Hope, the UK's Jeremy Thomas, Portuguese-French maverick Paulo Branco and late legends Karl Baumgartner and Menahem Golan.
"We feel very flattered," says Jackowski, who created Komplizen Film with Ade in 1999, while they were both students at the University of Television & Film (HFF) in Munich.
Locarno is familiar territory for the company. Ade served on the Filmmakers of the Present jury in 2010 while Komplizen Film was a co-producer on Bosnian filmmaker Jasmila Zbanic's romance Love Island, which world premiered on the Piazza Grande in 2014, and Romanian 1937-set TB drama Scarred Hearts by Radu Jude, which won the Special Jury Prize in the International Competition in 2016.
The Locarno honour for Komplizen Film is timely as the company marks two decades of activity.
Jackowski highlights a number of key milestones along the way. Among them is the company's entry into the world of co-productions, thanks to connections forged as Ade's 2009 Mediterranean holiday-set romantic drama Everyone Else toured the international festival circuit.
"We saw the films of Miguel Gomes at the BAFICI film festival in Buenos Aires in 2009 and said that we would be interested in working with him on his next project Tabu," explains Jackowski.
This resulted in a collaboration with Gomes' producer Luis Urbano of Lisbon-based company O Som e a Fúria on Gomes's short documentary Redemption and feature Arabian Nights. Komplizen Film is also a partner on his next film Savagery, which is due to shoot on location in Brazil next year.
A host of co-productions have followed including Sebastián Lelio's Oscar-winning A Fantastic Woman, lead produced by Juan de Dios and Pablo Larrain at Chiles-based Fabula; Israeli director Nadav Lapid's Berlin Golden Bear winner Synonyms, lead produced by Paris-based Saïd Ben Saïd, and Brazilian artist and filmmaker Maya Da-Rin's The Fever, which premieres in competition at Locarno this year.
Another milestone was the arrival of Dornbach as a third partner in the company in 2010 after he worked as a line producer on Everyone Else.
But the real game changer was the success of Ade's second feature Toni Erdmann, after it premiered in competition at Cannes in 2016 and went on to be shortlisted in the best foreign language category of the 2017 Oscars.
Dornbach recalls the pressure of the weight of expectation following the success of the film but reveals the company was not ready for the attention.
"The shoot had taken up so much of our time and energy that we found ourselves in a sort of development black hole," he says.
This prompted the three partners to review their ambitions for Komplizen Film.
"We reflected on where we wanted to go in the future and with whom we wanted to work in Germany and internationally," explains Dornbach.
As a result, the company embarked on its first TV series – Skylines – in co-production with StickUp Filmproduktion for Netflix and the subsequent creation of Komplizen Serie, a parallel arm focused on TV series.
Revolving around a young hip-hop producer in Frankfurt who gets his big break at a local label only to discover it has organised crime links,Skylines debuts on Netflix on Sept 27.
"Our hearts are still very much with cinema but the new players and platforms appearing on the scene offer new and exciting narrative possibilities," says Dornbach.
The company also joined forces with Sony Pictures on Vanessa Jopp's Gut gegen Nordwind which Dornbach describes as Komplizen Film's "first project aimed at a wider audience."
The adaptation of Austrian writer Daniel Glattauer's international bestseller Love Virtually, starring Nora Tschimer and Alexander Fehling, is due out in German cinemas on September 12.
But the company remains committed to international arthouse cinema.
Alongside Synonyms, Komplizen Film was also in competition at Berlin this year with co-production A Tale Of Three Sisters by Turkish director Emin Alper while its majority production O Beautiful Night by Xaver Böhm premiered in Panorama. The company also co-produced Corneliu Porumboiu's Cannes 2019 Palme d'Or contender The Whistlers.
It is present in Locarno with previously mentioned competition titleThe Fever and Anna Sofie Hartmann's near-future tale The Giraffe, revolving around the construction of a tunnel between Denmark and Germany, which premieres out of competition
Upcoming slate
Some three years after post-Toni Erdmann "development black hole", Komplizen Film also arrives in Locarno with a packed and varied slate of projects at various stages of development and production.
Majority productions in development include the next feature by Ade, the details of which are under wraps, and the recently announced post-Bataclan massacre tale You Will Not Have My Hate to be directed by Kilian Riedhof with César winner Pierre Deladonchamps in the lead.
The company is also planning a third collaboration with compatriot writer and director Sonja Heiss after Hotel Very Welcome and Hedi Schneider Is Stuck.
Projects on the verge of production include Lisa Bierwirth's first feature Le Prince about the unexpected romance between a German museum curator and a Congolese diamond dealer. Alexander Glehr of Austria's Novotny & Novotny, who is co-producer of this year's Piazza Grande thriller 7500, is on board as co-producer.
"We learn something new with each project," says Jackowski. "We're always inquisitive and like to take on projects which challenge us and open up new horizons. We don't have a dogmatic line as far as content is concerned. We look at each project with fresh eyes and try to see what are the specific needs of the director."