Celebrating six BAFTA nominations and three Oscar nominations, Wildgaze Films duo Finola Dwyer and Amanda Posey look back at Brooklyn's journey and ahead to their future slate and ambitions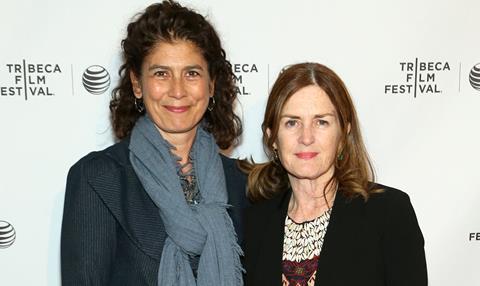 It is no surprise to hear that Wildgaze producers Finola Dwyer and Amanda Posey are very excited about this year's Oscar ceremony. "We think we have made cinema history," Dwyer tells Screen. "We want a statistician to sign it off for this, but so far as we know, we're the first female producing duo to be twice nominated for best picture."
Brooklyn's journey, which began to the wider world with a launch at the 2015 Sundance Film Festival, has brought it a successful box-office launch and vast critical acclaim including six BAFTA nominations and three Oscar nominations. Before that, Dwyer and Posey achieved similar success with An Education, which received three Oscar and eight BAFTA nods (winning Mulligan best actress at the latter).
"We always thought Brooklyn had this kind of potential," says Posey of the film's success. Dwyer first read Colm Toibin's novel about headstrong Irish immigrant Eilis battling the heartache of leaving Ireland behind to find work and love in early 1950s New York when it was published in 2009. She met Toibin in New York in April 2010 and optioned the book shortly after that.
"I never like to think about it too much because the most important thing is to find a way to make that great film. But it had that potential. Adam Venit, who's Dustin's agent at William Morris, read an early draft and said straight away, 'That's an Oscar-nominated role.' Which is what we thought too," adds New Zealand-born Dwyer.
"While it was such a personal story for me, because it's very much my mother's story and mine to an extent, I felt it was so universal. To see that translating into box office and crossing out of the outhouse has been great. And that great central role that could just be the making of an actor - they do not come along every day, and the smart actors and agents know that."
Posey and Dwyer pitched "countless" financiers on the transformative opportunities the role of Eilis would offer to an actress, in terms of character depth and career boost, with similar potential to what An Education (2009) - also producer by the pair - had done for Carey Mulligan.
"Saoirse was a phenomenal actress before our movie, but this was her first adult role," says Dwyer. When she first optioned the book and began to think of casting, she initially ruled out Ronan, who was only 15 at the time.
But as Dwyer and Posey were shepherding the adaptation through development - with Nick Hornby adapting Colm Toibin's source novel, and Irish theatre and film director John Crowley attached - Ronan's CAA agent Chris Andrews rang the former one day to say how much the Irish actress loved the book. By then, Ronan was 18, 19 by the time Brooklyn launched into a seven-week shoot in April 2014.
A patchwork effort
When she first read and optioned the book, Dwyer settled on $25m as the budget she'd need to "do the book justice" due to the 1950s period setting and need to shoot in two countries. In the end, Brooklyn was made for just under $11m, as a UK-Ireland-Canada co-production.
"All the early budgets weren't even working at $25m," says Dwyer. "Christine Langan from BBC Films said to me one day - it was a great help, actually - 'you'll figure out how to do it.' I didn't want to just make it, I wanted to make it really well."
With changes to the pre-sales market in recent years, and without a household name in the cast, a star director or high concept, Brooklyn presented a formidable challenge for the Wildgaze pair, who as well as An Education had previously produced A Long Way Down together (Dustin Hoffman's Quartet was produced separately by Dwyer under her Finola Dwyer Productions Ltd banner).
"When we went out to market with it at the beginning, at $25m, at that time that was the level that prestige art movies that can break out to a bigger audience had been made at," observes Posey. "But it was just changing and everyone said, 'Oh, 15 is the new 25.' In the end, you have to work with what the market can give you."
With previous experience on co-productions, including a 2004 TV movie about the 9/11 hijackers, The Hamburg Cell, Dwyer structured Brooklyn as a three-way co-production to take advantage of as much soft money as she could. In Ireland, support came from the Irish Film Board, the Broadcasting Authority of Ireland and a pre-sale to RTE. Having sent a look book to 20 film agencies around the world, a three-day scouting trip to Canada in November 2013 yielded backing from Telefilm Canada, a Canadian distributor in Mongrel Media and local incentives, with Dwyer settling on Montreal to double for Brooklyn.
"We of course also scouted Brooklyn," she says, "but the incentives there are only beneficial if you shoot your entire film and post there, whereas we only needed three weeks for those scenes." The film shot two days in New York.
The Irish and Canadian finance, combined with the UK backing from the BFI, BBC Films and the tax credit, made up $8.5m, with the remainder of the patchwork budget from pre-sales to Lionsgate UK and Transmission in Australia/New Zealand and gap financing from Ingenious.
"John [Crowley] was brilliant," says Dwyer. "He just had the faith that it would all work out. We were a travelling group of about 14 during the shoot, and we picked up our crews in Ireland, New York and Canada." Wildgaze also hired three Canadian HODs: cinematographer Yves Belanger (Wild, Dallas Buyers Club), production designer Francois Seguin (The Barbarian Invasions) and composer Michael Brook (The Fighter).
"Co-production forces you to go outside your comfort zone," says Dwyer, "but the brilliant thing about it is that we couldn't have made Brooklyn any other way - and made it to that level of ambition and production value."
Sundance launch
Hanway Films showed an early promo to buyers at Berlin 2014, and a more extensive one at Toronto, before Brooklyn premiered on January 26, 2015, at the Eccles Theatre in Park City, sparking a rapturous standing ovation among a mainly American crowd. "We were so nervous and it was a watershed moment," says Posey. "It was that moment when you knew you were going to be okay."
Within 24 hours, Fox Searchlight had won a heated bidding war with The Weinstein Co. and Focus Features among others to take US rights for $9m, in a deal orchestrated by CAA.
Although they'd had the same experience with An Education, which also premiered at Sundance but wasn't released until the end of that same year for an awards season push, Dwyer and Posey admit it's "nerve-wracking" having to wait out that gap between debut and release.
"Are you going to be old news? Are you going to peak too soon, or just fall away?" says Dwyer. "It's a stressful strategy to play out, 365 days until the Oscars. It wasn't by design, it's just the timing of when we shot the film and Sundance being the best place to launch your film for a US sale."
Wildgaze slate
Dwyer and Posey operate Wildgaze Films out of an office in Soho with two employees, including a head of development for film and TV. They also hire additional support when they have a film in production, for instance a post-production assistant recruited for Lone Scherfig's Their Finest Hour And A Half. The film, which Wildgaze is co-producing with Number 9 Films and BBC Films, is currently in post; HanWay are showing a first promo at Berlin.
The pair originally set up Wildgaze in 2012 with MEDIA funding for their development slate, and in 2013 were awarded money from the BFI's Vision Awards initiative, established to support UK production companies for two years with up to £200K of slate funding. "That allowed us to take the leap and employ a full-time head of development," says Posey. "Before that, we'd been so focused and bespoke on the films that we hadn't had a separate revenue stream to help us with that."
"That was extremely helpful to us," echoes Dwyer. Future funds will come from the BFI's lockbox for Brooklyn, and development funding for Wildgaze projects with the BBC and Film4.
As well as the adaptation of Lissa Evans' wartime novel Their Finest Hour And A Half, which they co-optioned the rights for with Number 9's Stephen Woolley and Elizabeth Karlsen when each learned of the others' interest, projects in development include an original idea by Dwyer that John Croker (The Woman In Black 2: Angel Of Death) is writing; a 1940s-set narrative feature from David Evans and Philippe Sands, the director and writer of the Wildgaze-produced documentary My Nazi Legacy; an adaptation of Jon Ronson's The Psychopath Test: A Journey Through The Madness Industry, which has been set up with Universal Pictures and Brian Grazer's Imagine Entertainment with Kristin Gore adapting, Jay Roach directing and Scarlett Johansson attached to star.
"Each project is something that we feel we can take all the way, and has a universality to it," says Dwyer.
Wildgaze are also developing a TV spin-off of Brooklyn, which Screen reported on yesterday [Link here], and planning their first leap into genre with an adaptation of Michelle Paver's critically acclaimed Arctic-set ghost story Dark Matter. Their Finest Hour And A Half screenwriter Gaby Chiappe is adapting the novel.
"We were attracted to it for all the same reasons we're attracted to other stories, which is that it's emotional, it's psychological, it's got wonderful characters and a brilliant setting," says Posey.
They will also go into production this year on an adaptation of Australian novelist Tim Winton's thriller Dirt Music, which they developed with Film4 and which will be an Australia-UK co-production. Director Philip Noyce, Heath Ledger, Colin Farrell, Rachel Weisz and Russell Crowe have all been attached to the project at various times. This latest incarnation ­– which Jack Thorne adapted ­­– has yet to attach a director or star.
As for whether the Brooklyn spin-off signifies a desire to develop more TV projects in future, Posey says, "From a business point of view, it would do us well to have a burgeoning TV arm of course but that's not our approach. But there are certain stories that we can see would work beautifully on TV and aren't necessarily right for film. It's the stories that draw us."
"It goes up and down, but there is much more interest now for high-quality singles or two-parters for TV, and quite a lot of stories may be well suited to that."
"We don't have any desire to grow massively or increase the output," adds Dwyer. "For us, it's really just about getting involved with material that we believe we can take all the way. Volume has never been our thing. You only have so many hours in the day."
While the future looks bright for Wildgaze, Posey and Dwyer still have a few more weeks to bask in the glory of their Brooklyn success - whatever transpires on BAFTA and Oscar nights.
"We believed in Brooklyn," says Posey. "But we also delivered it. We are so delighted that our ambition for it did come through."