Dir. Shirin Neshat. Germany / Austria / France, 2009. 99 min.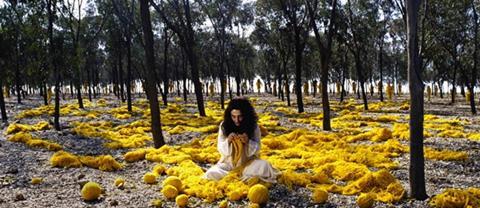 Exiled Iranian video artist Shirin Neshat's eagerly-anticipated first feature is a work which is as visually enticing as her installations but still hasn't quite made the leap to feature length. As politically motivated as ever, she is still far more comfortable with pure images and magic realism than plotting.
Orsi Toth's despondent portrayal of the young prostitute stands out beside the other more restrained performances
Working from the novel written by California-based Shahrnush Parsipur (who takes a small role as a brothel Madam), Neshat's picture deals with the condition of women in Iran and the 1953 coup which toppled the democratically elected Mossadegh government. It seems set to generate much curiosity and even admiration among her fans, but will probably not go far beyond festival play.
In it, four women, chosen to represent all levels of Iranian society, find solace in an enchanted forest from which they will eventually also be banished.
Munis (Tolouei) is approaching 30 and obsessed by the political crisis in her country. Terrorised by her domineering fundamentalist brother who wants to sever all ties with the rest of the world and marry her off, she tries to commit suicide, is buried, then miraculously resuscitated.
Middle aged, upper class Fakhri (Shahrzad), whose suitor left for the West many years previously and has returned with an American woman in tow, is fed up with being the wife of a pedantic general. She leaves her husband and moves outside town, to a remote mansion surrounded by a magical wood.
Zarin (Toth), a young, emaciated prostitute, services her customers obediently until, terrified that she can't distinguish between their faces anymore, she runs away, first to purify herself in a public bath and then to Fakhri's garden.
Finally, Faezeh's (Ferydoni) most devout wish is to marry the brother of her dear friend, Munis.
Although this is not supposed to be a realistic story, the narrative still has its sticking points. Neshat, who has used human figures in her video installations as living objects rather than individual characters, hasn't really changed her stance here, with each of her four heroines acting as symbols rather than developing an independent identity of their own.
The characters move and converse stiffly with each other, in dialogue that seems directed more at the viewer than at each other. And if the common tragedy of Iranian women at all levels is painfully and eloquently conveyed by Neshat's images, neither the tragic political events in the background nor the ineffectual bantering of the Persian intelligentsia are truly integrated in the picture.
The visuals, however, are as stunning as they ever were in Neshat's video work. Martin Gschlacht's camera offers perfectly framed, predominantly black and white images, interspersed with muted colors. The images of the magic forest as a safe retreat are highly suggestive. Dissolves often replace cuts, adding to the fluidity of the proceedings. The Moroccan locations (Neshat is not allowed back into Iran) are powerfully atmospheric and Ryuichi Sakamoto's moody soundtrack fully supports the image. Orsi Toth's despondent portrayal of the young prostitute stands out beside the other more restrained performances.
To sign up for Screen's weekly Reviews Newsletter with all the week's new releases, internationalopenings and full festival reviews delivered free to your mailbox every Friday, please click HERE
Production companies
Essential Filmproduktion
Coop 99
Parisienne de Production
Producers
Susanne Marian
Martin Gschlacht
Philippe Bober
International Sales
Coproduction Office
+ 33 1 5602 6000
Screenplay
Shirin Neshat, based on the novel by Shahrnush Parsipur
Cinematography
Martin Gschlacht
Production design
Katharina Woppermann
Music
Ryuichi Sakamoto
Maincast
Pegah Ferydoni
Arita Shahrzad
Shabnam Tolouei
Orsi Toth