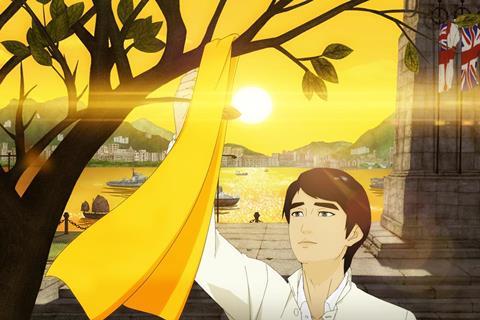 Hong Kong film­maker Yonfan, who recently won the best screenplay prize at Venice Film Festival for his debut animation No.7 Cherry Lane, says he has long wanted to make a film with the events of 1967 as a backdrop.
Not only was it a memorable year for him – 20 years old and in love with literature and films – but it was also a time of pro-China leftist riots against the British colonial government, which turned Hong Kong upside down for six months.
"I witnessed mass demonstrations, and bombings, experienced the curfews and the fear, and I saw violence and bloodshed. Those were Hong Kong's colonial days. We knew nothing about human rights and democracy," says Yonfan. "Looking back, I'm amazed at how non­chalant and lackadaisical I was. Now history is repeating itself, 52 years later. I wonder what today's young people will think when they reminisce about 2019, many years from now."
Hong Kong has been rocked by protests since June, triggered by a controversial bill allowing extradition to mainland China, which have since broadened into calls for more democracy.
Turbulent times
Yonfan says he was elated with the Venice best screenplay win, as his films are often praised for their aesthetics but less so for their storytelling. Adapted from three of his semi-autobiographical stories published in Next magazine around 2012, No.7 Cherry Lane explores similarly turbulent times in 1967 through a love triangle between a university student, the girl he is tutoring and her mother who, like Yonfan, was exiled from Taiwan's 'White Terror' martial-law regime (1947-87) and its suppression of political dissidents.
During his Venice acceptance speech, Yonfan thanked Hong Kong for giving him freedom when he found refuge in the 1960s. But commenting on the current situation, he said: "Now we have lost the freedom to walk on the street and take public transportation; it's like Pandora's box has been opened [where] all the evil came out, and people were cruel to each other." His speech prompted a backlash from Hong Kong netizens.
Speaking to Screen International, he says: "The speech I gave in Venice was spontaneous. I did not condemn the protests. I am all for people having the right to express their ideal, and I agree with people when they are truthful. But I do not agree with people marching on the street without permission, knowing everything will eventually lead to violence. I blame people using those sacred words 'freedom', 'human rights' and 'democracy' as a pretext for turning Hong Kong upside down. I am an independent filmmaker and I listen to my heart."
Yonfan has been independent throughout his career, self-financing his films through his Hong Kong-based Far Sun Film, including the $15m No.7 Cherry Lane, Bishonen (1998) and The Story Of Rose (1985), starring Maggie Cheung and Chow Yun Fat. He says he is proud to maintain an independent spirit and not having to compromise his creativity for marketability. He also restored his entire film library in 2K in 2010.
After making 13 features – the last being Prince Of Tears (2009), which also premiered in Venice Competition – he felt the urge to make a film with words and paintings. The idea turned into an animation – a painted film based on his writings and using his voiceover as a third-person narrator, as if the audience were reading a book on-screen.
No.7 Cherry Lane took five years to complete. Taipei-based Hsieh Wen Ming produced an animated storyboard and colour key based on Yonfan's screenplay, then Beijing-based Zhang Gang and his animators rendered all the characters in 3D before hand-drawing them in 2D.
The time-consuming process moving from 3D to 2D – which Yonfan believes to be a first for a feature animation – helped secure the movement he envisioned. The bulk of the post-production work was conducted in Hong Kong, while the orchestral score was recorded live in Prague.