Abu Dhabi Film Festival (Oct 23-Nov 1) brings the best in world cinema to the region, while its Sanad fund has put local film-makers on the international stage.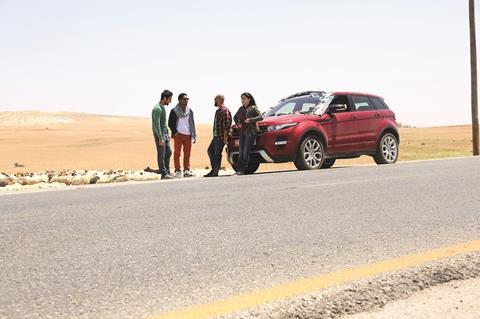 This year's Abu Dhabi Film Festival (ADFF) will enjoy the rare opportunity of opening with the world premiere of a local film: Ali F Mostafa's From A To B, which follows three young Arab expats on a road trip from Abu Dhabi to Beirut.
Directed by an Emirati, the film was co-produced by Abu Dhabi's twofour54 and Image Nation and brings together acting and producing talent from around the region. The film is significant in that it marks a milestone in Abu Dhabi's efforts to build a self-sustaining film industry in the United Arab Emirates (UAE), of which the festival is also a key component.
"I believe we'll see more feature films emerging from the Emirates, especially now that Abu Dhabi has aggregated its film-making institutions, making life easier for film-makers," says ADFF director Ali Al Jabri.
"From A To B is a good example of institutions working together."
Just like the Gulf's other film hubs Dubai and Doha, Abu Dhabi has recently been through a process of deciding how best to serve its local communities of film-makers and audience, resulting in big changes for ADFF, which enters its eighth edition this year (October 23-November 1).
In 2012, the festival joined Abu Dhabi's other film-related institutions under the umbrella of twofour54, with Al Jabri, previously director of the Emirates Film Competition, taking over as director. While Image Nation remains separate, it works closely with twofour54.
Now in his third year at the helm, Al Jabri feels the festival has proved its mettle in terms of bringing world cinema to Abu Dhabi and supporting local film-makers.
"Attendance is up every year. The audience now feels ownership of the festival and we've consolidated our reputation globally as an event that is focused on films and film-makers," Al Jabri says.
"It makes our life easier as we have more submissions and film-makers approaching us."
The number of submissions increased by 12% this year to 2,032 titles.
International reach
Meanwhile, ADFF's development and post-production fund Sanad has become a major force in funding regional production, supporting more than 100 projects since its launch in 2010.
Many of these films are securing berths at major festivals. Of the eight Arab films that played in Toronto this year, four were supported by Sanad — Naji Abu Nowar's Theeb, Ghassan Salhab's The Valley and documentaries The Wanted 18 and Iraqi Odyssey.
Theeb premiered in Venice's Orizzonti section where it picked up the best director prize. All four films will play at ADFF.
"It's not just about funding, Sanad also facilitates networking for producers," says ADFF programming director Teresa Cavina, adding that the festival's co-production meetings will be expanded this year. "It's also become a stamp of quality. European funders will prioritise projects Sanad is involved in."
Many Sanad-supported films also end up in the ADFF programme, competing alongside international films rather than screening in a separate section, which the festival feels is important.
In the Narrative Competition section, Egyptian film-maker Ibrahim El Batout's El Ott will compete with Berlin Golden Bear winner Black Coal, Thin Ice, Cannes' best screenplay winner Leviathan, and Venice winners Hungry Hearts (best actor and actress) and Tales (best screenplay).
Theeb and From A To B (not supported by Sanad) will play in the New Horizons competition for first and second narrative features, alongside films such as Cannes' Grand Prix winner The Wonders and Venice special jury prize winner Sivas.
El Batout's highly anticipated follow-up to Winter Of Discontent is also a world premiere, as are three Arab films in the Documentary Competition — Merieme Addou and Rosa Rogers' Pirate Of Salé, Nadine Salib's Um Ghayeb and Sounds Of The Sea from UAE's Nujoom Al Ghanem.
Director of Arabic programming Intishal Al Timimi notes that the festival is more focused on discovering Arab cinema, particularly through Sanad, than insisting on screening it first.
"We have good relationships with film-makers and help them to screen at major festivals. But if they don't go elsewhere, they come to us."
A growing part of the festival's Arabic programming are its special programmes, which have included retrospectives of Algerian cinema and debut films of Arab film-makers.
This year the festival is screening 10 features and four shorts from Arab diaspora film-makers, including Merzak Allouache's Salut Cousin! and Karim Traidia's The Polish Bride.
"It's important for the young generation to discover these films as there are no libraries or archives of Arab cinema," says Al Timimi, adding that the festival has been working on new prints.
ADFF closes on a crowd-pleasing note with Disney animation Big Hero 6.
ADFF 2014 HIGHLIGHTS
Opening film From A To B


Closing film Big Hero 6


Competition sections Narrative Competition, New Horizons, Documentary Competition, Emirates Film Competition, Short Film Competition


Other awards Showcase Audience Choice Award, Our World Award, Child Protection Award


Special programmes Francois Truffaut retrospective, Arab Diaspora (showcasing 10 features and four shorts from overseas Arab film-makers)