Festival to include 18 world premieres and close with US crime documentary 3½ Minutes, Ten Bullets.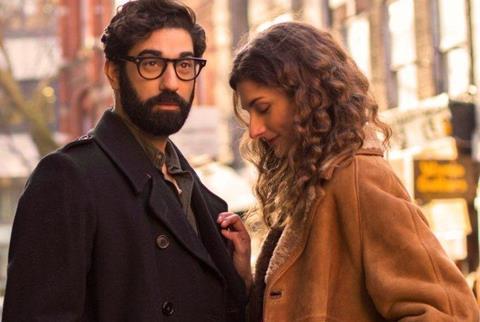 Amit Gupta's One Crazy Thing (fka Nothing Like This) is to receive its European premiere as the opening film of the 14th East End Film Festival (July 1-12).
Starring and produced by Ray Panthaki, the romantic comedy also stars Daisy Bevan
Panthaki plays a former daytime TV star whose life has hit rock bottom until he meets his dream girl - and has to choose his moment to tell her about the leaked sex tape that made him an internet sensation.
EEFF will this year include 18 world premieres, 8 European premieres and 20 UK premieres.
The closing film will be Marc Silver's 3½ Minutes, Ten Bullets, which examines the aftermath of a tragic incident at a gas station in Jacksonville, Florida, in which an unarmed 17-year old African-American was gunned down for playing loud music. It marks British documentary filmmaker Silver's follow-up to Who is Dayani Cristal?.
BRITISH HIGHLIGHTS
A total 33 titles make up the British strand including a London focus.
Films include the world premiere of UK thriller Containment, the debut feature from London-based director Neil Mcenery West, about an artist who wakes one morning to discover that the doors and windows of his apartment have been sealed shut with sinister figures lurking outside and a killer virus within.
Other world premieres includ Mike Doxford drama Pleasure Island and Steven Nesbit's star-crossed lovers drama North Vs South.
Ewan Thomas' This Is Not Happening will also world premiere at the festival along with Martin Radich's revenge drama Norfolk, which played at Rotterdam earlier this year.
The festival's Centerpiece Gala screening is Simon Blake's revenge thriller Still, which will include a Q&A with lead actor Aidan Gillen (Game of Thrones).
British documentary highlights include Asif Kapadia's Amy Winehouse film, Amy, which recently played in official selection at the Cannes Film Festival.
The strand will also include Andrea Luka Zimmerman's Estate, A Reverie, centered on Hackney's Haggerston Estate, demolished after nearly 70 years; Colin Rothbart's east London drag scene doc, Dressed As A Girl; and Adam Kossoff's The Anarchist Rabbi, an experimental doc about the man who campaigned with the East End's Jewish migrants 100 years ago, narrated by Steven Berkoff.
INTERNATIONAL HIGHLIGHTS
International titles programmed for this year's EEFF include the UK premiere of AJ Edwards' The Better Angels, which dramatizes Abraham Lincoln's formative experiences, shaped by two vital women, played by Diane Kruger and Brit Marling.
James Franco and Kate Hudson star in Henrik Ruben Genz's Good People, a London-set thriller in which a couple in debt face the consequences after finding a huge pile of cash.
Marielle Heller's Sundance breakout The Diary Of A Teenage Girl will also screen as well as festival hits Atlantic, from Jan-Willem van Ewijk; Icelandic film Life In A Fishbowl, from Baldvin Zophoniasson; and comic drama Line Of Credit from Salomé Alexi.
International doc highlights include the world premiere of Lee Scratch Perry's Vision Of Paradise, directed by Volker Schaner, including a Q&A with Perry; and Jack Pettibone Riccobono's The Seventh Fire, executive produced by Natalie Portman and presented by Terrence Malick, which is a portrait of Minnesota's Native American gang crisis.
INDUSTRY
EEFF's industry sessions, Mind The Gap, will focus on filmmakers in transition between first and second feature. The expert-led workshops will run June 29 to July 1.