Competition titles revealed; exclusive first footage to screen from Pixar's The Good Dinosaur and Disney's Zootopia.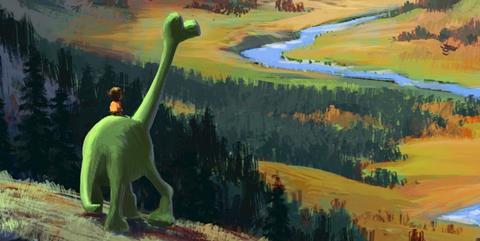 The Annecy International Animation Film Festival (June 15-20) is to spotlight the contribution of women to animation and their growing presence in the medium.
This year's Honorary Cristal will be awarded to French director Florence Miailhe, whose unusual technique has been called "film painting". She was first at Annecy in 2000 with Au premier dimanche d'aout, which won the Cear for Best Short Film, and won a special mention at Cannes in 2006 for her short Conte de quartier.
Sticking with the female focus, there will be films about maternity and sexuality, the female imagination and a strand titled The Future Is Woman.
Canadian filmmaker Janet Perlman, who secured an Oscar nomination with The Tender Tale of Cinderella Penguin (1981), will also be the subject of a special focus.
This year's festival, overseen by artistic director Marcel Jean, beat prior records for the number of submissions with 2,606 films sent in from 95 different countries, including 73 features.
In competition
Adama by Simon Rouby (France)
April and the Twisted World by Christian Desmares and Franck Ekinci (France)
Long Way North by Rémi Chayé (France and Denmark)
Miss Hokusai by Keiichi Hara (Japan)
Mune by Alexandre Heboyan and Benoît Philippon (France)
Possessed by Sam (Spain)
Sabogal by Juan José Lozano and Sergio Mejía Forero (Colombia)
The Case of Hana & Alice by Shunji Iwai (Japan)
Out of competition
Banished by Diego Guerra (Colombia)
Dragon Nest: Warriors' Dawn by Soong Yuefeng (China)
Eden's Edge by Gerhard Treml and Leo Calice (Austria, USA)
Extraordinary Tales by Raúl García (Belgium, Spain, USA, Luxembourg)
Mortadelo and Filemon: Mission Implausible by Javier Fesser (Spain)
Little from the Fish Shop by Jan Balej (France, Slovakia, Czech Republic)
Rocks in My Pockets by Signe Baumane (USA, Latvia)
Stand by Me Doraemon by Yagi Ryuchi and Takashi Yamazaki (Japan)
The Snow Queen 2 by Alexey Tsitsilin (Russia)
First looks
Annecy's screening events are Disney-heavy with exclusive first looks at footage from the highly anticipated Pixar feature The Good Dinosaur and Walt Disney Animation Studios's Zootopia, of which the latter will include a Q&A with directeds Byron Howard (Tangled) and Rich Moore (Wreck-It Ralph).
Other Disney titles will include short spin-off Frozen Fever and Inside Out, which will receive its world premiere our of competition in Cannes next month.
An early look at Universal's Despicable Me spin-off, Minions, will screen ahead of its July 8 release and Annecy will host the world premiere of Ghost In The Shell: The Movie, set for release in Japan on June 20.
A work-in-progress session will include Steve Martino's Peanuts the Movie, Mehmet Kurtulus and Ayse Ünal's The Bad Cat, and Dorota Kobiela's groundbreaking Loving Vincent, which has just begun shooting.
This year's country of honour will be Spain. The festival said it made the selection to "underline the comeback of their film industry that has over a century of history under its belt".
All-women juries
The juries at this year's Annecy will be made up entirely of women. Mattel's Playground Productions' Marge Dean, Telerama film critic Guillemette Odicino and Prima Linea Productions co-founder Valerie Schermann comprise the competition jury; while DreamWorks co-president of feature animation Bonnie Arnold, Spanish film director Isabel Herguera and Swedish filmmaker Niki Lindroth Von Bahr comprise the short films jury.
As previously announced, Chris Meledandri, the founder/CEO of Illumination Entertainment (Despicable Me) will deliver the keynote speech.