Brazilian film debuted in Competiton at Cannes.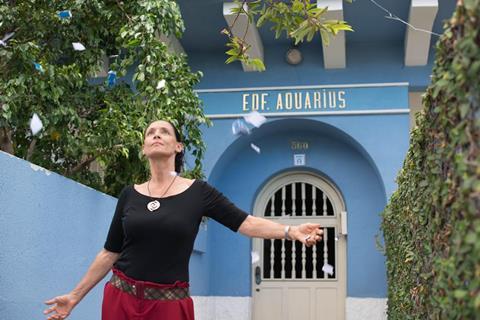 Director Kleber Mendonça Filho's Brazilian social justice drama Aquarius has won the $47,000 (AU$63,000) Sydney Film Prize, the major award of the Sydney Film Festival (June 8-19).
Mendonca Filho's story of a strong-willed homeowner's battle against unscrupulous real estate developers was awarded the top prize at the closing night of the 63rd SFF on Sunday.
Jury president and UK producer Simon Field said Aquarius, which premiered in Competition at Cannes last month, is "a compelling and relevant statement about contemporary Brazil, and the power of an individual standing up for what she believes."
"Mendonça Filho has created a film that is both political and personal – witty, sexy and playful. A film of effortless verve and intelligence," he said.
"At the heart of the film is Sonia Braga's astonishing and brave performance of a fearless character, resisting pressures from her family, and the corporate world."
The film was an early favourite for local critics, and was selected over fellow contenders, Goldstone (Ivan Sen, Australia), Land of Mine (Martin Zandvliet, Denmark/Germany), Apprentice (Bun Junfeng, Singapore), Psycho Raman (Aburag Kashyap, India), It's Only The End of the World (Xavier Dolan, France/Canada), Certain Women (Kelly Reichardt, USA), Letters From War (Ivo Ferreira, Portugal), Notes on Blindness (Pete Middleton, James Spinney, UK), The Childhood of a Leader (Brady Corbet, UK/Hungary/France), The Endless River (Oliver Hermanus, South Africa, France), and Viva (Paddy Breathnach, Ireland).
Mendonça Filho, who had attended the June 10 premiere of Aquarius, accepted the award from his home in Recife, Brazil.
"Aquarius is still very young, Australia was only the second country to get to see it and no one has actually seen it in Brazil, its home country," he said in a statement.
"To get this recognition from Sydney Film Festival means a lot to me and to the film, which is building up momentum for our Brazilian release."
Previous winners of the Sydney Film Prize include Arabian Nights (2015); Two Days, One Night (2014); Only God Forgives (2013); Alps (2012); A Separation (2011), which went on to win an Academy Award; Heartbeats (2010); Bronson (2009); and Hunger (2008).
Documentary award
In other prizes announced at the closing gala, Sydney filmmaker Dan Jackson was awarded the Documentary Australia Foundation award for Australian documentary.
Jackson received the $11,400 (AUD15,000) cash prize, for In the Shadow of the Hill. That film also focuses on Brazil, and examines a grass-roots community protest against alleged police brutality.
Sascha Ettinger Epstein's story of female amateur bodybuilders, Destination Arnold, received a special mention.
The Dendy Awards for Australian short films were announced before the Australian premiere of Whit Stillman's Love & Friendship. Writer/director Luci Schroder's Slapper, won the live action category. The Crossing, directed and written by Marieka Walsh, received the Yoram Gross animation award. Goran Stolevski received the Rouben Mamoulian Award for best director for You Deserve Everything. Sheila Jayadev was awarded the Event Cinema Australian short screenplay award for Spice Sisters, with a special mention to Matthew Vesely for My Best Friend Is Stuck On The Ceiling.
The inaugural Sydney UNESCO City of Film prize, whichrecognises "a trailblazing NSW-based screen practitioner" and comes with a $7,400 (AUD10,000) cash prize, went to Virtual Reality filmmaker Lynette Wallworth.
SFF chief executive Leigh Small said that this year's 11-day event was likely to set a new record for festival attendance by exceeding 180,000 patrons.