The Tokyo International Film Festival kicked off its 28th edition on Thursday with Robert Zemeckis' 3D high-wire thriller The Walk.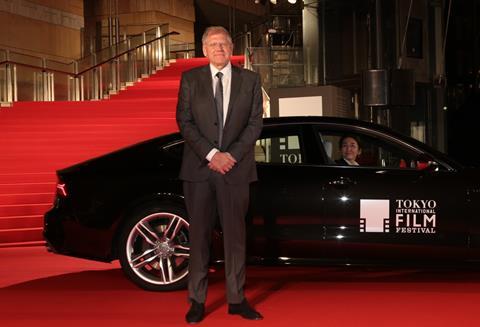 Just a day after Back to the Future Day – 21 October 2015, the date to which Marty McFly and Doc travel through time in part two of Zemeckis' iconic trilogy – fans along the red carpet eagerly sought out the director's autograph, with many seen holding Back to the Future memorabilia.
"Being here with all the excitement of everyone here and the film opening the festival is just a thrill beyond belief," said Zemeckis.
The Walk, starring Joseph Gordon-Levitt, is based on the true story of French high-wire artist Philippe Petit and his walk between the Twin Towers of the World Trade Center.
"I understood the passion this man had to express himself creatively, and I identify with that and I think everyone can identify with that," Zemeckis added.
A total of 16 films will vie for the festival's Grand Prix in this year's competition strand.
Bryan Singer, who won a Tokyo Gold prize as director of The Usual Suspects in the festival's Young Cinema Competition in 1995, said he was honoured to be back in Tokyo as head of the Competition jury.
"I think what's going to make this selection so challenging is the fact that all the films in competition come from different genres - dramas, comedies and horror films," said Singer.
"It will be interesting and very challenging for all of us to select from these very diverse films from all over the world."
Directors Tran Anh Hung, Bent Hamer, Susanne Bier and Kazuki Ohmori and producer Nansun Shi will join Singer on the jury.
The festival, which runs through Oct 31, will screen 205 official selections with 31 world premieres and 10 international premieres.