LGBT festival also sees industry and filmmaker delegate numbers double.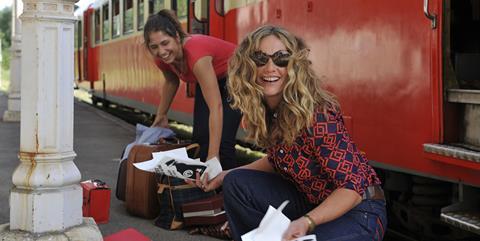 BFI Flare: London LGBT Film Festival (March 16-27) has reported a 9% audience boost for its 30th anniversary edition, which closed on Sunday with a gala screening of Catherine Corsini's French lesbian drama Summertime.
Audiences at all events and screenings over the 11-day festival totalled 25,623 – up on the 23,500 recorded in 2015.
This year's festival also saw a boost in industry numbers with 168 visiting filmmakers and more than 300 press and industry delegates – up on the 120 filmmakers and 200+ industry that attended last year.
This was due to an expanded industry offering that included daily press screenings, alongside talks with an LGBT focus on development, production and distribution with speakers including Desiree Akhavan (Appropriate Behavior) and new series The Makers, with key international filmmakers Silas Howard (Transparent), Fenton Bailey (Mapplethorpe: Look At The Pictures), and Donna Deitch (Desert Hearts).
Expanding vision
Clare Stewart, head of festivals, BFI said: "Increased audiences and a doubling of industry and filmmaker attendances demonstrate that BFI Flare in its 30th year is as vibrant as ever, and even more vital.
"This festival promotes the rich diversity and quality of international queer cinema while developing and celebrating the UK's contribution to LGBT culture."
Stewart added there was an expanding "vision and ambition" for the festival going forward.
Initiatives
For the second time, BFI Flare and British Council made five short films available to audiences across the world as part of the #FiveFilmsforFreedom LGBT human rights initiative. Figures are set to be released later this week.
Also in its second year, the BFI Flare LGBT Filmmakers' Mentorship programme announced a new cohort of six filmmakers who will be mentored by industry figures such as BAFTA-winning filmmakers Abi Morgan and Iain Canning, BFI Film Fund director Ben Roberts and Britdoc Foundation director Beadie Finzi.
This year's festival opened on March 16 with the world premiere of The Pass, an adaptation of John Donnelly's Royal Court Theatre play, directed by first-time feature filmmaker Ben A. Williams and starring Russell Tovey, Arinze Kene and Lisa McGrillis.
Other galas included the international premiere of Holding The Man, starring Kerry Fox.
Transgender
A special series, titled Transform, saw workshops and panel discussions around transgender representation in film and television.
An exhibition on Queer Film and Technology since 1986 was accompanied by a discussion looking at the intersections between queer art, culture, science and technology, The Flare Queer Sci-Tech Lab with contributions from scientists and cultural commentators Qazi Rahman, Celia Roberts, Sophie Mayer, Nina Wakeford and Sharif Mowlabocus.
The festival also included the world premiere of a work-in-progress Rebel Dykes, a UK documentary capturing the achievements of a generation of radical feminists in the 1980s.
Director Donna Deitch also attended a 30th anniversary screening of Desert Hearts, which was the only lesbian film to screen in the first edition of the festival in 1986.
In addition, actor Peter Wyngarde attended a screening of The Trial Of Sir Roger Casement (1960) along with Casement biographer Jeffrey Dudgeon.
Artist and film-maker Duggie Fields was also present for a screening of his own films alongside appearances in films by Derek Jarman, Andrew Logan and Jessye Bloomfield.