LGBT festival to close with documentary Out To Win; Rocky Horror to screen at BFI Imax.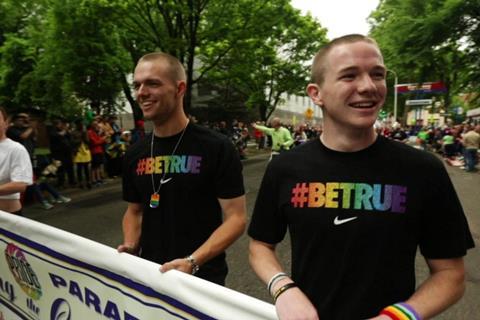 The full line-up of this year's BFI Flare (March 19-29) has been unveiled in London this evening.
As previously announced, the 29th edition of the LGBT film festival will open with Justin Kelly's I Am Michael, starring James Franco and Zachary Quinto.
It was revealed this evening that the festival will close with the European premiere of documentary Out To Win on March 29.
Malcolm Ingram's film examines of the lives and careers of aspiring and professional gay and lesbian athletes from all over the world, featuring contributions from Billie Jean King, Martina Navratilova, David Kopay and John Amaechi, among others.
It marks Ingram's return to the festival having previously screened documentaries Small Town Gay Bar and Continental. Out To Win will world premiere at SXSW on March 15.
Gala screenings
The Accenture Gala will be the European Premiere of David Thorpe's Do I Sound Gay?, a documentary exploring the idea of whether there is a 'gay voice'. Contributors include Margaret Cho, David Sedaris, George Takei and Dan Savage.
The Centrepiece Screening will mark the UK premiere of Stories Of Our Lives, directed by Jim Chu Chu, which won the Teddy jury prize at the Berlin Film Festival last week.
Created by the members of a Nairobi-based art collective — who have removed their names from the film for fear of reprisal — this anthology film that dramatizes true-life stories from the oppressed LGBT community in Kenya, where the film is banned for promoting homosexuality.
Do I Sound Gay? and Stories Of Our Lives were both first seen at the Toronto International Film Festival in September.
Confirmed guests to date include Justin Kelly (I Am Michael), Malcolm Ingram (Out To Win), Jeffrey Schwarz and Tab Hunter (Tab Hunter Confidential), Mark Christopher (54: The Director's Cut), Carol Morley (The Falling), Colin Rothbart (Dressed As A Girl) and Jonny Woo.
Rocky Horror
Special events at this year's BFI Flare include a 40th anniversary screening of The Rocky Horror Picture Show at the BFI IMAX followed by a Blue Room party; dressing up is definitely encouraged.
The subject of this year's We Love… lecture series is Xena Warrior Princess, celebrating the 20th anniversary of the series, followed by a Warrior Women after party.
Pioneering archive classic Different from the Others (1919) will screen at the V&A. The silent, German film centres on two male musicians who fall in love, but blackmail and scandal around the affair leads to tragedy.
A new Flare book club - Reading Between the Lines: Queer Books on Film - will offer the chance for discussion through screenings of key LGBT literary adaptations: Orlando, The Color Purple, Strangers On A Train and Fried Green Tomatoes At The Whistle Stop Cafe.
The 'Best of the Year' selection will include: bisexual comedy Appropriate Behavior; Peter Strickland's lesbian drama The Duke Of Burgundy; and British hit Pride, which will be followed by a talk with some of the people on whom the film's characters were based.
Mentor scheme
This year's BFI Flare includes the launch of a new mentorship programme, in association with Creative Skillset, for five emerging LGBT filmmakers that have already made a short film and are in development on a feature.
The successful filmmakers will receive one-to-one meetings with a mentor; access to a roundtable discussion exploring the current global market environment for LGBT films; and access to a bespoke programme of industry talks among other things.
The deadline for application is Feb 23 [click here for more]
Also, following its introduction last year, the BFI's VOD platform will again feature a selection of related titles under the Flare banner offering a flavour of the festival throughout the UK.
Themed sections
Introduced last year, the festival will again group films into sections: Hearts, films about love and friendship; Bodies, focussing on sex, identity and transformation; and Minds, reflecting on art, politics and community.
Hearts
54: The Director's Cut, Mark Christopher
Alive!, Vincent Boujon
Appropriate Behavior, Desiree Akhavan
Atlantida, Ines Maria Barrionuevo
Blackbird, Patrik-Ian Polk
Broken Gardenias, Kai Alexander
The Falling, Carol Morley
Frangipani, Visakesa Chandrasekaram
Futuro Beach, Karim Ainouz
Girltrash: All Night Long, Alexandra Kondracke
Hidden Away, Mikel Rueda
Jamie Marks Is Dead, Carter Smith
Of Girls and Horses, Monika Treut
Match, Stephen Belber
Portrait of a Serial Monogamist, Christina Zeidler, John Mitchell
Summer, Colette Bothof
Tiger Orange, Wade Gasque
Zoe.Misplaced, Mekelle Mills
Minds
Born To Fly: Elizabeth Streb vs. Gravity, Catherine Gund
Burn: From Hackney To Vauxhall
Dressed as a Girl, Colin Rothbart
Drunktown's Finest, Sydney Freeland
The Duke of Burgundy, Peter Strickland
Everlasting Love, Marcal Fores
Fulboy, Martin Farina
The Golden Age of the American Male, Bob Mizer
Mala Mala, Dan Sickles
Mirco, Silvia Chiogna
The New Girlfriend, Francois Ozon
Something Must Break, Ester Martin Bergsmark
The Rocky Horror Picture Show, Jim Sharman
Shock Treatment, Jim Sharman
Bodies
The Amina Profile, Sophie Deraspe
Dear White People, Justin Simien
Dior and I, Frederic Tcheng
Girlhood, Celine Sciamma
In The Turn, Erica Tremblay
The Last One: Unfolding the AIDS Memorial Quilt, Nadine C Licostie
Pride, Matthew Warchus
Regarding Susan Sontag, Nancy D Kates
The Royal Road, Jenni Olson
Steve Reinke: Recent Works
Tab Hunter Confidential, Jeffrey Schwarz
We Came To Sweat, Kate Kunath, Sascha Wortzel
Led by BFI head of cinemas and festivals Clare Stewart and BFI deputy head of festivals Tricia Tuttle, the festival is programmed by Brian Robinson, Emma Smart, Jason Barker, Jay Bernard and Michael Blyth.
The 2014 edition of the festival took place over 11 days at the BFI Southbank with more than 22,000 attendances across 140 programmes of screenings and events.