The full line-up of world premieres playing in Un Certain Regard at the 70th Cannes Film Festival with details on each title including sales contacts.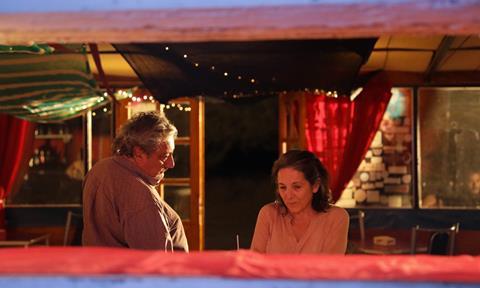 A Man Of Integrity (Ger-Iran)
Dir: Mohammad Rasoulof
The award-winning films of Germany-based Iranian director Rasoulof are banned in Iran and have never been shown there. Along with Jafar Panahi, the filmmaker was sentenced by Iranian authorities to a year in jail in 2011 but was released on bail and has yet to serve his sentence. His films are shown widely around the world, however, including twice before in Un Certain Regard. A Man Of Integrity (previously titled Dregs) is a drama about a man living a quiet life with his family in the countryside. He makes a decent living by breeding goldfish but his way of life is suddenly threatened and he is forced into a difficult position.
Contact The Match Factory info@matchfactory.de
After The War (Fr-It-Bel)
Dir: Annarita Zambrano
Following on from her much-buzzed shorts, which have found berths at all three major European festivals (Ophelia was in Cannes in 2013), it was perhaps inevitable that Paris-based Italian filmmaker Zambrano's first feature would make a splashy debut. Set in 2002, when a prominent Italian jurist was murdered by Italy's long-dormant Red Brigades amid labour law unrest, the drama stars Giuseppe Battiston as an Italian activist in exile in France who goes on the run with his 16-year-old daughter to avoid an extradition order. The film is produced by Stéphanie Douet's Sensito Films and Tom Dercourt at Cinéma Defacto, in collaboration with Italy's Movimento Film and Nexus Factory in Belgium.
Contact Pyramide International sales@pyramidefilms.com
April's Daughter (Mex)
Dir: Michel Franco
Mexican filmmaker Franco has won awards at Cannes in two of his three previous visits — best screenplay for Chronic in 2015 and the Un Certain Regard prize for After Lucia in 2012 — so he generally has a good time on the Croisette. Will April's Daughter bring further delight? The drama centres on an absent mother who returns to her two daughters and learns the 17-year-old is pregnant. Franco's feature debut, Daniel & Ana, played in Directors' Fortnight in 2009.
Contact MK2 intlsales@mk2.com, Protagonist Pictures info@protagonistpictures.com
Barbara (Fr)
Dir: Mathieu Amalric
French actor-director Amalric can be relied on to deliver a strong opening film — as in 2010, when his burlesque comedy drama On Tour raised the curtain on the Competition after official festival opener Robin Hood. The Barbara of the title is the French 'Nouvelle Chanson' singer who was big at home in the 1960s but is little-known outside her native land. Amalric's ex-wife Jeanne Balibar plays not the troubled chanteuse, who died 20 years ago, but an actress who has been cast to play her in an upcoming biopic; Amalric is, naturellement, the director in the film. Patrick Godeau's Waiting For Cinema is producing on a muscular $9.3m (¤8.6m) budget, suggesting international sales ambitions despite the local subject matter.
Contact Manuel Pereira, Gaumont Distribution manuel.pereira@gaumont.com
Beauty And The Dogs (Tun-Fr-Swe-Nor-Leb-Swi)
Dir: Kaouther Ben Hania
The third feature from rising director Ben Hania is a sharp critique of post-revolutionary Tunisian society. Based on a true story, the thriller is composed of just nine shots and stars Mariam Alferjani as a woman who fights for justice after being raped by police officers. Beauty And The Dogs is Ben Hania's fiction-feature debut following her award-winning mockumentary Challat Of Tunis and the documentary Zaineb Hates The Snow. The film is produced by Nadim Cheikhrouha for France's Tanit Films and Habib Attia for Cinetelefilms, with backing from Doha Film Institute and the Berlinale's World Cinema Fund, among others. Alferjani is one of Screen International's inaugural Arab Stars of Tomorrow.
Contact Jour2Fete sales@jour2fete.com
Before We Vanish (Jap)
Dir: Kiyoshi Kurosawa
Adapted from a theatre play, this sci-fi suspense film by Japanese genre master Kurosawa follows a woman and her husband, who claims to be an alien preparing for an invasion of Earth. The cast includes Masami Nagasawa, Ryuhei Matsuda and Hiroki Hasegawa. Kurosawa has previously won several Un Certain Regard awards, including the Jury Prize for 2008's Tokyo Sonata and best director for 2015's Journey To The Shore. Last year, he made his first French-language film Daguerreotype, which premiered at Toronto.
Contact Wild Bunch sales@wildbunch.eu
Closeness (Rus)
Dir: Kantemir Balagov
Closeness is the debut film by Russia's Balagov, who was a student on Aleksandr Sokurov's celebrated filmmaking course at the Kabardino-Balkarian State University in the city of Nalchik, in the North Caucasus. Set in the late 1990s, also in Nalchik, Closeness tells the story of the kidnapping of a young couple in a close-knit Jewish community. The film explores how far their families are prepared to go to raise the money to save them, as going to the police is not an option.
Contact Wild Bunch sales@wildbunch.eu
The Desert Bride (Arg-Chile, pictured)
Dirs: Cecilia Atan, Valeria Pivato
Chilean actress Pauline Garcia, who won the best actress prize at Berlin in 2013 for Gloria, stars in this midlife coming-of-age comedy as a woman working as a maid in Buenos Aires whose life is turned upside-down when she is forced to take a job in a provincial town far from the city. The directorial debut of Argentinian filmmakers Atan and Pivato, The Desert Bride arrives in Cannes with a good deal of buzz behind it. The project was selected for the Berlinale Co-Production Market in 2016 and went on to win two top prizes at the Films In Progress event at Toulouse's Cinelatino festival in March. It is produced by Argentina's El Perro en La Luna and Haddock Films, and Chile's Ceibita Films.
Contact Cité Films contact@citefilms.com
Directions (Bul-Ger)
Dir: Stephan Komandarev
Previously known as Compatibility, the new feature from Bulgarian writer-director-producer Komandarev is a drama set over a single day, telling the story of a group of Sofia citizens through the eyes of the city's taxi drivers. It is the director's first time in Cannes, although his fiction and documentary features have played widely and won several festival awards. His credits include 2008's The World Is Big And Salvation Lurks Around The Corner and 2014's The Judgement. Directions is a co-production between Germany's Aktis Film Production and Komandarev's Sofia-based Argo Film. Aktis boarded the project at the Baltic Event at Black Nights Film Festival in Tallinn in November 2015.
Contact Arri Media International worldsales@arri.de
Fortunata (It)
Dir: Sergio Castellitto
Based on a script by his novelist wife Margaret Mazzantini, Italian actor-director Castellitto's latest film is underwritten by regular Paolo Sorrentino producers Nicola Giuliano and Francesca Cima of Indigo Film. It stars Jasmine Trinca (16 years after her feature debut as the daughter in Nanni Moretti's The Son's Room) as Fortunata (literally 'Lucky'), a hardship-toughened young mother in the Roman suburbs who dreams of opening a hairdressing salon. HT Film is co-producing, with Italian distribution handled by Universal.
Contact Catia Rossi, True Colours catia@truecolours.it
Jeune Femme (Fr-Bel)
Dir: Léonor Serraille
Laetitia Dosch stars in this Paris-set tale about a woman who follows her partner to the City of Light. On arrival, he slams the door in her face, but rather than feeling despondent, she immerses herself in the Parisian way of life. Jeune Femme is the feature debut of writer-director Serraille and the second feature from producer Sandra da Fonseca after As I Open My Eyes, which won the Europa Cinemas Label at Venice Days in 2015. The project received support from the CNC and backing from the Cofinova and Cinémage Soficas. Shellac will distribute in France.
Contact Be For Films info@beforfilms.com
Out (Slov-Hun-Lat-Est)
Dir: Gyorgy Kristof
Out is one of the first Slovakian feature films. It tells the story of a 50-year-old family man who unexpectedly loses his job and has to decide what to do next. Director Kristof is a graduate of the prestigious Czech film school FAMU, and in 2013 the project participated in co-production meetings and pitching sessions at Midpoint, Karlovy Vary International Film Festival and the New Cinema Network in Rome. It was selected for the Cinefondation's l'Atelier during Cannes 2015 and also participated in the Sofia Meetings that same year.
Contact Stephanie Azerad, Cercamon stephanie@cercamon.biz
The Summit (Arg-Chile-Fr-Sp)
Dir: Santiago Mitre
After his well-received 2015 Cannes Critics' Week winner Paulina, Argentinian director Mitre has been roped by the official selection. His new political drama already garnered pre-production Cannes kudos at the 2016 Cinéfondation l'Atelier, where the project lifted the Prix Arte International award for best film. Boarded by K&S Films and Film Factory Entertainment, the production and sales partnership behind arthouse hits Wild Tales and The Clan, the film gives Argentinian A-lister Ricardo Darin a potentially tasty starring role as the president of Argentina.
Contact Film Factory Entertainment info@filmfactory.es
Until The Birds Return (Alg-Fr-Ger)
Dir: Karim Moussaoui
The debut feature from Algerian director Moussaoui arrives in Cannes with some heavyweight backers, including French fund the Gan Foundation for Film, which gave a cash award to the picture late last year. Until The Birds Return weaves together past and present to explore the lives of a wealthy property developer, a young woman and an ambitious neurologist. The project also participated in Cannes' Cinefondation Residence and Angers workshops, and has received support from the Berlinale's World Cinema Fund, CNC's World Cinema Support, Doha Film Institute and the Arab Fund for Arts and Culture, among others. Moussaoui's film is produced by Algeria's Prolégoménes, France's Les Films Pelléas and Germany's Niko Films.
Contact MK2 intlsales@mk2.com
Walking Past The Future (China)
Dir: Li Ruijun
The first mainland Chinese film to make the official selection since Jia Zhangke's Mountains May Depart in 2015, this late entry will be interpreted by some as a last-minute feather-smoothing exercise on the selectors' part. Rising indie director Li's films, including his 2014 nomadic road movie River Road (which played Berlin after its Tokyo debut), dwell on the rural-urban rift in contemporary Chinese society. In Walking Past The Future, Yang Zishan, launched to local fame in Zhao Wei's So Young, plays a shy young woman who signs up for a series of medical trials in order to help her ageing parents, who moved to the city of Shenzhen from rural Gansu years before and are now suffering in China's new economy.
Contact Julian Chiu, Edko Films chiujulian@edkofilm.com.hk
Western (Ger-Bul-Aust)
Dir: Valeska Grisebach
A script consultant on last year's Cannes breakout Toni Erdmann, Grisebach returns to directing feature films 11 years after her last outing, Longing, premiered at the Berlinale. Her new project is a drama about a group of German construction workers who start a tough job at a remote site in Bulgaria. Toni Erdmann director Maren Ade and producers Jonas Dornbach and Janine Jackowski are producing through their banner Komplizen Film, alongside Bulgaria's Chouchkov Brothers and Austria's Coop99 Filmproduktion.
Contact Films Boutique contact@filmsboutique.com
Wind River (US)
Dir: Taylor Sheridan
Elizabeth Olsen and Jeremy Renner star in Sheridan's feature directorial debut about an inexperienced FBI investigator who teams up with a Wyoming game tracker to solve a murder on a Native American reservation. Sheridan scripted the Denis Villeneuve-directed Sicario, which premiered in Competition in 2015, and is riding high on last year's breakout commercial and critical success for David Mackenzie's Hell Or High Water, which he also wrote. Production companies include Thunder Road, Acacia Entertainment and Film 44.
Contact Voltage Pictures sales@voltagepictures.com, Samantha Deshon, Insiders MadRiver samanthad@madriverpics.com
The Workshop (Fr)
Dir: Laurent Cantet
Nine years after lifting the Palme d'Or for The Class, Cantet finds an Un Certain Regard berth with this drama set not far from Cannes in the port of La Ciotat (famed in film circles as the 1895 location for a Lumiere brothers short that was the first ever motion picture projected to an audience). Co-written by The Class screenwriter Robin Campillo, whose third directorial outing BPM (Beats Per Minute) features in this year's Competition, The Workshop (L'Atelier) stars Matthieu Lucci as a writer on a summer workshop resisting the efforts of a tutor (Marina Fois) to steer a noir fiction assignment towards nostalgia for the town's industrial past. Produced by Denis Freyd's Archipel 35 on a $3.8m (¤3.5m) budget, the film is to be released in France by Freyd's frequent distribution partner Diaphana.
Contact Films Distribution info@filmsdistribution.com
Screen's Cannes guides: