Russia big winner at FilmFestival Cottbus for second consecutive year.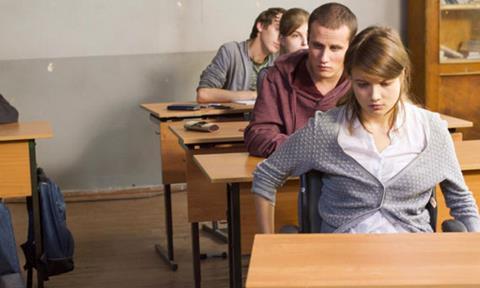 Russia was the big winner for the second year in a row at the FilmFestival Cottbus with Ivan I. Tverdovsky's Corrections Class picking up four awards at the weekend.
The feature debut received the International Jury's main prize ¨for its unsentimental and unpretentious presentation of a powerful social theme presented through the prism of an excellent ensemble performance¨, thereby qualifying for the Connecting Cottbus Special Pitch Award, which will allow Tverdovsky and his producers to pitch a new project at the East-West co-production market in a year's time.
Tverdovsky's Russian-German co-production, which won the Best Debut prize at Kinotavr in Sochi and the East of the West Award in Karlovy Vary, also picked up the prizes from the FIPRESCI and Interfilm juries in Cottbus.
Last year, the main prize at Cottbus went to Russian director Alexander Veledinsky's The Geographer Drank His Globe Away.
This year's edition again saw a Russian filmmaker being awarded the jury's special prize for best director as Alexander Kott was named 2014's winner for his latest feature, Test.
Yuri Bykov had picked up the award last year for his hard-hitting corruption drama Major. Bykov's Locarno hit The Fool screened in the Russian Day last Wednesday (Nov 6).
The acting awards went to Hungarian actress Piroska Molnár for her performance in György Pálfi's Free Fall and to Emir Hadzihafizbegovic for his role in Ognjen Svilicic's These Are The Rules. Bosnian actor Svilicic received the same award last year for his performance in Goran Vojnovic's Chefurs Raus!.
Other awards presented in the Cottbus Stadthalle on Saturday (Nov 8) included:
the audience award for George Ovashvili's Corn Island;


Dialogue Prize for Intercultural Communication to veteran Kosovar director Isa Qosja's Three Windows And A Hanging, which had been pitched as a project at Connecting Cottbus in 2012;


Best Youth Film to Anna Hoffmann's Goodbye (Poka);


main prize in the Short Feature Competition to Romanian Daniel Sandu's Horsepower.
Connecting Cottbus awards
At the parallel Connecting Cottbus (CoCo) co-production market, the participants gave this year's Best Pitch Award - which includes free accreditation to the Producers Network in Cannes - to Romanian-born Cristina Grosan's tragicomedy A Coat Of Gold.
The Post-Pitch Award, with $31,133 (€ 25,000) worth of services from the German post house The Post Republic, was given to Kenan Kavut's drama The Escape.
During the pitching sessions, Turkish producer Zeki Peynirci of Ustaoglu Film Production revealed that Bulgaria's Konstantin Bojanov had boarded The Escape as a co-producer and parts of the film will now be shot at locations in Bulgaria.
Rastko Petrovic's feature debut, the coming-of-age comedy The Five Skyscrapers, was awarded development support from SEE Film Network last week, according to producer Snezana Penev of Belgrade-based This and That Productions.
She added that shooting will begin in two weeks on a previous CoCo project from 2012, A Good Wife, the directorial debut by Serbian actress Mirjana Karanovic.
Romanian producer-director Anca Damian announced in the pitch of her new project In Perfect Health that she will work for the first time with her actor son Anghel who starred in Roxanne, a former CoCo project. Vlad Ivanov - known from Cristian Mungiu's 4 Months, 3 Weeks, 2 Days - is also attached for the project to be shot on location in Cluj with the internationally recognised DoP Oleg Mutu.
Damian revealed that French producer Guillaume de Seille of Arizona Films has boarded the drama which had already received backing from Romania's CNC and Creative Europe - MEDIA.
In addition, Estonian producer Max Tuula of Marx Film told ScreenDaily that his company has become the first to pay back the development grant awarded by the private St Petersburg-based P.O.V. Fund - for Anton Bilzho's feature debut, the black comedy The Dream Fish.
The co-production with Russia's Look Film already has an agreement with a chain of cinemas in Moscow who has promised to release the completed film.
In an information session on the progress of projects pitched at CoCo in previous years, German producer Alexander Ris of Neue Mediopolis revealed that post production on Radu Muntean's One Floor Below is expected to be completed by the end of this year.
Belgrade-based West End Productions' Milena Garfield pointed out the shooting has now been completed on Oleg Novkovic's new feature Patria, formerly known as The Others.
According to Polish co-producer Arkadiusz Wojnarowski, his company Fundacja Magellan will handle the Polish theatrical distribution and world sales for Czech director Martin Duba's comedy Bella Mia, which had its German premiere in Cottbus at the weekend.
Bernd Buder revealed at the beginning of this year's edition of Connecting Cottbus that Rebekka Garrido, previously a managing partner of the Berlin-based production house The Post Republic, will succeed him as the artistic director of the co-production market.
Garrido had left The Post Republic earlier this year to set up her own Berlin-based production outfit Manderley Films which focuses on international feature films.
COTTBUS SHORT CUTS
Two more projects backed by German-Polish fund
Two German-Polish fiction film projects have been supported with a total of $87,174 (€70,000) by the German-Polish Co-Development Fund (GPCF) at its 15th funding session.
Support has been granted to:
writer-director Kuba Czekay's road movie Nix, to be produced by Berlin-based Indi Film with Lodz's Centrala Distribution;


Julian Pörksen's feature debut Whatever Happens Next, to be produced by Gieren & Pörksen Filmproduktion from Leipzig with Warsaw-based Koi Studio.
Since being launched in 2006, GPCF has supported the co-development of 25 projects by German and Polish producer, with three films having been completed so far including the feature film Winterväter and the documentary Pommersche Illusionen.
Trieste launches First Cut Lab
Next January's When East Meets West (WEMW) co-production forum in Trieste is to launch a new initiative, First Cut Lab (FCL), designed for feature-length films in the editing phase from Eastern Europe and Italy.
WEMW project manager Alessandro Gropplero explained to Screen Daily in Cottbus that three teams of producers and directors will work together with leading festival programmers, sales agents, creative producers and editors on their particular film projects.
FCL's three-day programme from January 19-21 will include both group sessions where the selected participants will receive expert feedback as well as tailor-made advising from a consulting editor.
Alex Traila of the Transilvania International Film Festival and DoP of the award-winning Horsepower told ScreenDaily in Cottbus that he will be overseeing the running of the first edition of this new venture with Matthieu Darras of TorinoFilmLab.
Japanese film wraps shoot in Poland
Principal photography is now ending on the Japanese historical drama Persona Non Grata, which was shot entirely in Poland, with Polish cities standing in for Berlin, Kaunas, Moscow, Tokyo, New York, Klaipeda and Bucharest.
The production by Tokyo-based Cine Bazar tells the story of Japanese diplomat Chiune Sugihara who worked in Lithuania during the Second World War and saved over 10,000 Jews by issuing them illegal transit visas through Japan to Curacao
Directed by Cellin Gluck and with an international cast, Persona Non Grata was line-produced by Akson Studio, who recently produced Jan Komasa's epic war drama Warsaw 44 and the biopic Walesa: Man of Hope, and will premiere in Tokyo in the second half of 2015
Lithuanian focus at 2015 New Horizons
Lithuanian cinema will be the focus of Wroclaw's New Horizons International Film Festival (July 23 - August 2, 2015) next year.
The retrospectives will be dedicated to Sharunas Bartas and Philippe Garrel.
AFM: Mathilde and The Snow Queen
This year's most expensive local Russian production, Alexey Uchitel's $30m historical drama Mathilde (working title), and the English 3D version of Wizart Animation's The Snow Queen 2 are among the new Russian projects being presented at the AFM as part of the RUSSIAN CINEMA stand.
International sales and pre-sales have also begun in Santa Monica on Da-Studio's animated historical biopic Bell And Sword, Planeta Inform Film Distribution's 3D animation feature Quackerz 3D and the Renat Davletiarov thriller Mortal Affair as well as Alpha-Beta Films' Metamorphosis, directed by Sergey Taramaev and Luba Lvova (Winter Journey), and Art-leader Production Center's family drama The Son by Arseny Gonchukov, which is being released theatrically in Russia on November 20.