Caught in the crossfire, Aliaksei Paluyan documents what happened next in Belarus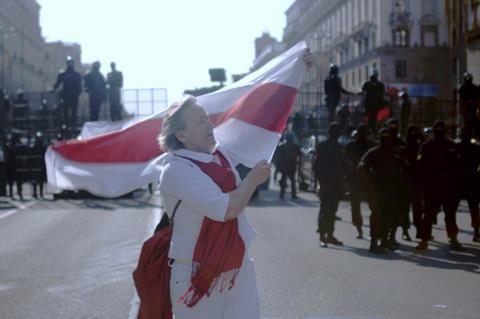 Dir: Aliaksei Paluyan. Germany. 2021. 90 mins.
The lives of three actors involved with an underground theatre company provide an absorbing, stirring but also nuanced view of the ongoing protests against the authoritarian regime of Belarus president Alexander Lukashenko.
A portrait of a country at the crossroads, one that is likely to resonate with audiences worldwide
Belarus Free Theatre, an agit-prop troupe which operates in semi-clandestine autonomy outside the state censorship system, has suffered repeated harassment and persecution since being set up in 2005 by a husband and wife team of dramatists and human rights activists, Nikolai Khalezin and Natalia Koliada, soon joined by theatre director Vladimir Shcherban. Courage is not the first feature-length documentary to focus on the group: US director's Madeleine Sacker's well-received Dangerous Acts Starring the Unstable Elements of Belarus debuted at Toronto in 2013. The feature-length documentary debut of Belarusian director Paluyan, who has been based in Germany since 2012, Courage makes no secret where its sympathies lie, but it's less of a pure fan letter than Sackler's heartfelt homage.
In part, this has to do with what looks like a great sense of timing. Whether deliberately or through happenstance, what starts off as a fairly conventional portrait of an avant-garde theatre group of a kind that might have flourished in London or Paris fifty years ago becomes something quite different as Belarus erupts into protest following the country's August 2020 elections, widely agreed to have been the opposite of free and fair, which saw Lukashenko return to power for a sixth successive term.
As a result, Courage becomes not so much a study of a brave political theatre troupe but a portrait of a country at the crossroads, one that is likely to resonate with audiences worldwide. Paluyan stitches the film around three of the group's actors: Maryna Yakubovich, Pavel Haradnizky and Denis Tarasenka. The first two still work with the company, staging productions that are directed by Khalezin via Skype from London, where he and Koliada live in exile. Taraskenka, a lanky guy with a constant ironic smile playing around his lips, left BFT three years previously and now works at a car bodyshop, where we see him telling a bemused colleague about the conscious decision he made to "betray art".
Yabukovich and Haradnizky have both settled down and started families, briefly glimpsed in a few scenes which, like everything in a tightly structured documentary that feels like it was pared down from weeks of footage, are never just interludes. (An episode in which Haradnizky captures a wasp in his urban apartment is both a great piece of physical theatre and a sardonic political comment – the wasp, for the actor and his partner, represents Lukashenko's feared OMON riot police.)
It's this sensitive, filtered approach to an ongoing revolution that makes Courage different from either of the much-feted documentaries generated by the Ukrainian revolution of 2014, Evgeny Afineevsky's Winter On Fire and Sergei Loznitsa's Maidan. There is powerful footage here of the mass protests that gathered stream in the Belarus capital Minsk in the days and weeks after the stolen election. People march, waving the banned red and white flag of Belarus' brief 1991-95 independence, protestors argue with OMON officers in full riot gear and sinister balaclavas, while outside the city's main prison, friends and relatives wait anxiously for news of detained loved ones. But none of this is found, mobile-phone footage: there's a stylistic unity to the camerawork that suggests it was all shot in media res by the filmmaker and his crew, and the point of view rarely wavers from the three BFT members, who together embody a mix of hope and pessimism, revolutionary fire and worry about what will happen to them and their families, that feels deeply real. Denis misses one of the protests because he's getting a car ready for a customer; Maryna frets about what will happen to her baby if she's arrested; via Skype, Pavel discusses the options of exile to Warsaw or Kiev if the real crackdown comes.
Meanwhile, the theatre keeps putting on plays that defend freedom – including a restaging of 2008 production 'Discover Love', based on the state kidnapping and murder of Belarus opposition activist Anatoly Krasovsky in 1999. The most telling line of a film full of telling moments is voiced by Maryna's partner as she wonders whether taking to the streets is the right thing to do, given the risk involved. His father, he tells her, once confided in him that "everything we failed to do then rests on our shoulders now… do you want to pass that on to your children?".
Production company: Living Pictures Production
International sales: Rise and Shine, info@riseandshine-berlin.de
Producer: Jorn Mollenkamp
Editing: Behrooz Karmaizade
Cinematography: Tanya Haurylchyk, Jesse Mazuch
Music: Mark Marczyk, Marichka Marczyk