The Legend Of Barney Thomson to world premiere at the 69th Edinburgh International Film Festival (EIFF).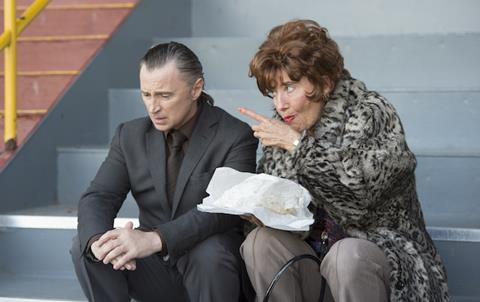 Robert Carlyle's feature film directorial debut, The Legend Of Barney Thomson, is to open the 69th edition of the Festival on June17 , where it will receive its world premiere.
Directed by and starring Carlyle alongside Emma Thompson and Ray Winstone, the Glasgow-set thriller will kick off the 12-day festival at the Festival Theatre Edinburgh.
Co-stars includeTom Courtenay, Ashley Jensen, Martin Compston, Brian Pettifer, Kevin Guthrie, James Cosmo, Stephen McCole and Samuel Robertson, with a screenplay by Colin McLaren and Richard Cowan.
Trainspotting star Carlyle is an honorary patron of the festival and said: "After a career-long association with EIFF it gives me enormous pleasure to have The Legend Of Barney Thomson chosen as Opening Night film. It really is such an honour for me to have my first feature as director premiered here in Edinburgh at the Festival that has played such a huge part in my life."
Mark Adams, the new artistic director of EIFF, described the film as "a marvellously macabre and playful film, impressively directed and with a terrific cast".
Based on the book The Long Midnight of Barney Thomson by Douglas Lindsay, The Legend Of Barney Thomson is a dark comedy that tells the story of Barney (Carlyle), an awkward barber who inadvertently stumbles into serial murder, with both absurd and macabre consequences.
Complicating matters further, Barney's mother Cemolina (Thompson) has a secret of her own, causing a bloody and comedic chain of events. While Barney clumsily tries to cover his and his mother's tracks, the local police inspector Holdall (Winstone) fights his own battles within his inept homicide department as he tries to solve the crime of the century. A black comedy of errors unfolds as the police try to capture the murderer at large.
Producers are John G Lenic, Kaleena Kiff, Brian Coffey, Holly Brydson and Richard Cowan. Executive producers are Doug Apatow and Kirk D'Amico.
The film will be released nationwide late summer 2015 through Icon Film Distribution.