Other winners include Venice title Why Hast Thou Forsaken Me and documentary Rabin In His Own Words.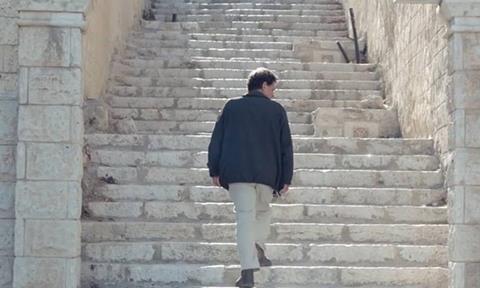 Elad Keidan's debut feature Afterthought (Hayored Lemaala) was crowned Best Israeli Film at this year's Haifa Film Festival (Sept 26-Oct 5).
London-based Iranian filmmaker Mohsen Makhmalbaf presided over the jury that included Karlovy Vary artistic director Karel Och, MoMA's former cinema curator Laurence Kardish, Israeli cinematographer-director-actress Yvonne Miklosh and director Julie Schlez.
Screened earlier this year in Cannes' Special Screenings section, the film is a metaphor of Israel today, focusing on two characters, one going up and the other down the staircases crisscrossing Haifa's Mount Carmel and was entirely shot on location in the city.
Back from Venice's Horizons section, Why Hast Thou Forsaken Me (Lama Azavtani), a gloomy portrait of a city slum and of a teenager living on the fringes of society who desperately tries to find his own identity, gained director Hadar Morag the First Feature Award.
Screened last month in San Sebastian's New Directors program, Barash, directed by Michal Vinik, the story of a teen lesbian affair, collected three prizes, for Best Script (Michal Vinik), Best Actress (Sivan Noam Shimon) and Best Actor (Dvir Benedek).
Best documentary was won by Erez Laufer's Rabin In His Own Words, a composite of footage covering the life of Israel's late Prime Minister who was assassinated 20 years ago.
Two mentions were given to for Tirza Attar – A Bird on the Room by Ari Davidovitz dedicated to the memory of the late poet and lyricist, and P.S.Jerusalem by Danae Eilon, an intimate portrait of the director and her family during a three years stint in Jerusalem.
The documentary jury comprised Pini Shatz, programmer of the Tel Aviv Cinematheque, filmmaker Katharina Otto-Bernstein, and writer-director Doron Djerass.
The competition for International Cinema - renamed this year as the Carmel Award - went to Jose Luis Rugeles Alias Maria with a special mention for Naomi Kawase's An.
The jury for that category included director Eran Riklis, actress-director Gila Almagor, film historian Serge Bromberg of the Paris-based Lobster Films, head of the Tel Aviv Cinematheque Alon Garbuz and cinematographer Amnon Zalait, handed its top prize to
Recently deceased Polish director Marcin Wrona was awarded in the "Between Judaism and Animation" for Demon.
More awards
Short fiction
Hounds (dir. Omer Tovi)
Short documentary
Women in Sink (dir. Iris Zaki)
Short Student Film
The Principle of Grace (Dir. Maya Kassel)
Short Animation
The Lake (dir. Ella Grissaro, Dana Levi)
International Critics Organization (Fedeora)
The Brand New Testament (Jaco van Dormael)