Festival top brass unveiled on Tuesday the Spotlight, Midnight, Special screenings, centrepiece, Works In Progress screenings and the line-up for the 10th annual Tribeca/ESPN Sports Film Festival.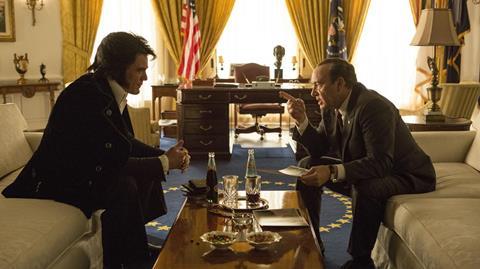 The 15th edition of the Tribeca Film Festival will take place from April 13-24 in New York City and as previously announced will open with The First Monday In May.
The opening night Spotlight film is the world premiere of Bill Purple's drama The Devil And The Deep Blue Sea starring Jason Sudeikis, Jessica Biel, and Maisie Williams.
The Midnight section will open with the World Premiere of the horror anthology Holidays. Liza Johnson's Elvis & Nixon starring Kevin Spacey and Michael Shannon is the centrepiece selection.
The 10th annual Tribeca/ESPN Sports Film Festival, sponsored by Mohegan Sun will open on April 14 with the world premiere of the documentary of the Orlando Magic basketball dynasty, This Magic Moment.
The Special Screenings include Pelé: Birth Of A Legend, Don't Look Down, and I'll Sleep When I'm Dead.
"Our Spotlight section features world premieres with a range of talent and topics that are timely and entertaining," said festival director Genna Terranova. "Many of this year's films address pivotal moments in our everyday lives and culture that leave us with a renewed sense of hope."
Spotlight selections include world premieres of Katie Holmes' feature directorial debut All We Had, and documentaries Command And Control, and Team Foxcatcher.
Among the world premiere Midnight entries are Here Alone, and Rebirth.
The ESPN Sports Film Festival will include screenings of El Clásico, and Keepers Of The Game.
Click here for the full programme.