Festivals announced at Les Arcs European Film Forum.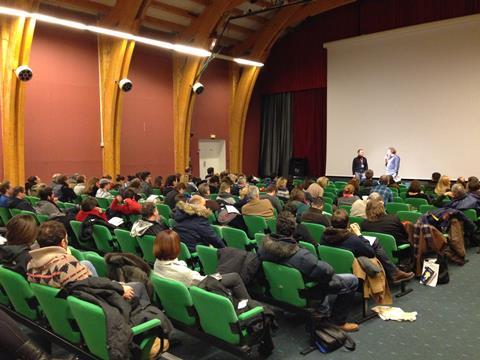 Eurimages has revealed the four festivals selected to host its new Lab Project Award initiative, rewarding "innovative" films with funding of up to €50,000 per project.
A surprise appearance from Eurimages project manager Sergio Garcia at the end of this morning's Work in Progress event at the Les Arcs European Film Festival saw the announcement of Les Arcs, Karlovy Vary International Film Festival, the Norwegian International Film Festival Haugesund and Thessaloniki International Film Festival as the four that have been selected.
The initiative, aimed at "co-productions which are innovative both in terms of their artistic expression and production methods", was unveiled last month.
The selection of these projects will be made in the framework of Work in Progress events at the four festivals starting in 2016, for a trial period of three years.
Speaking to ScreenDaily, Garcia said Eurimages was looking to help projects that were "not traditional", either in their inception or production.
"We want to help projects that have a hard time finding funding in the market or from national funds," he said following the announcement at Les Arcs.
He explained that only a select number of Work in Progress titles, that qualify as "innovative" projects, would be considered so this could see two separate WiP events held at the selected festivals or that the films could be integrated into the main line-up.
A special jury familiar with "edgy projects", including one member from Eurimages, will select the winner at each festival.
Asked why the four selected festival were chosen, Garcia said: "We were looking for established Work in Progress events. If this initiative works, we will look to expand it to more in the future."
Les Arcs, held 2,000m up at the French ski resort in the Alps, held its fifth Work in Progress event this morning and has established itself as a source of strong new titles.
Last year's batch alone included Grímur Hákonarson's Rams, which won the Un Certain Regard Award at Cannes in May and the top prize at Zurich in October; Dalibor Matanic's The High Sun (Zvizdan), which won Cannes' Un Certain Regard Jury Prize; and Runar Runarsson's Sparrows, which debuted at Toronto before winning the top prize at San Sebastian in September.
Eurimages executive director Roberto Olla, who spent three years developing the initiative, previously told Screen that festivals which already present the Eurimages Co-Production Development Award - such as Rotterdam, Sarajevo, Rome and Tallinn - would not be considered.
At that time, Olla said: "It can be from visual arts or theatre, but it will still be films and cinema - although influenced by other art forms…
"It is a bit like putting research and development money into the industry to try new things. The director could be a first-timer or an established filmmaker, but the important thing is that he or she wants to try a cutting edge approach."