Liz Shackleton looks at how organisers of Goa's annual Film Bazaar are following on successes with new initiatives and closer ties to finance. But where are the Indian audiences for independent Indian films?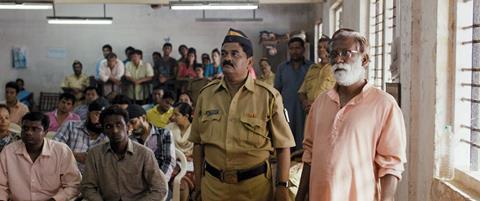 The past year has seen another string of successes for films that were nurtured through India's annual co-production market, Film Bazaar (November 20-24), and which later found berths at major international film festivals.
At this year's Venice Film Festival, Chaitanya Tamhane's legal drama, Court, was awarded best film in the Orizzonti section and the Luigi de Laurentiis award for best debut. Court also won best film and director at the recent Mumbai Film Festival, where Bikas Mishra's Chauranga, co-financed by Film Bazaar organiser National Film Development Corporation (NFDC), was awarded best film in the India Gold competition.
Earlier in the year, Avinash Arun's Killa, about a boy struggling to adjust to changing family circumstances, scooped a Crystal Bear in Berlin, while Kanu Behl's gritty family drama, Titli, premiered in Cannes' Un Certain Regard. Meanwhile, Shonali Bose's Margarita, With A Straw, which tackles issues of disability and bisexuality, and Partho Sen-Gupta's Sunrise, about a father haunted by the kidnapping of his daughter, both received glowing reviews on premiering at Toronto and Busan respectively.
All these films passed through the various strands of Film Bazaar in recent years — either through the Screenwriters' Lab, which mentors projects at script stage; the Co-production Market, which introduces market-ready projects to potential investors and co-producers; or the Work-in-Progress (WIP) Lab, which screens rough cuts to distributors and festival programmers. In some cases, the films passed through multiple strands — such as Titli, which took part in Screenwriters' Lab in 2012 and returned the following year as a Work-in-Progress.
"We're looking for projects with international viability because the idea is to present stories that producers will be genuinely interested in," says NFDC managing director Nina Lath Gupta, explaining the market's selection criteria. She adds that the WIP Lab has become a well-trodden hunting ground for festival programmers: "You often find a few programmers vying for the same film — it's very satisfying to see that happen." The WIP Lab is being expanded this year to also include feature-length documentaries.
Ready for expansion
With alumni also including 'Hindie' successes such as The Lunchbox, Miss Lovely and Ship Of Theseus, Film Bazaar has proved its mettle in its current format, and the organisers felt it was time to expand its scope. This year, the event has introduced three initiatives in its attempts to create a full-service devel-opment and financing cycle for South Asian independent cinema: a Romance Screenwriters' Lab, Film Offices and an Investor Pitch section.
The Film Offices see Indian tourism boards and film commissions from around the globe take dedicated offices at Film Bazaar's main venue, the Goa Marriott Resort, to present their locations and services to both Indian and international producers. "What we've seen over the years is that certain state governments and film commissions set up their stalls at Film Bazaar, but it was a passive initiative with no one-on-one engagement," Gupta explains.
"We noticed there was a communi-cation gap, so we're organising individual meetings to help producers understand what each country and region has to offer."
The Romance Screenwriters' Lab is an extension of Film Bazaar's existing script workshop, but with a focus on romance and women-centric stories, which tend to be more mainstream than projects in other sections of the market.
The six selected projects will be presented during Investor Pitch, a new event that puts film-makers in the same room as the money. India is seeing a growing number of entrepreneurs who are interested in backing offbeat and independent films — people such as Manish Mundra, who financed Rajat Kapoor's critically acclaimed Ankhon Dekhi, and is also backing Shiladitya Bora's Minefield, selected for this year's Co-production Market. Film Bazaar aims to identify these people and provide a platform for them to meet face-to-face with interesting film-makers.
Viewing opportunities
Projects selected for WIP Lab and 'Film Bazaar Recommends' will also be presented at Investor Pitch. Every year, Film Bazaar has market screenings for around 30 films, while more than 100 are screened in the Viewing Room video library. Of these, around 20 are curated by Film Bazaar consultant Deepti Dcunha for the 'Film Bazaar Recommends' section, which presents films looking for completion funds, distribution and festival exposure.
"We've found the two sides — film-makers and investors — learn a lot about how to approach each other during the four days of Film Bazaar," says Dcunha. "We've also had people turn producer after they've attended the market and learnt more about what the role entails."
Viewing Room is also being expanded this year with two new sections: 'World Cinema', for foreign-language films that have won acclaim on the festival circuit and are looking for distribution in South Asia; and 'Available for Remake', for Indian and foreign-language films available for remake in Indian languages.
With all these initiatives feeding into each other, NFDC is creating a production and financing ecosystem for specialist films in India where very little has existed before. But Gupta acknowledges that domestic distribution, which offers the best opportunity for these films to recoup their production costs, remains a challenge. NFDC is addressing this issue through its Cinemas Of India label, which recently released films such as Ankhon Dekhi and Sange Dorjee Thongdok's Crossing Bridges on VoD and home video. It also works with PVR Directors' Rare to give a theatrical release to films such as Amit V Masurkar's slacker comedy, Sulemani Keeda.
Last year, indie films such as The Lunchbox, Shahid and Ship Of Theseus had encouraging runs at the box office after winning the support of major studios and stars. But in a market that remains dominated by Bollywood and Hollywood, and lacks an independent arthouse circuit, there is still much work to be done. "We need to build an Indian market for Indian films," Gupta says.
Whether NFDC will be able to meet these challenges depends very much on the political climate following India's recent change of government. As a public-sector enterprise, NFDC is under pressure to remain profitable, despite the costs of its development work. After many years in the red, it moved into profitability in the 2012-13 financial year, but made losses the following year after its public-service advertising business was taken away by the government.
India's Ministry of Information and Broadcasting is assessing the future of NFDC, but was not available for interview as this article went to press.
Test subjects: NFDC LABS
NFDC Labs supports new talents that can benefit from long-term training
In just a few years, NFDC Labs has grown to encompass year-round training programmes for film-makers, covering everything from script development and technical disciplines, including directing, editing and sound, to all the creative and business aspects of being a film producer.
Participants at this year's National Script Lab include Anurag Kashyap protégé Vicky Barmecha, Bollywood editor Ranjeet Bahadur and actress Konkona Sen Sharma. The programme, which this year has a focus on youth and children's stories, runs for six months with three to four workshops and email and Skype sessions in between.
Marten Rabarts, NFDC training and development senior consultant, explains how National Script Lab participants and those at Film Bazaar's Screenwriters' Lab differ: "Film Bazaar focuses on emerging film-makers with some recognition in the international arena, while the National Script Lab supports new talents that may need more coaching over a longer time period to address their specific needs," Rabarts says. "Also Film Bazaar is more market-oriented, so looks for projects that are more viable in that kind of event."
Among other programmes, NFDC also runs labs for directors, which are mentored by film-makers such as Udayan Prasad (My Son The Fanatic), Gyula Gazdag, artistic director of Sundance Filmmakers Lab, and the Danish Film School's Arne Bro. Producers' Lab, which takes place during Film Bazaar, covers all aspects of producing through a series of workshops, case studies and masterclasses. Last year's mentors included producer Cédomir Kolar (The Lunchbox) and BFI London Film Festival director Clare Stewart.
NFDC is also launching regional film-making labs across India. The first will take place in the north-east states next March, followed by one in Ladakh. "From the beginning, the NFDC has been keen to reach out to areas of India that have little film-making infrastructure but have stories to tell," Rabarts says.
NFDC Labs also plans to work with other South Asian nations, starting with a co-operation with Nepal's Clinik script development programme, which focuses on projects from Afghanistan, Bangladesh, Pakistan, Myanmar, Nepal and Sri Lanka. Two Clinik projects — Sri Lanka's Womb and Nepal's Abomination — have been selected for Film Bazaar.
"We've also found that our own Labs are starting to feed each other," adds Rabarts, "for example, Hitesh Bhatia took part in our Directors Lab and is now at Film Bazaar with his project, Char Log Kya Kahenge."
Film Bazaar: Indian projects
Ashwathama
Dir Pushpendra Singh
Prod Sanjay Gulati
Blossoms (Pallavi)
Dir/prod Nila Madhab Panda
By/Two
Dir Devashish Makhija
Prod Datta Dave
The Indian Prisoner
Dir/prod Shashwati Talukdar
The Invisible One
Dir Amit Dutta Prod Anjali Panjabi
Mantra
Dir Nicholas Kharkongor
Prod Rajat Kapoor
Medium Spicy
Dir Mohit Takalkar
Prod Nikhil Mahajan
Nuclear Hearts
Dir Bornila Chatterjee
Prod Tanaji Dasgupta
The School
Dir Suchita Bhhatia
Prod Vivek Kajaria
Overcoat
Dir Abhijeet Singh Parmar
Prod Rishebh Batnagar
Seven (Saat)
Dir Ashish Bende
Prod Suhrud Godbole
Rainbow
Dir Shona Urvashi
Prod Raman Lamba
All About Her
Scr Ruchi Joshi*
The Boyfriend
Scr Vidur Nauriyal
Scr/prod Ashim Ahluwalia*
Char Log Kya Kahenge
Dir Hitesh Bhatia*
Flow
Writer/prod Vandana Kohli*
The Sunset Club
Scr/dir Karan Tejpal*
Winter
Scr/dir Aamir Bashir*
*Also selected for NFDC Screenwriters' Lab
Film Bazaar: International projects
3 1/2
Dir Sooni Taraporevala
Prod Mira Nair (US-Ind)
Abomination
Dir Karan Shrestha
Prod Kshitiz Adhiraj (Nepal)
Colony
Dir Pulkit Datta (IFP Project)
End Game
Dir Geetha J
Prod Ian McDonald (UK)
Gilded Cage
Dir/prod Vijay Chandran (Sing)
Goa
Dir Jaime Mateus-Tique
Prod Luc Bossi (Fr)
Interpreter Of Maladies
Dir/prod Amitav Kaul (US)
The Judgement
Dir Sabiha Sumar
Prod Sachithanandam Sathananthan (Pak)
Minefield
Dir Shiladitya Bora
Prod Prasanna Vithanage (Sri Lanka)
No Land's Man
Dir/prod Mostofa Sarwar Farooki (Bang)
Once Again
Dir Kanwal Sethi
Prod Holm Taddiken (Ger)
Summer With Azita
Dir Fazila Amiri
Prod Paul Lee (Afg)
What Will People Say
Dir Iram Haq
Prod Maria Ekerhovd (Nor)
Womb
Dir Nishantha Shanthadeva
Prod Rasitha Jinasena (Sri Lanka)