George Gittoes's Snow Monkey (pictured) and Nick Read's Bolshoi Babylon among the 15 titles in competition.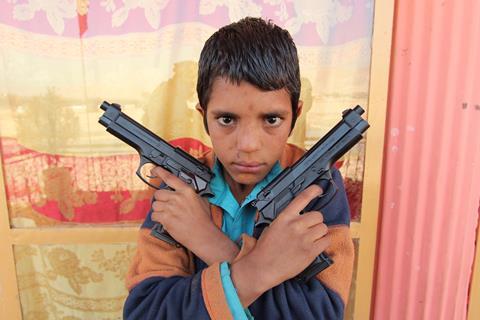 The 28th IDFA (International Documentary Film Festival Amsterdam) has unveiled its line-up, including its main competition.
The festival, which runs Nov 18-29, will comprise 319 titles (from 3,425 submissions), 78 of which receive their world premieres at IDFA. A total of 50 Dutch productions are included in the program, spread across the various strands.
A total of 15 films will compete in the IDFA Competition for Feature-Length Documentary, including Tom Fassaert's A Family Affair, which opens the festival on Nov 18.
The jury, made up of Laurent Bécue-Renard (France), Mahamat Saleh Haroun (Chad), Hanna Polak (Poland), Jonathan Rosenbaum (USA) and Barbara Visser (the Netherlands) will present the VPRO IDFA Award for Best Feature-Length Documentary, a cash prize of €12,500 ($14,000) and the IDFA Special Jury Award for Feature-Length Documentary worth €2,500 ($2,800).
The titles include (synopses provided by IDFA):
Bolshoi Babylon by Nick Read (Russia / UK)
A revealing look behind the scenes of the world-famous Russian Bolshoi Theatre, where a constant struggle between ambition, love of art and nepotism is played out.
Carolina's World by Mariana Viñoles (Uruguay)
An affectionate portrait of 20-year-old Caro, who has Down's syndrome. Sitting at her mother's kitchen table, she talks openly about her life.
Clear Years by Frédéric Guillaume (Belgium)
An intimate, candid account of a man watching through his camera lens as his family falls apart.
Don Juan by Jerzy Sladkowski (Sweden / Finland)
A funny, painful portrait of 22-year-old Oleg, whose mother Marina is trying to free him from his lethargic state.
A Family Affair by Tom Fassaert (the Netherlands)
Hoping to gain insight into his family history, Tom Fassaert heads to South Africa to visit his grandmother Marianne. But Marianne has something else in mind.
Natural Disorder by Christian Sønderby Jepsen (Denmark)
Jacob, who has cerebral palsy, will never lead a normal life. But who defines what is normal? In a play, he defends his right to exist as an abnormal person.
Next Stop: Utopia by Apostolos Karakasis (Greece / Germany / France)
Greek workers take over their abandoned workplace. Their movement becomes a beacon of solidarity - but how long can they keep going?
Patient by Jorge Caballero (Colombia)
While Nubia fights and fears for the life of her terminally ill daughter, we are given a bewildering insight into the absurd bureaucracy of the health system in Colombia.
The Road by Zanbo Zhang (China)
The construction of a gigantic motorway in China brings three parties into opposition with one another: the local population, the construction company and the labourers.
Snow Monkey by George Gittoes (Australia)
A collage of joy and brutality in Afghanistan. Local gang members take acting roles in a Pashtun film directed by an open-minded Australian.
Sonita by Rokhsareh Ghaem Maghami (Iran / Germany)
Illegally living in Tehran, 18-year old Afghani refugee Sonita dreams of being a rapper in this exciting document of her search for her own life path through life.
A Strange Love Affair with Ego by Ester Gould (the Netherlands)
Her admiration for the self-assurance of her sister Rowan prompts the filmmaker to explore our narcissistic society - with shocking results.
Thru You Princess by Ido Haar (Israel)
A virtual musical encounter between a cappella singer Princess Shaw from New Orleans and Israeli composer-producer Kutiman leads to an internet hit.
Thy Father's Chair by Antonio Tibaldi and Alex Lora (Italy / USA)
Ageing Orthodox Jewish twins Abraham and Shraga have to look on as a clean-up team gets to grips with their polluted home in Brooklyn.
Ukrainian Sheriffs by Roman Bondarchuk (Ukraine / Latvia / Germany)
Tragi-comic portrait of a pair of sheriffs in a remote Ukrainian village where - alongside various simmering situations - political developments are also a threat to order.
The winners of the various competition programs will be announced on Wednesday 25 November.
As previously announced, this year's Top 10 is provided by Errol Morris, and a retrospective of his work will also be screened.