Other winners include Harmony Lessons and Ilo Ilo.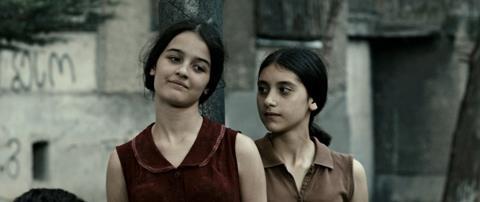 Directors Nana Ekvtimishvili and Simon Gross' In Bloom was awarded the grand prize and $6,830 (Y700,000) at the closing awards of the 14th edition of Tokyo Filmex, which ran Nov 23 to Dec 1.
The Georgia-Germany-France co-production is set in the Georgian capital of Tbilisi during the early years of the dissolved Soviet Union as two teenaged girls struggle against a backdrop of familial and political strife.
Chairperson of the jury Mohsen Makhmalbaf praised In Bloom for "its talent to portray two strong girls and the energetic recreation of reality in cinema."
The award adds to previous accolades won in Berlin, Hong Kong, AFI Fest and Montreal among other festivals.
The special jury prize and $2,930 (Y300,000) was presented to Kazakhstan writer-director Emir Baigazin for his debut feature Harmony Lessons.
The tough juvenile drama previously won prizes at Berlin, Tribeca and Warsaw. Baigazin is seen as a leading light in the Kazakh new wave.
Special mentions were presented to Thai director Visra Vichit Vadakan's Karaoke Girl and Kohki Yoshida's Tokyo Bitch, I Love You.
Hannah Espia's Transit won the student jury prize.
Joining Makhmalbaf on the jury were Japanese actress Makiko Watanabe, China-based producer Isabelle Glachant, and Japanese producer Hiroko Matsuda.
Taking the audience award was Anthony Chen's Ilo Ilo, with Chen in attendance immediately following the film's great success at the Taipei Golden Horse Awards, led by a best picture trophy.
The jury stated in no uncertain terms that the film's numerous prizes thus far had no effect on not giving it more. Makhmalbaf lamented the lack of available prizes, resulting in the additional special mention this year.
Filmex's closing ceremony was followed by the Japan premiere of Rithy Panh's Un Certain Regard-winning The Missing Picture, preceding its domestic release through Astaire.
The special screenings lineup featured new work from directors with strong ties to the festival, including Jia Zhang-ke's A Touch of Sin, Jafar Panahi's Closed Curtain and Tsai Ming Liang's Stray Dogs; and classic retrospectives on Noboru Nakamura and Jean Gremillon.
The third edition of the concurrent Talent Campus Tokyo (Nov 25-30) concluded with the TCT award going to Janus Victoria for her Japan-Philippines project Kodokushi – Escape to Summer. Chinese director Vincent Hai Du's documentary China's Music Dream was given a special mention.
Singaporean global hit Ilo Ilo, producer Pornmanus Rattanavich's Karaoke Girl and Espia's Transit all began life as Talent Campus Tokyo projects in 2010 (then called Next Masters), 2011 and 2012 respectively. TCT is quickly making its mark in fostering young Asian film-making talent.
The TCT mentors on hand to help shape projects were Indonesian director Garin Nugroho, producer Lorna Tee, Films Boutique CEO Jean-Christophe Simon and Berlin Talent Campus program manager Matthijs Wouter Knol.