Artistic director Karl Spoerri talks to Michael Rosser about big plans for Zurich Film Festival's 10th anniversary, including a new festival centre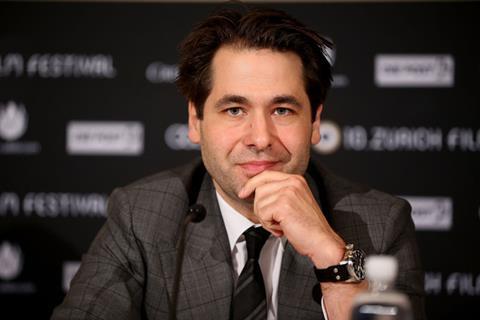 Celebrating its 10th edition, this year's Zurich Film Festival (September 25-October 5) looks set to be the biggest to date.
"It's our 10th anniversary so we want to make a big splash with audiences through our line-up of great films," says Karl Spoerri, ZFF's artistic director and co-director, with Nadja Schildknecht.
"For the first time we have a great festival centre in the heart of the square, which has reopened after being under construction for two years. It's a beautiful setting and was finished just in time," says Spoerri of the 16,000 sq m Sechseläutenplatz.
Spoerri was one of the festival founders in October 2005, when the three-day event focused on debuts and attracted 8,000 visitors. It has experienced the occasional hiccup over the years, such as Roman Polanski's high-profile arrest while on his way to collect an award at the 2009 festival.
But last year's edition recorded 71,000 visitors, 122 film titles and 450 guests, including A-list actors and industry figures such as Hugh Jackman, Melissa Leo, Harrison Ford and Harvey Weinstein.
"Zurich is the perfect festival to launch a film in the German-language market," says Spoerri. "It fits perfectly into the festival calendar and is very convenient to get to from around the world. Plus, we're a very audience-friendly festival."
ZFF's partnership with San Sebastian Film Festival (Sept 19-27) will continue, with each hosting a window dedicated to films from their respective countries rather than competing for titles.
The strong line-up of gala screenings include David Gordon Green's Manglehorn, Alejandro Gonzalez Inarritu's Birdman and Fatih Akin's The Cut, all of which debuted at Venice.
Other titles include Frederick Wiseman's National Gallery and Alice Rohrwacher's The Wonders, both of which played at Cannes; Israel Horovitz's My Old Lady, which premiered at Toronto; and Damien Chazelle's Sundance hit Whiplash.
The opening film is James Brown biopic Get On Up, director Tate Taylor's follow-up to Oscar-winner The Help.
Competition reshuffle
New for 2014 is a rejigged competition section and a boost to the prize money.
The International Feature and International Documentary categories remain but the sections for German-language feature and documentary have been dropped. In their place is Focus: Switzerland, Germany and Austria, which will showcase features and documentaries from the three countries.
The Golden Eye award in each of the two main categories will receive $28,000 (chf25,000) with the winner of the Focus category receiving $22,000 (chf20,000). The winning film from each of the three categories will also get an additional $112,000 (chf100,000) of distribution support.
This year's edition will build on the festival's 'Swiss Made' commitment with the introduction of an $11,000 (chf10,000) prize awarded to a domestic first, second or third work.
Further support for the Swiss industry comes with the return of the Treatment Award. Now in its second year, it invites writers to submit a feature film treatment with a strong link to Switzerland on the theme of civil courage. The winner will receive a $5,500 (chf5,000) cash prize and a contribution of $28,000 (chf25,000) towards screenplay development.
Opening dialogue
Also new for 2014 is the multidisciplinary Zurich Summit, which Spoerri has masterminded alongside conference organiser Winston Baker.
Running from September 27-28, the summit has evolved out of the Film Finance Forum, which launched at ZFF in 2010.
Topics will include creating and managing blockbusters in the digital era and breaking into China.
"Film finance is changing and we need to learn from the music and games industries," says Spoerri. "The summit will feature more dialogue between industries than previously, offering new ideas."
The event will also include a Game Changer award for Christoph Krachten, president of Munich-based online TV channel Mediakraft Networks, honouring "a visionary who breaks new ground while choosing to ignore convention and popular opinion".
ZFF will also introduce an out-of-competition strand to present television productions that have garnered international attention.
"Just look at the talent behind the current crop of TV pilots and you see the likes of Steven Soderbergh and Marc Forster," says Spoerri.
The third International Film Music Competition will be held during the festival and brings with it Oscar-winning composer Hans Zimmer, who will be honoured with a lifetime achievement award and a concert of his most famous works.
"We've tried to get him for the past five years," reveals Spoerri, audibly delighted to be bringing in the composer behind Gladiator and The Dark Knight.
This year's New World View section will focus on India, screening 10 new feature and documentary films by emerging Indian film-makers and a short-film block.