Ruben Ostlund's Force Majeure to screen atop 3,200m high Aiguille Rouge Mountain at Alpine festival.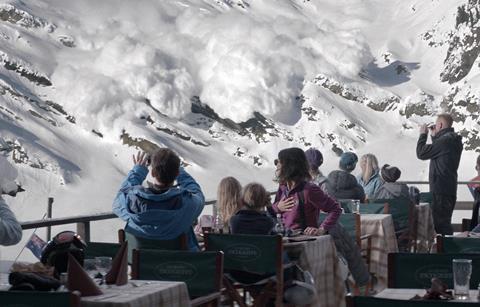 Susanne Bier's A Second Chance, Lenny Abrahamson's Frank and Gerard Johnson's Hyena are among the titles set to compete at the sixth edition of Les Arcs European Film Festival (Dec 13-20) in the heart of the French Alps.
Festival co-founders Pierre Emmanuel Fleurantin and Guillaume Calop said the event's focus on Europe was more relevant than ever as its citizens posed questions about the future of the region amid the ongoing economic crisis.
"We continue to believe in a united Europe where together we can safeguard our cultures and ways of life without renouncing progress," they said in a joint statement. "Across the new line-up, each country shows off the best of its cinema."
The titles in the competition, selected by artistic director Frédéric Boyer, will compete for the festival's top prize, the Crystal Arrow. Scroll down for the full list.
Preview screenings
There will also be a dozen previews of films due to hit French screens in 2015, including Jessica Hausner's romantic comedy Amour Fou, Germany Baran bo Odar's hacker thriller Who am I and Ruben Ostlund's family drama Force Majeure, set against the backdrop of a family skiing holiday.
Force Majeure, which was partly shot in Les Arcs, will also get one of Europe's highest ever screenings atop the 3,200-metre high Aiguille Rouge Mountain, one of the tallest peaks in the domain. The film debuted at Cannes where it won the Un Certain Regard Jury Prize.
The festival's previously announced Irish panorama will screen classics such as Neil Jordan's Michael Collins and Jim Sheridan's My Left Foot alongside newer productions including Kirsten Sheridan's Dollhouse and Terry MacMahon's Patrick's Day, both of which get their French premiere at Les Arcs.
Thom Moore's feature-length animation Song of the Sea will also play as part of the schools' programme.
New sections
The festival is also introducing two new sections devoted to music and horror this year.
Titles in the new music section include Florian Habicht's documentary Pulp, a film about life, death and supermarkets, revolving around the 1990s pop group's final revival concert in their hometown of Sheffield in 2012, and Mia Hansen-Løve's Eden.
The horror-focused sidebar will show Till Kleinert's Der Samurai, John Wright's Grabbers, set in a small Irish port where fishermen start disappearing, and Ivan Kavanagh's The Canal, about a film archivist who starts to lose his mind when he stumbles across evidence that a murder was committed in his family home.
This year's programme also includes a masterclass by French director Bertrand Tavernier, who is also the festival's guest of honour this year.
Industry events
As in previous years, the industry programme will be headlined by the Co-Production Village, presenting 25 projects, and Works in Progress, the line-ups of which are due to be announced later this month.
Elsewhere, the festival has tweaked its independent distributor meeting and added some new events.
"Like all festivals, we try to reinforce the successes and patch up the imperfections of the previous editions as well as innovate and captivate newcomers without destabilizing the festival faithful," said Claude Duty, president of the Révélations Culturelles association which organizes Les Arcs.
One of the key new initiatives, he said, would be the enlargement of the annual independent distributors networking event and rebranding from DIRE days to Le Sommet des Arcs (The Summit of Les Arcs).
As in previous years, the event, aimed at supporting the release of independent French and European films in France, will screen 12 titles scheduled for a 2015 release to exhibitors also attending the event.
They include Bent Hamer's 1001 Grams, due for release in March by Les Films du Losange; Saverio Costanzo's Hungry Hearts, which is being handled by Bac Films, and Xavier Beauvois' The Price of Fame (La Rançon de la Gloire) which will hit French screens in January, via Mars Distribution.
This year's industry workshops include a talk on the innovative pocket video scheme, "Video en Poche", through which a network of French art-house theatres has made films available for download on to a USB stick, as well a discussion on innovative events exhibitors are laying on to entice people into their theatres.
Music focus
There will also be a new focus on music. Alongside the sidebar in the film line-up, the festival is also launching Music Village Pro, a new networking event aimed at connecting professionals from the music and cinema industries, ranging from music supervisors to label executives to bloggers and music platform creators.
As per tradition, all festival attendees will be able to take part in the annual European Cinema Ski Cup, won last year by Marc Irmer, producer of Janos Szasz's The Notebook.
Les Arcs 2014 competition titles
1001 Grams
Bent Hamer (Norway)
The Fool
Yury Bykov (Russia)
A Second Chance
Susanne Bier (Denmark)
Fidelio, L'Odyssée d'Alice
Lucie Borleteau (France)
Frank
Lenny Abrahamson (Ireland)
Labyrinth of Lies
Giulio Ricciarelli (Germany)
These Are the Rules
Ognjen Svilicic (Croatia)
Hyena
Gerard Johnson (UK)
The Duke of Burgundy
Peter Strickland (UK)
Underdog
Ronnie Sandahl (France)
Waste Land
Pieter Van Hees (Belgium)