Marketplace pitch and competition winners also announced; 2016 dates set.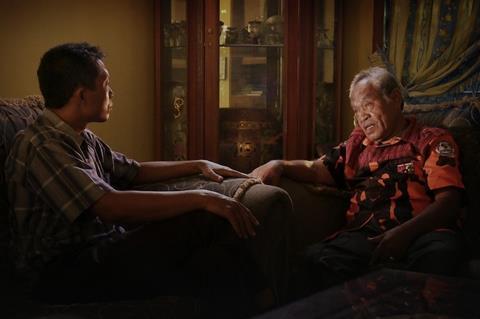 Joshua Oppenheimer's The Look Of Silence has won the Audience Award at Sheffield Doc/Fest (June 5-10).
The documentary, in which a survivor of the genocide in Indonesia confronts the men who killed one of his brothers, is the follow-up to Oppenheimer's The Act Of Killing.
Matt Houghton's Dear Araucaria won the Audience Award for best short while Disney Animated, co-directed by Dave Bossert and Theodore Gray, won best interactive.
Sheffield Doc/Fest, which held its main awards on its closing night last week, has set the dates for its 2016 edition as June 10-15.
This year's edition saw international delegate numbers rise to more than 3,400, from 3,263 in 2014, according to the festival.
Public numbers were on track to beat last year's record of 26,700, bolstered by an increase of almost 50% of the festival's Doc/Lovers wristband, which gave people access to all the films across the six days.
The festival hosted 184 screenings; 25 immersive, interactive and Virtual Reality projects, displayed in three gallery spaces; and 93 industry sessions and pitches.
In the Marketplace, 1,400 MeetMarket meetings and 450 Crossover Market meetings were scheduled over two days.
Marketplace
In Sheffield Doc/Fest's Marketplace, filmmakers had the opportunity to win close to $22,000 (£14,000) worth of competition and pitch awards, plus two commissions from Channel 4 and the BFI.
The 2015 winners were:
ARTE International Prize at Crossover Market:
This new development award worth €1500 was awarded to the one of five shortlisted projects, that showed a promisingly original approach to interactive storytelling.
Winner: Islands / dir. Oscar Raby / prod. Katy Morrison / VRTOV, Australia
ARRI Short Film Challenge:
Sheffield Doc/Fest partnered with ARRI to produce a new competition worth £2,000 for experienced filmmakers, which offered them the opportunity to create a short film during the Festival using ARRI's latest AMIRA camera
Winner: Knit Me Some Happiness / dir. Sophia Ollins / United Kingdom 2015
The BBC Radio 1 and 1Xtra Stories Pitch
A £2,000 commission for new filmmakers from the UK to make a four-to-six minute documentary to appeal to young people in the UK aged 15-29. The winning pitch team will work with a Radio 1 and 1Xtra series producer who will provide editorial support and guidance.
Winner: Flawed / dir. Rebecca Coxon
The Guardian Documentaries Pitch
Sheffield Doc/Fest hosted The Guardian's first-ever public pitch opportunity for a commission worth £5,000. Five projects were selected to pitch to a panel of The Guardian's commissioning team and international documentary experts.
Winner: Learning to Forget / dir. Kaspar Astrup Schröder / prod. Katrine A. Sahlstrøm / Denmark
International Broadcasting Trust Climate Change Pitch: Reframing Climate Change
The International Broadcasting Trust offered £4,000 in development funding for a project that aims to reframe the debate about climate change.
Winner: The Architecture of Power / United Kingdom / dir. Ana Naomi De Sousa / prod. Daniel Davies
Channel 4 First Cut Pitch – A First Cut Commission Offer, plus Mentorship and Training
Five directors pitched for a commission from Channel 4 for their first 60-minute film:
Winner: dir. / prod. / Luned Tonderai / UK
The BFI Film Fund Pitch
Six shortlisted projects were pitched to a panel of Fund executives, industry experts and peers. The winning project will be announced shortly.