Carol, Suffragette and Rams also among 15 titles in competition at cinematography festival.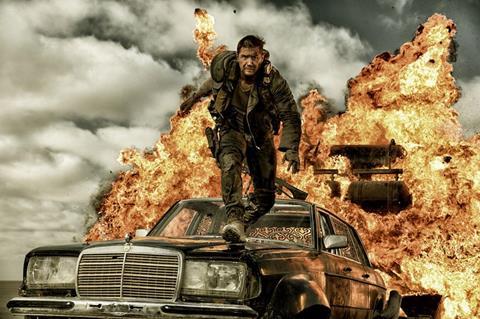 The titles in the running for the main competition at the 23rd Camerimage (Nov 14-21), the International Film Festival of the Art of Cinematography, have been revealed.
A total of 15 films will vie for the Golden Frog, Silver Frog and Bronze Frog awards, to be awarded to those titles representing the greatest achievements in cinematography at the festival, held in the Polish city of Bydgoszcz.
13 Minutes (Ger)
dir. Oliver Hirschbiegel, cin. Judith Kaufmann
The 33 (Chile)
dir. Patricia Riggen, cin. Checco Varese
Brooklyn (Can-UK-Ire)
dir. John Crowley, cin. Yves Belanger
Carol (UK-US)
dir. Todd Haynes, cin. Ed Lachman
I Saw The Light (US)
Marc Abraham, cin. Dante Spinotti
Mad Max: Fury Road (Aus)
dir. George Miller, cin. John Seale
The Midwife (Fin)
dir. Antti J. Jokinen', cin. Rauno Ronkainen
Rams (Den-Ice)
dir. Grímur Hákonarson, cin. Sturla Brandth Grøvlen
The Red Spider (Cze-Slo-Pol)
dir. Marcin Koszałka, cin. Marcin Koszałka
Room (Ire)
dir. Lenny Abrahamson, cin. Danny Cohen
Sicario (US)
dir. Denis Villeneuve, cin. Roger A. Deakins
Son of Saul (Hun)
dir. Lazlo Nemes, cin. Mátyás Erdély
Suffragette (UK)
dir. Sarah Gavron, cin. Eduard Grau
Warsaw 44 (Pol)
dir. Jan Komasa, cin. Marian Prokop
Wolf Totem (Chi-Fra)
dir. Jean-Jacques Annaud, cin. Jean-Marie Dreujou
Last year's Golden Frog was won by Andrey Zvyagintsev's Leviathan, on which Mikhail Krichman was cinematographer.
Special guests
The Festival's Award for Outstanding Achievements in Documentary Filmmaking will be presented to Polish director Marcel Łoziński.
A short retrospective of Łoziński's works will be screened and the filmmaker will meet with the festival audience after the films.
Łoziński is one of Poland's most renowned documentarians and his films include Recipe For Life, The Microphone Test, Anything Can Happen, Poste Restante and Oscar-nominated short 89mm From Europe.
In 2004, Łoziński won the American Cinema Foundation's Andrzej Wajda Freedom Award.
Camerimage has also announced details of two Photography Exhibitions that will feature in the Festival programme this year.
The first features the work of US photographer Sandro Miller, who will be at the festival with his exhibition of Malkovich, Malkovich, Malkovich. Homage To Photographic Masters, comprising 41 colour and black and white photographs staged by Miller and modelled by actor John Malkovich, recreating iconic photographs.
The exhibition will be be accompanied by the screenings of three short films directed by Miller, starring Malkovich: Malkovich Butterflies, Ecstasy and Allegory of the Cave.
Musician Bryan Adams will also be at Camerimage to present Exposed, a two-part exhibition consisting of a retrospective of 130 portraits of popular culture icons – including Mick Jagger, Kate Moss and Amy Winehouse – some of which are being exhibited in public for the first time at the Festival; and a second set, entitled Wounded: The Legacy of War, features photographs of scarred British veterans of the wars in Iraq and Afghanistan.