Two days cut from festival, competition titles reduced and line-up almost halved in the face of tough economic circumstances.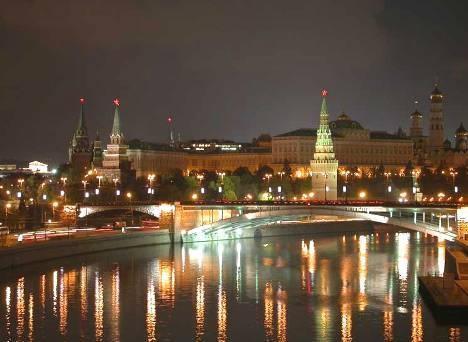 Russia's crumbling economy has forced the organisers of this year's Moscow International Film Festival (MIFF) to make swingeing cuts to the number of films shown and the festival's duration.
Speaking to Russian daily newspaper Izvestiya, MIFF programme director Kirill Razlogov revealed that the 37th edition will run from June 19-26, two days shorter than in 2014.
While MIFF will retain its three competition sections for feature films, shorts and documentaries, the number of titles in the main international competition is likely to be reduced from 16 to 12, although the Free Spirit documentary competition will still have seven films in its line-up.
Razlogov suggested that the number of films invited to screen in MIFF's programme outside of the three competitive sections will be slashed by almost half - from 2014's 250 to 150 at best.
Although the global budget of the Russian Federation's Ministry of Culture has been cut by 10% this year, the state financial support for MIFF remains stable at $1.95m (RUB 115m), the same as for 2014.
However, this is only worth 60% of that sum due to the Rouble's rapid devalation in recent months.
FESTIVAL NEWS
Prishtina's film festival forced into exile
Just a month before the seventh edition of PriFest, Prishtina International Film Festival (April 24-May 1), the organisers have been forced to cancel the event after Kosovo's Ministry of Culture cut its funding of the event by 78%
PriFest's management said that the recently appointed Minister of Culture Kutjim Shala - who is also Kosovo's Deputy Prime Minister - ¨doesn't understand and doesn't even want to try and understand the importance and the role that an international film festival like PriFest plays for a fragile film industry like the one in Kosovo and also the important factor that this festival plays for the cultural diplomacy of the young country like Kosovo.¨
In an official statement, the festival organisers said that they were ¨very sad and discouraged¨ by Shala's act ¨because it is another attack on the film industry of our country, following a few other steps that he already has taken to damage it like withdrawing the Law on Film from the Parliament of Kosovo, sacking the Managing Board of the Kosovo Cinematography Center without explanation, questioning whether Kosovo should continue to be present in Cannes Film Market with a pavilion, etc.¨
¨This management style can only be called 'Taliban style' that leaves no hope for moving further and doesn't give any hope for a brighter future for our film industry,¨ they concluded.
Thanks to the support of Tirana's Tulla Cultural Center in neighbouring Albania, a 'festival in exile' will nevertheless be held over two days from April 24 to show at least some of the titles in the planned PriFest programme.
The 2015 edition of PriFest had intended, among other things, to present a focus on Turkish cinema and again feature a LGBT sidebar Let It Be, organised in collaboration with LA's Outfest.
In addition, more than 20 film projects from the Balkan region had applied for the € 1,000 Vanessa Redgrave Best Pitch Award at the festival's industry platform PriForum, which was going to include workshops and pitching sessions with international guests.
Film-making in wartime
In the light of current developments in Eastern Europe, and particularly in Eastern Ukraine and Russia, the 15th edition of Wiesbaden's goEast - Festival of Central and Eastern European Film (April 22-28) will have film-making at time of war as one of its main themes.
¨The war in Ukraine and the conflict between Ukraine and Russia has a strong influence on our programme and our work at the festival,¨ festival director Gaby Babic explained. ¨This is something that we neither can nor want to evade.¨
The Beyond Belonging sidebar is therefore focusing on ¨Film Against War - On Trauma and Reconciliation¨ with new films by Michel Hazanavicius (The Search), Pavel Kostomarov (Kiev/Moskva), the Ukrainian film-makers Oleksandr Techynskyi, Alexey Soludonov, Dmitry Stoykov's All Things Ablaze, and Domino Effect by the Polish directorial duo's Elwira Niewiera and Piotr Rosolowski.
In addition, Russian documentary doyenne Maria Razbezhkina, Georgia's George Ovashvili (Corn Island), and Bosnia's Ines Tanovic are among the mentors for a new pilot project, ¨Young Film-makers for Peace¨, being launched at goEast this year.
Twelve young film-makers from war-torn and post-conflict regions in Ukraine, Russia, the Caucasus, and former Yugoslavia will meet with their counterparts from Germany to discuss strategies and experiences for making films under conditions of violent conflict as well as telling stories about these conflicts.
Other highlights include an homage to the veteran Georgian-born director Marlen Khutsiev and a symposium and film programme dedicated to the legendary German producer Artur Brauner.
Diagonale 2015 winners
Veronika Franz and Severin Fiala's psychological drama/horror film Good Night Mommy (Ich seh ich seh) was named Best Austrian Feature Film 2014/15 at this year's Diagonale - Festival of Austrian Cinema (March 17-22) in Graz.
Franz's partner and Fiala's uncle, film-maker Ulrich Seidl, produced the film which also picked up the Thomas Pluch Screenplay Jury's Special Award.
The debut feature had premiered at last year's Orizzonti sidebar in Venice and the Toronto International Film Festival and is now screening at New York's New Directors New Films showcase.
Nikolaus Geyrhalter's Over The Years (Über die Jahre) received the Diagonale award for Best Austrian Documentary 2014/15 and the prize for Best Artistic Editing.
The long-term observational documentary Over The Years about the meaning and loss of work in the rural area of Northern Austria had its world premiere at the Berlinale's Forum last month.
Other awards presented on Saturday evening (March 21) at the annual showcase of Austrian film-making including the Best Newcomer Film Award for Lukas Valenta Rinner's Parabellum, the Grand Diagonale Acting Award to Tobias Moretti, and the Prize for Innovative Achievements in Production was shared between Allegro Film (The Dark Valley) and FreibeuterFilm (Macondo).
The Dark Valley and Macondo both had their world premieres at last year's Berlinale.