The festival has secured an impressive array of films from this year's Cannes.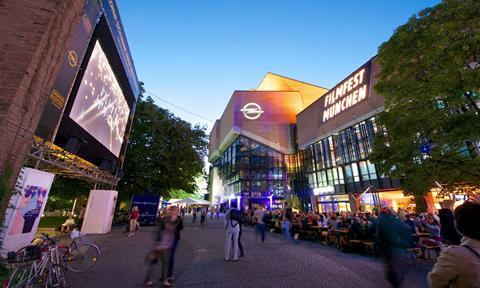 With Cannes being held later than usual this year, it was a close call for Munich Film Festival director Diana Iljine and her team of programmers to have their line-up done and dusted by the end of May. But they succeeded in selecting a raft of titles fresh from their Cannes premieres to screen between June 22 and July 1.
These include Andrey Zvyagintsev's Loveless, Valeska Grisebach's Western, Sergei Loznitsa's A Gentle Creature, Léa Mysius' debut Ava and Sofia Coppola's The Beguiled, which will be shown as part of a retrospective for the US filmmaker. Moreover, veteran French filmmaker Claire Denis' Let The Sunshine In, which screened in Directors' Fortnight at Cannes, will open Munich.
Now heading her sixth edition as festival director, Iljine identifies "youth on the move" as a common factor in many of the selected films. "Another theme is creative resistance — the rebellion against restrictive structures sees the imagination coming into play and being transported onto the screen in a variety of ways by the international filmmakers," she observes.
Programmer Bernhard Karl adds that this year's International Programme features a "significant focus" on films from Russia, Iran and China, including Iranian director Navid Mahmoudi's Parting, The Summer Is Gone from China's Zhang Dalei, and veteran Russian filmmaker Pavel Lungin's Queen Of Spades.
Other highlights for the festival's 35th edition will include Breaking Bad star Bryan Cranston receiving the festival's CineMerit Award at a gala ceremony with the European premiere of his latest film Wakefield, and UK actor Bill Nighy and producer Stephen Woolley presenting Lone Scherfig's Their Finest as Munich's closing film.
Going Deutsche
"What really struck me during my selection for the New German Cinema sidebar was that there is an increasing desire and ambition by filmmakers to play with genre elements in both the freely financed and classically funded films," says curator Christoph Gröner about this year's line-up of 20 world premieres.
Actor-director RP Kahl, for example, combines psychological thriller with stream-of-consciousness desert trip for his A Thought Of Ecstasy, while Nina Vukovic imbues a family drama with a thriller plot for Detour.
"Another trend is German filmmakers constantly thinking about our relationships to one another, how we behave as couples or with our loved ones, or to ourselves in the era of digital communications," Gröner adds. "For example, in Julia Langhof's LOMO — The Language Of Many Others, the protagonist shares life decisions with his followers on social media and eventually loses control of his life."
While 16 of the titles will compete in the newcomer director, producer, screenwriter or actor categories for the German Cinema New Talent Award, Fipresci will be back in Munich for a third year with its international jury to decide on the best film in this sidebar.
Coppola retrospective
It was perfect timing when festival director Diana Iljine decided to dedicate this year's retrospective to Sofia Coppola. She will be in Munich with The Beguiled, starring Colin Farrell, Nicole Kidman and Kirsten Dunst straight from winning the best director prize at Cannes (Universal Pictures opens the US Civil War-era drama in German cinemas on June 29 during festival week). Coppola's earlier directorial outings, The Virgin Suicides, Lost In Translation and Venice Golden Lion winner Somewhere — will also be shown as part of the retrospective.
Where To NETWORK
Munich is traditionally the last major industry event for the German film community before the summer holidays begin, so the festival is an opportunity for all-important schmoozing with commissioning editors, actors, directors, producers, distributors and sales agents. Invitation-only receptions by the German Film Academy and broadcasters ARTE and ZDF are popular haunts for festivalgoers, but the hottest ticket in town is arguably the gathering of the great and the good of the Munich film scene and further afield at the bash hosted by local film fund FFF Bayern.
Talk show
Munich also provides the backdrop for a plethora of panels and presentations addressing topical issues affecting the film industry. Discussion events will explore the potential for thrillers and horror films made for children and the challenges and opportunities of co-producing live-action children's features in Germany. Leading German foley artist Max Bauer will open up his 'box of noises' to unveil some of the secrets of his craft.