The Untamed and Toni Erdmann will screen at the 18th edition of the Brazilian event next month alongside tributes to the late David Bowie and Prince.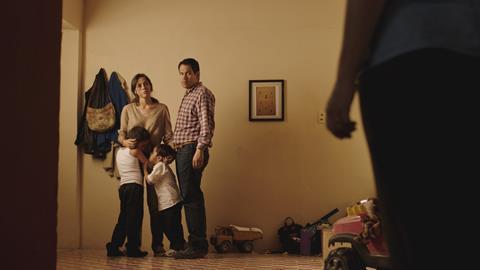 All in all 250 films from more than 60 countries in 15 sections will screen in 20 venues, including the new Olympic Boulevard unveiled for the recent summer Olympics.
Three new sections debut at this festival, which runs from set to run from October 6-16.
Cinema Marginal explores two critical Brazilian film movements, while Universal Monsters features seven restored Universal classics, and Wanderer Artists includes a tribute to Brazilian plastic artist Tunga.
Programmes include World Panorama, Première Brasil, Première Latina, Expectations, Generation, Midnight Movies & Docs, Frontiers, Threatened Environment and Unique Itineraries.
World Panorama selections include Ken Loach's I, Daniel Blake and Mare Ade's Toni Erdmann and Cristi Puiu's Sieranevada.
Premiere Latina includes Venice selections The Blind Christ (Chile-France) by Christopher Murray's and Amat Escalante's The Untamed (pictured), as well as Gastón Solnicki's Kékszakállú (Argentina), and Sebastian Borensztein's Koblic (Argentina-Spain).
Midnight Movies includes a trio of films inspired by or featuring recently departed music icons David Bowie and Prince: The Hunger, Purple Rain and Sign O' The Times.
Among the Cinema Marginal selections are Cacá Diegues' 1966 film A Grande Cidade, Nelson Pereira dos Santos's Fome de Amor from 1968, Walter Lima Júnior's 1971 film Na Boca da Noite, and Elyseu Visconti's film of the same year, Os Monstros de Babaloo.
Screenings include the opening weekend world premiere screening of Steven Bernstein's Dylan Thomas drama Dominion starring actor Rhys Ifans, Romola Garai and John Malkovich.
The RioMarket will run from October 5-12 and comprises networking, acquisitions and co-production opportunities, as well as more than 50 panels and 20 workshops and masterclasses. Areas of coverage include TV, fashion and film, and advertising.
For the third year the Felix Award will be given to the film that best recognises LGBT themes from a selection of 28 features chosen by an official jury. International model Lea T. will collect the Suzy Capó award as Felix Personality Of The Year.
To see the full line-up, click here.