Carlos Vermut's Spanish drama wins best film and best director; Dennis Lehane wins best screenplay for The Drop.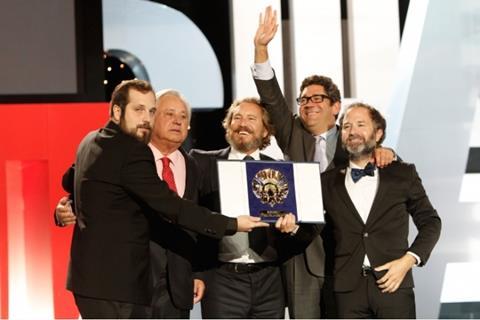 Scroll down for other awards
Spanish drama Magical Girl has won the Golden Shell for best film at the 62nd San Sebastian Film Festival (Sept 19-27).
Carlos Vermut also won the Silver Shell for best director for the film, produced by Madrid-based Aquí y Allí Films and is sold by Films Distribution.
Jury chairman Fernando Bovaira described Vermut as "a disturbing, delicate and unique voice".
The film, which debuted at Toronto and is currently screening at Zurich before going on to Busan, centres on the wish of an ill child who wants the dress in Japanese series Magical Girl Yukiko. Her father sets out to obtain it but enters a world of blackmail and tragedy.
It marks Vermut's second film after Diamond Flash.
The Special Jury Prize went to Wild Life (Vie Sauvage), the new film by French director Cedric Kahn, which focusses on a man who secretly lives with his two sons, having decided not to give them back to their mother after she won custody of the children.
The Silver Shell for best actor went to Javier Gutierrez for his role as a cop after a killer in Alberton Rodriguez's Marshland (La Isla Minima).
Gutierrez was unable to attend the ceremony but his co-star, Raul Arevalo, accepted the award on his behalf and read a moving letter from the actor in which he directly addressed the president of the Spanish government.
The letter urged Mariano Rajoy to "begin considering Spanish cinema as part of the Spanish brand".
Earlier this week, figures revealed that local cinema in Spain have reached a record high in the midst of a financial crisis.
La Isla Minima also picked up the jury prize for best cinematography, recognising the work of Alex Catalan.
The Silver Shell for best actress went to Paprika Steen for her performance in Bille August's Silent Heart.
Dennis Lehane, the US author behind Shutter Island and Mystic River, won the jury prize for his first screenwriting credit, The Drop, directed by Michael Roskam and starring Tom Hardy, Noomi Rapace and James Gandolfini in his last role for the cinema.
The Kutxa-New Directors Award, which includes a prize of $33,000 (€50,000), went to Kristina Grozeva and Petar Valchanov's The Lesson (Urok) while a special mention went to Latvia-Greece-Germany co-production Modris, directed by Juris Kursietis.
The Horizontes award, which includes a prize of $44,000 (€35,000), was won by Mexian coming-of-age road movie Gueros, directed by Alonso Ruizpalacios.
The winner of Panorama's First Feature Award at the Berlinale and best cinematography and a special jury mention at Tribeca, centres on three young men who go searching for a legendary Mexian musician when they hear he is dying.
Special mentions went to Matias Lucchesi's Natural Sciences and Franco Lolli's Gente de Bien.
Borja Cobeaga's new Spanish comedy Negotiator won the Irizar Basque Film Award.
The TVE - Another Look Award was won by Celine Sciamma's Girlhood (Bande de Filles), which debuted in Directors' Fortnight at Cannes.
A special mention went to Gett, The Trial of Viviane Amsalem, directed by Ronit Elkabetz and Shlomi Elkabetz.
Other awards
AUDIENCE AWARD (€50,000)
The Salt Of The Earth
Wim Wenders, Juliano Ribeiro Salgado (France)
AUDIENCE AWARD FOR BEST EUROPEAN FILM (€20,000)
Wild Tales
Damián Szifrón (Argentina - Spain)
YOUTH AWARD
Güeros
Alonso Ruizpalacios (Mexico)
TOKYO GOHAN FILM FESTIVAL AWARD
Buscando A Gastón (Finding Gaston)
Patricia Perez (Peru - US)
FIPRESCI AWARD
Phoenix
Christian Petzold (Germany)
I FEROZ ZINEMALDIA AWARD
La Isla Mínima (Marshland)
Alberto Rodríguez (Spain)
SIGNIS AWARD
A Second Chance
Susanne Bier (Denmark - Sweden)
SPECIAL MENTION
Loreak
Jon Garaño, Jose Mari Goenaga (Spain)
GUIPUZCOAN BLOOD-DONORS' ASSOCIATION CORRESPONDING TO THE SOLIDARITY AWARD
Tigers
Danis Tanovic (India - France - UK)
SEBASTIANE AWARD
The New Girlfriend
François Ozon (France)