The Look of Silence and new music from members of Sigur Ros to open festival; Monty Python documentary to close.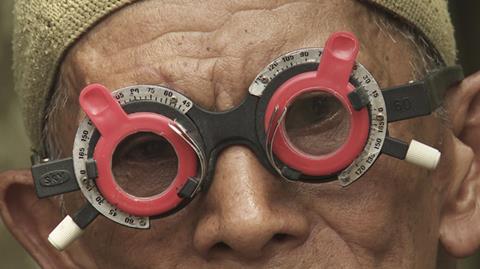 Sheffield Doc/Fest (June 5-10) has revealed the line-up of its 2015 edition, which will open with two events.
The first is the UK premiere of Joshua Oppenheimer's The Look of Silence, the follow-up to critically acclaimed The Act of Killing, in which a family that survives the genocide in Indonesia confronts the men who killed one of their brothers.
The second is the world premiere of Icelandic director Benedikt Erlingsson's The Greatest Shows on Earth: A Century of Funfairs, Circuses and Carnivals – a music and archive film that will feature a new score by Georg Hólm and Orri Páll Dýrason of Sigur Rós and the head of the Pagan Church in Iceland, Hilmar Örn Hilmarsson.
The film centres on the lives of travelling showpeople and has been created with exclusive access to the University of Sheffield's National Fairground Archive, which made this footage available for the first time. The film will be followed by a Q&A from the director and musicians.
It continues a tradition at Doc/Fest of mixing new music with old footage, which saw musician Jarvis Cocker team with film director Martin Wallace to produce The Big Melt in 2013, a celebration of industry in Sheffield that used 100 years of film from the BFI archives.
This year's Sheffield Doc/Fest will close on June 10 with the European premiere of Monty Python: The Meaning of Live, a behind the scenes look at the seminal comedy troupe's final performances at the O2 last year. It will be followed by a conversation with Sheffield-born Python member Michael Palin and directors Roger Graef and James Rogan, hosted by comedian Josie Long.
Competition titles
In total, the festival will comprise 150 feature and short documentaries from 35 countries, including 31 world premieres, 13 international, 19 EU, and 40 UK premieres.
In competition for the Grand Jury Prize are 12 titles, which will be judged by Kaleem Aftab (journalist), John Akomfrah (Smoking Dog Films), Ruby Chen (CNEX), Sigrid Dyekjaer (producer), Alexandra Hannibal (Tribeca Film Institute).
The films, which include the world premieres of Sean McAllister's A Syrian Love Story and Brian Hill's The Confessions of Thomas Quick, are:
A Sinner in Mecca, Parvez Sharma (EU premiere)
The journey of a gay, devout Muslim as he makes a Hajj pilgrimage despite the many potential dangers
The Russian Woodpecker, Chad Gracia (UK premiere)
Sundance Grand Jury Prize-winning film follows Ukrainian artist Fedor Alexandrovich and his collaborators as they set out to uncover the truth behind the nuclear disaster in his hometown of Chernobyl
Portraits of a Search, Alicia Calderón Torres (UK)
The tale of Mexican mothers desperately searching for their missing children in the midst of the ongoing drugs war
Good Girl, Solveig Melkeraaen (UK)
The director recalls her past experiences with depression whilst continuing her battle with the disease
The Black Panthers: Vanguards of the Revolution, Stanley Nelson (IP)
The turbulent short life of the Black Panthers using both archive and first person testimony
The Hunting Ground, Kirby Dick (IP)
An expose on sexual assault at US university campuses
Cartel Land, Matthew Heineman (UK)
Everyday citizens become vigilantes in the fight against Mexico's drug cartels
The Confessions of Thomas Quick, Brian Hill (WP)
A Swedish man with mental health issues admitted to murdering 39 people but then retracted his confession and was freed 23 years later
A Syrian Love Story, Sean McAllister (WP)
Focuses on two revolutionaries over the course of four years as they fight for freedom and their homeland
A Young Patriot, Haibin Du (IP)
Follows an idealistic teenager in China as he develops into a young adult, goes to college and volunteers as a teacher whilst the society around him begins to grow restless
Tea Time, Maite Alberdi (UK)
After 60 years, a group of elderly women still continue their tradition of meeting for tea once a month to reminisce
Orion: The Man Who Would Be King, Jeanie Finlay (UK)
The story of Elvis sound-alike Jimmy Ellis and his sudden catapult in to the limelight.
The eight films in competition for the Sheffield Environmental Award are:
Addicted to Sheep, Magali Pettier (WP)
How To Change The World, Jerry Rothwell (EU)
Containment, Rob Moss, Peter Galison (UK)
Landfill Harmonic, Brad Allgood, Graham Townsley (EU)
Sunu, Teresa Camou Guerrero (WP)
Merchants of Doubt, Robert Kenner
Licence to Krill, David Sington (WP)
In Between Mountains and Oceans, Masaaki Miyazawa (EU),
The Doc/Fest Youth Jury is composed of five 18-22 year olds from across the country who have nominated the Youth Jury shortlist. The films are:
3½ Minutes, Marc Silver (IP)
Breaking A Monster, Luke Meyer (EU)
Little People, Big Dreams, Mak CK (UK)
Oriented, Jake Witzenfeld's (WP)
Speed Sisters, Amber Fares (EU)
Events
Two 'In Conversation' events will be held, one with filmmaker John Akomfrah (The Stuart Hall Project), who is the subject of this year's retrospective in the film programme); and Nino Kirtadze, who has directed five films centred on issues related to Georgia And Russia. Kirtadze's film Don't Breath is in the film programme.
Three filmmaker masterclasses will include: BBC Film Programme's Danny Leigh talking with Jeanie Finlay about her work and distribution strategies, and unpicking methods and motivations with Joshua Oppenheimer whilst Brett Morgen will talk about his critically acclaimed work.
The festival said it expected more than 250 decision makers – 40 of which will attend Doc/Fest for the first time – from 30 countries including representatives from SXSW, Tribeca Film Institute and ARTE.
Between the Marketplace, Doc Campus Industry Sessions, Interactive at Sheffield and the international documentary programme, festival delegates will be presented with more than 280 special events, panels, films and projects.