Competition titles revealed; retrospectives of Ken Loach and Chantal Akerman; speakers include HBO documentaries president Sheila Nevins and revered filmmaker DA Pennebaker.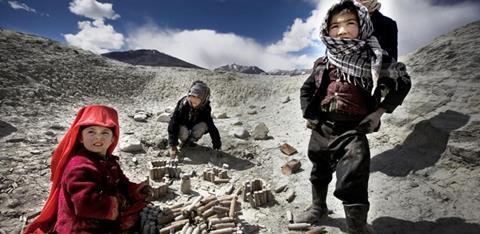 Scroll down for competition films
Sheffield Doc/Fest (June 10-15) has unveiled the programme for its 23rd edition, including 160 feature and short documentaries, an alternate realities line-up and a series of on-stage interviews and debates with major filmmakers and industry figures.
As previously announced, Michael Moore's Where To Invade Next will open the festival with the US documentarian in attendance at Doc/Fest for the first time since 1998.
The UK premiere and Q&A will be live streamed to 114 cinemas across the UK through distributor Dogwoof. It marks the second time Doc/Fest has streamed its opening, following Pulp: A Film About Life, Death & Supermarkets in 2014.
There are a total of 27 world premieres, 15 international, 19 European and 52 UK premieres with documentaries from 49 countries including Mexico, Cuba, China and Peru.
Competition titles
The main competition comprises 12 titles, including the world premiere of Ashish Ghadiali's The Confession – a first-hand account of the rise of modern jihad told through the eyes of former Guantanamo Bay detainee Moazzam Begg.
The line-up also includes the international premiere of Brendan J Byrne's Bobby Sands: 66 Days, exploring the 1981 prison hunger strike by Irish Republicans led by Sands – memorably portrayed by Michael Fassbender in Steve McQueen's powerful debut, Hunger.
Samira Goetschel's City 40 will receive its European premiere in competition at Doc/Fest, exploring the human and environmental costs of the nuclear industry through the lens of one of Russia's largest closed-nuclear cities.
Other competing titles include Shimon Dotan's The Settlers, about the thousands of Jewish settlers in the West Bank; Wojciech Staron's Brothers, which centres on two elderly siblings who return to Poland after 80 years in exile; and Ido Haar's modern fairytale Presenting Princess Shaw, in which Israeli mash-up artist Kutiman attempts to launch his next viral music sensation unbeknownst to her.
Also considered by the grand jury will be Brian Oakes' Jim: The James Foley Story, about the US journalist murdered by ISIS in 2014; Pieter-Jan De Pue's The Land of the Enlightened, which explores the terrible beauty of war-ravaged Afghanistan and the generation of children growing up there; and Jerry Rothwell's Sour Grapes, revealing how an Indonesian immigrant defrauded the international wine world.
The competition line-up is completed by Kirsten Johnson's Cameraperson, a memoir by the director who looks back at 25 years of footage she has shot around the world; Tatiana Huezo's Tempested, a portrait of women caught up in the Mexican cartel drug wars; and Notes On Blindness, directed by Peter Middleton and James Spinney, which will be accompanied by virtual reality project Notes On Blindness: Into Darkness.
Retrospectives
Doc/Fest will pay tribute to the late Chantal Akerman with a retrospective of her works including her final work, No Home Movie, a portrait of the Belgian filmmaker's relationship with her mother Natalia, a Holocaust survivor.
Other films to be shown in honour of Akerman, who died last October, include One Day Pina Asked…; Jeanne Dielman: 23 Commerce Quay 1080 Brussels and I Don't Belong Anywhere: The Cinema of Chantal Akerman, which explores her more than 40+ films.
The festival will also spotlight Ken Loach with films including his groundbreaking drama-doc Cathy Come Home, his more recent Spirit Of '45 and Versus: The Life And Films of Ken Loach, which will be followed by an extended Q&A with director Louise Osmond.
Speakers
On top of the previously announced speakers, including Lord David Puttnam, Joanna Lumley and world snooker champion Ronnie O'Sullivan, Doc/Fest also announced several other sessions.
HBO documentaries president Sheila Nevins will be in conversation with the BBC's Nick Fraser talking about breakout hits such as The Jinx.
Legendary filmmakers DA Pennebaker and Chris Hegedus will also be on stage on discuss their latest film Unlocking The Cage, which screens at Doc/Fest, as well as their careers which include following Bob Dylan for the seminal Don't Look Back (1967) and David Bowie for Ziggy Stardust And The Spiders From Mars (1973).
Sessions will include How To Get Your Theatrical Doc Funded And Distributed, discussed by experts from BBC Storyville, Dogwoof, Bertha DocHouse and Lightbox.
Alternate Realities
On June 12, the Alternate Realities Summit will open with an interview between transmedia producer and director Romana Pringle and android Bina48, described as "the world's most advanced social robot".
As previously announced, Doc/Fest is offering a "virtual encounter" with a recorded image of a survivor of the Holocaust, who responds in real time, powered by complex algorithms that provide a realistic conversation.
Sessions will explore the opportunities and challenges of VR while a raft of exhibitions and titles include Michael Epstein and Mark Thompson's John Lennon: The Bermuda Tapes, which recreates the summer of 1980 when the former Beatle was inspired to write his final album, Double Fantasy.
Swinton to close
Actress Tilda Swinton with co-director Bartek Dziadosz will close this year's festival with the UK premiere of The Seasons In Quincy: Four Portraits Of John Berger.
The documentary, which received its world premiere at the Berlinale in February, portrays John Berger, the UK writer, art critic, painter and poet whose novel G. won the 1972 Booker Prize. The film is divided into four chapters, each focusing on a different aspect of his life and work.
It will close the festival on June 15 and the screening will be followed by a Q&A with Swinton and Dziadosz.
Competitions
WP = World Premiere / IP = International Premiere / EP = European Premiere / UK = UK Premiere
Grand Jury
The Confession, James Rogan (WP)
Cameraperson, Kirsten Johnson (UK)
Jim: The James Foley Story, Brian Oakes (UK)
Brothers, Wojciech Staron (UK)
City 40, Samira Goetschel (EP)
Tempested, Tatiana Huezo (UK)
Presenting Princess Shaw, Ido Haar (UK)
The Settlers, Shimon Dotan (UK)
Bobby Sands: 66 Days, Brendan J Byrne (IP)
Sour Grapes, Jerry Rothwell, Reuben Atlas (UK)
The Land of the Enlightened, Pieter-Jan De Pue (UK)
Notes On Blindness, Peter Middleton, James Spinney (UK)
Environmental Jury
Seed: The Untold Story, Taggart Siegel, Jon Betz (UK)
Kivalina, Gina Abatemarco (UK)
Freightened - The Real Price of Shipping, Denis Delestrac (UK)
The Age of Consequences, Jared P.Scott (IP)
There Will Be Water, Per Liebeck (WP)
Death By Design, Sue Williams (EP)
Zud, Marta Minorowic (UK)
Born to be Free, Gayane Petrosyan (WP)
Footprint, Valentina Canavesio (WP)
Youth Jury
Storyboard P, a stranger in Sweden, Matt D'Arcy (WP)
Snow Monkey, George Gittoes (UK)
Sonita, Rokhsareh Ghaem Maghami
Flotel Europa, Vladmir Tomic (UK)
Lyari Notes, Miriam Chandy Menacherry (UK)