Full line-up of the Stockholm film festival includes feature and documentary competition line-ups.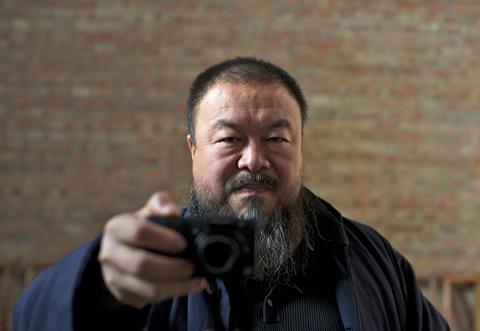 Scroll down for full line-up
The Stockholm International Film Festival (Nov 11-22) has unveiled the line-up for its 26th edition, comprising more than 190 films from over 70 countries.
The Stockholm XXVI Competition includes Marielle Heller's US title The Diary of a Teenage Girl and László Nemes' Holocaust drama Son Of Saul.
It marks the first time Stockholm has a greater number of women than men competing for the Bronze Horse – the festival's top prize.
The documentary competition includes Amy Berg's An Open Secret, an investigation into accusations of teenagers being sexually abused within the film industry; and Cosima Spender's Palio, centred on the annual horse race in Siena, Italy.
Announcing the programme, festival director Git Scheynius also revealed that Chinese artist Ai Weiwei will visit Stockholm for the first time as chairman of the jury for the first Stockholm Impact Award, which the subversive artist will also design.
The new prize comes with an award of $120,000 (SEK1m) and aims to highlight films that "create opportunities for changes and debate".
It is the third consecutive year Stockholm has collaborated with Weiwei, who last year created two ice sculptures of the lions guarding Beijing's Forbidden City for the festival and the previous year sent the art piece 'The Chair for Nonattendance' to visualise his absence as a member of the jury, while still banned from leaving China.
Stockholm will open with Jonas Carpignano's Mediterranea and close with Todd Haynes' Carol, which has also been chosen to adorn the festival poster. Joachim Trier's Louder Than Bombs will mark the mid-point of the festival.
As previously announced, director Stephen Frears will receive the Stockholm Lifetime Achievement Award and present his latest feature, Lance Armstrong biopic The Program.
In addition, US actress Ellen Burstyn – star of Alice Doesn't Live Here Anymore, The Exorcist and Requiem for a Dream – will receive the Stockholm Achievement Award and meet the audience during an on-stage interview.
Greek director Yorgos Lanthimos will receive the Stockholm Visionary Award at the Swedish premiere of The Lobster and will also take part in an on-stage conversation ahead of the screening.
SIFF 2015 line-up
Stockholm XXVI Competition
As I Open My Eyes, Leyla Bouzid (Fra-Tun-Bel)
The Chosen Ones, David Pablos (Mex)
Clever, Federico Borgia, Guillermo Madeiro (Uru)
The Daughter, Simon Stone (Aus)
The Diary of a Teenage Girl,Marielle Heller (US)
Efterskalv, Magnus von Horn (Swe)
Evolution, Lucile Hadžihalilovic (Fra)
Free in Deed, Jake Mahaffy (US-NZ)
Lazy Hazy Crazy, Luk Yee-sum (HK)
Louder Than Bombs, Joachim Trier (Nor-Fra-Den)
Maryland, Alice Winocour (Fra)
Mediterranea, Jonas Carpignano (Ita)
Mustang, Deniz Gamze Ergüven (Fra)
Nahid, Ida Panahandeh (Iran)
Neon Bull, Gabriel Mascaro (Bra-Uru-Neth)
Price of Love, Hermon Hailay (Eth)
Son of Saul, László Nemes (Hun)
The Summer of Sangaile, Alanté Kavaïté (Lith)
Sworn Virgin, Laura Bispuri (Ita-Swi-Ger-Alb-Kos-Fra)
Tikkun, Avishai Sivan (Isr)
The Wednesday Child, Lili Horváth (Hun)
Stockholm Documentary Competition
An Open Secret, Amy Berg (US)
The Amina Profile, Sophie Deraspe (Can)
Behemoth, Liang Zhao (Chi-Fra)
The Black Panthers: Vanguard of the Revolution, Stanley Nelson (US)
Bolshoi Babylon, Nick Read, Mark Franchetti (UK)
Cartel Land, Matthew Heineman (US)
Chuck Norris VS. Communism, Ilinca Calugareanu (Rom)
GTFO: Get the F&#% Out, Shannon Sun-Higginson (US)
The Hunting Ground, Kirby Dick (US)
Italian Gangsters, Renato De Maria (Ita)
My Nazi Legacy: What Our Fathers Did, David Evans (UK)
North, Çayan Demirel, Ertugrul Mavioglu (Turk)
Our Last Tango, German Kral (Arg-Ger)
Palio, Cosima Spender (UK)
Peggy Guggenheim: Art Addict,Lisa Immordino Vreeland (US-Ita-UK)
The Propaganda Game, Álvaro Longoria (Spa)
The Seventh Fire, Jack Pettibone Riccobono (US)
The Swedish Theory of Love, Erik Gandini (Swe)
Welcome to Leith, Michael Beach Nichols, Christopher K. Walker (US)
The Wolfpack, Crystal Moselle (US)
Stockholm Impact
Baba Joon, Yuval Delshad (Isr)
Det Vita Folket, Lisa Aschan (Swe)
Honor Thy Father, Erik Matti (Phil)
Mekko, Sterlin Harjo (US)
Parched, Leena Yadav (Ind)
Tomorrow, Cyril Dion, Mélanie Laurent (Fra)
Yo, Matias Meyer (Mex)
Open Zone
3000 Nights, Mai Masri (Pal-Fre-Jor-Leb-UAE-Qat)
Aferim!, Radu Jude (Rom)
Carol, Todd Haynes (UK-US)
Closet Monster, Stephen Dunn (Can)
Diary of a Chambermaid, Benoit Jacquot (Fra-Bel)
Gold Coast, Daniel Dencik (Den)
The High Sun, Dalibor Matanic (Cro)
Koza, Ivan Ostrochovský (Slo-C Rep)
Land Legs, Samuel Collardey (Fra)
Legend, Brian Helgeland (UK-Fra)
Macadam Stories, Samuel Benchetrit (Fra)
Madame Courage, Merzak Allouache (Alg-Fra)
Marguerite, Xavier Giannoli (Fra)
The Measures of a Man, Stéphane Brizé (Fra)
Much Loved, Nabil Ayouch (Fra-Mor)
Peace To Us In Our Dreams,Sharunas Bartas (Lith)
Suffragette, Sarah Gavron (UK)
Sunset Song, Terence Davies (UK-Lux)
Tale of Tales, Matteo Garrone (Ita-Fra-UK)
Taxi Teheran, Jafar Panahi (Iran)
Valley of Love, Guillaume Nicloux (Fra-Bel)
The Wait, Piero Messina (Ita-Fra)
American Independents
600 Miles, Gabriel Ripstein (US)
7 Chinese Brothers, Bob,ington (US)
Breaking a Monster, Luke Meyer (US)
Dope, Rick Famuyiwa (US)
Entertainment, Rick Alverson (US)
Experimenter, Michael Almereyda (US)
Funny Bunny, Alison Bagnall (US)
Go With Me, Daniel Alfredsson (US)
James White, Josh Mond (US)
I Smile Back, Adam Salky (US)
Me And Earl And The Dying Girl, Alfonso Gomez-Rejon (US)
The Missing girl A.D. Calvo (US)
Night Owls, Charles Hood (US)
The Overnight, Patrick Brice (US)
Tangerine, Sean Baker (US)
Seed Money: The Chuck Holmes Story, Michael Stabile (US)
Sneakerheadz, David T. Friendly, Mick Partridge (US)
Stockholm, Pennsylvania, Nikole Beckwith (US)
Unexpected, Kris Swanberg (US)
Asian Images
3688, Royston Tan (Sing)
Angry Indn Goddesses, Pan Nalin (Ind-Ger)
Alice in Earnestland,Gooc-jin Ahn (S Kor)
The Beauty Inside, Jong-Yeol Baek (S Kor)
Big Father, Small Father and Other Stories, Dang Di Phan (Viet)
The Black Hen, Min Bahadur Bham (Nep)
The Blue Hour, Anucha Boonyawatana (Thai)
Kaili Blues, Bi Gan (Chi)
The Kids, Sunny Yu (Tai)
Gangnam Blues, Ha Yoo (S Kor)
Madonna, Su-won Shin (S Kor)
Makeup Room, Kei Morikawa (Jap)
The Man Who Became a Horse, Amir Hossein Saghafi (Iran)
Masaan, Neeraj Ghaywan (Ind-Fra)
Miss Hokusi, Keiichi Hara (Jap)
Salongen, Arab Nasser, Tarzan Nasser (Pal-Fra-Qat)
Under Construction, Rubaiyat Hossain (Bang)
Latin Visions
Anna, Jacques Toulemonde (Fra)
The Club, Pablo Larraín (Chile)
Evilness, Joshua Gil (Mex)
The Memory of Water, Matías Bize (Chile)
I Promise You Anarchy, Julio Hernández Cordón (Mex-Ger)
Paula, Eugenio Canevari (Arg-Spa)
Siembra, Santiago Lozano Álvarez, Ángela Osorio Rojas (Col)
The Thin Yellow Line, Celso R. García (Mex)
To My Beloved, Aly Muritiba (Bra)
Violence, Jorge Forero (Col)
The Violin Teacher, Sérgio Machado (Bra)
Walking Distance,Alejandro Guzmán Alvarez (Mex)
Spotlight
Adama, Simon rouby (Fra)
He Named Me Malala, Davis Guggenheim (US)
Invisible, Lawrence Fajardo (Phil)
I jakt på ett bättre liv,Caroline Kernen, Tova kurkiala Medbo (Swe)
Lampedusa in Winter, Jakob Brossmann (Aust-Ita-Swi)
One Breath, Christian Zübert (Ger)
Out of My Hand, Takeshi Fukunaga (US-Lib)
The Waiting Room, Igor Drljaca (Can)
Walls, Pablo Iraburu Allegue, Migueltxo Molina Ayestarán (Spa)
Twilight Zone
Alena, Daniel di Grado (Swe)
Baskin, Can Evrenol (Tur)
Crumbs, Miguel Llansó (Spa, Eth)
Demon, Marcin Wrona (Pol-Isr)
The Devil's Candy, Sean Byrne (US)
Green Room, Jeremy Saulnier (US)
Heil, Dietrich Brüggemann (Ger)
I Am a hero, Shinsuke Sato (Jap)
The Invitation, Karyn Kusama (US)
Island City, Ruchika Oberoi (Ind)
Office, Won-Chan Hong (S Kor)
The Survivalist, Stephen Fingleton (UK)
Violator, Dodo Dayao (Phil)
The Wave, Roar Uthaug (Nor)
What We Become, Bo Mikkelsen (Den)
With The Lips Closed, Carlos Osuna (Col)
Yakuza Apocalypse, Takashi Miike (Jap)
Special Presentations
Beeba Boys, Deepa Mehta (Can)
Gentlemen & Gangsters, Mikael Marcimain (Swe)
Hingsten, Ninja Thyberg (Swe)
Listen To Me Marlon, Stevan Riley (UK)
The Lobster, Yorgos Lanthimos (Gre)
She's Wild Again Tonight,Fia-Stina Sandlund (Swe)
The Program, Stephen Frears (UK-Fra)
This Is England '90, Shane Meadows (UK)
Virgin Mountain, Dagur Kári (Ice-Den)