The 12 titles include Jafar Panahi's Berlinale winner, Roy Andersson's Venice victor and Alfonso Gomez-Rejon's Sundance prize-winner.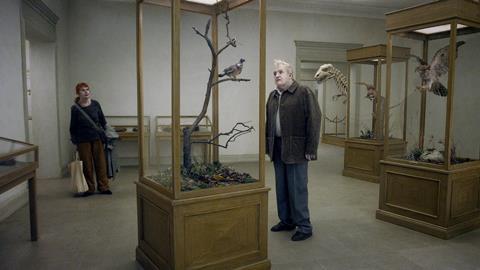 Scroll down for competition line-up
A story shot entirely on iPhone, Sean Baker's Tangerine, about a transgender LA prostitute very cranky with her boyfriend, and another that is told in one take, Sebastian Schipper's Berlinale award-winner Victoria, which features the Berlin party scene and a bank robbery, are among 12 movies in competition in the Sydney Film Festival (SFF).
Two Iranian films, Rakhshan Bani-Etemad's Tales and Jafar Panahi's Berlinale Golden Bear winner Tehran Taxi, are also in the running for the US$50,000 (A$64,000) prize, as are French director Thomas Salvador's "minimalist superhero film" Vincent, which he also stars in, and Portuguese director Miguel Gomes' Arabian Nights, a six-hours-plus portrait of Portugal set to premiere at Cannes this month.
The three selections that have already won major prizes at top tier festivals are Francesco Munzi's Italian crime film Black Souls and Swedish director Roy Andersson's Venice Golden Lion-winner A Pigeon Sat On A Branch Reflecting On Existence as well as US-born Alfonso Gomez-Rejon's Me And Earl And The Dying Girl, which picked the audience award and grand jury prize at Sundance.
Before unveiling the titles, SFF director Nashen Moodley reminded sponsors, media and other guests gathered for the launch this morning that "courageous, audacious and cutting edge" are the key criteria for the competition.
He also noted that there was an "incredibly strong" line-up of Australian cinema in the festival overall, something that appears to be reflected in the main competition given that the final three titles are all homegrown, including Jennifer Peedom's Sherpa, the only documentary. It is a moving account of an avalanche on Mt Everest that killed 16 Sherpas in 2014. There are usually casualties during the climbing season but up until last month's earthquake, this was the worst recorded tragedy on the mountain.
The other two Australian films in competition are both feature debuts. Theatre director Simon Stone's "powerfully moving drama" The Daughter is inspired by his own 2011 stage adaptation of Henrik Ibsen's The Wild Duck and stars Geoffrey Rush, Ewen Leslie, Sam Neill, Miranda Otto and Odessa Young. Kim Farrant's Sundance competitor Strangerland stars Nicole Kidman and Joseph Fiennes playing parents desperately searching for their children with the help of a police officer played by Hugo Weaving.
Moodley also revealed that the 62nd SFF would be bookended by Australian features: it was already known that another debut feature, Brendan Cowell's comedy drama Ruben Guthrie, would open the event on June 3 but not that Neil Armfield's love story Holding The Man would close it on June 14.
Ruben Guthrie, Holding The Man, The Daughter, and two other Australian films – Jeremy Sims' Last Cab To Darwin, which is within a "special presentations" program, Guido Gonzalez and S. Shakthidharan's debut Riz, which is in the general feature section of the program – are all world premieres.
Australian films make up all the films in the Dendy Awards, which are for shorts, and the 12 titles competing for the Documentary Australia Foundation Award. The world premieres among the documentaries are director Steve Thomas's Freedom Stories, Lisa Nicol's Wide Open, Marc Eberle's The Cambodian Space Project – Not Easy Rock 'n' Roll and Gillian Armstrong's Women He's Undressed, which will have its first screening on board a boat belonging to key sponsor Princess Cruises.
The SFF also includes a rhobust program of international documentaries, films under the regular sounds-on-screen and freak-me-out banners, an expanded program of family features, a focus on the work of Ingmar Bergman and a five-film South African selection.
Competition titles
Arabian Nights (Portugal, France, Germany, Switzerland), dir Miguel Gomes
Black Souls (Italy), Francesco Munzi
The Daughter (Australia), Simon Stone
Me And Earl And The Dying Girl (US), Alfonso Gomez-Rejon
A Pigeon Sat On A Branch Reflecting On Existence (Sweden, Norway, France, Germany), Roy Andersson
Sherpa (Australia, Nepal), Jennifer Peedom
Strangerland (Australia), Kim Farrant
Tales (Iran), Rakhshan Bani-Etemad
Tangerine (US), Sean Baker
Tehran Taxi (Iran), Jafar Panahi
Victoria (Germany), Sebastian Schipper
Vincent (France), Thomas Salvador