The inaugural edition of Storytek took place on Saturday November 19 at Tallinn Black Nights Film Festival, with international experts discussing the continued integration of technology and alternative storytelling.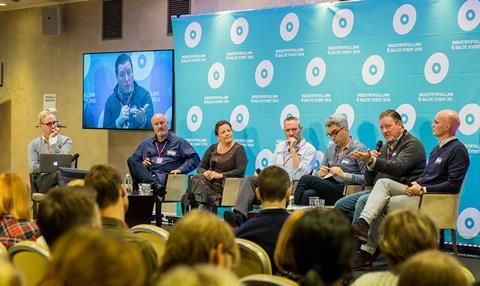 The all day-event included five panels focusing on intellectual property (IP), start-up and IP investment, gaming, VR and AR and the understanding of multi-platform audiences.

Getting a grip on IP and alternative storytelling
The day kicked off with a conversation focused on IP, and the vast topic of alternative storytelling.
John Heinsen, CEO of Los Angeles-based transmedia company Bunnygraph Entertainment, used Game of Thrones as an example of a multi-faceted IP that has grown from an internationally-viewed television series into a business involving a behind-the-scenes live aftershow series, collector's edition box-sets, IMAX special screenings, video games, podcasts, books, clothing and collectibles.
"We have to think about new business models," said Heinsen, referring to increased production content like mobile behind-the-scenes video blogs or apps teasing upcoming episodes.
"It's about building your community, and to do that, I believe we have to think about spending production money up front, rather than just marketing dollars at the back," continued Heinsen, former Transmedia Producer for the Academy Awards and Vice President New Media for the Producers Guild of America (PGA).
Laura Anne Edwards, Resident TED USA, challenged this idea by saying audiences are not paying for content across all platforms, and that there is yet to be a proven business model for new methods of storytelling.
"Brands look at these different types of content as helping build their communities," said Heinsen, comparing the new media industry with that of the early television days when brands helped offset costs.
Erwin M Schmidt, CEO of Berlin-based start-up Cinemathon, argued the attention needs to be put on finding new audiences willing to pay, rather than the audiences that have already spent their money on an expensive cinema ticket, while Mitch Mallon, Chair of Electronic Merchants Association (EMEA), advised that more content should be aimed at older audiences.
"What do you do when the Amazon/ Netflix license agreement ends? There are audiences out there ready to pay for existing content. There is no negative here, only endless options."
Gaming vs VR and AR
Later in the day, a panel conidered gaming and VR. The former is big business, noted Keith Arem, former Director of Audio for Virgin Interactive Entertainment and now CEO of PCB Productions. He pointed out that the gaming industry is worth nearly $100bn thanks to the success of franchises such as Call of Duty, Spiderman, X-Men and Lord of the Rings (all of which Arem produced and engineered).
"The problem is, there are now over 500 games submitted per day to the app store, this not including Android apps and other platforms," said Estonian Kadri Ugand, CEO of networking start-up accelerator Gamefounders.
While there is no sign of a slow down in production of games, either among smaller budgeted ($2mill-$3m) or larger budgeted AAA versions ($60mill-$100m), there is now more episodic programming making its way into the field, said the panel.
"The content is shorter in length, released in installments in quick succession, acting in much the same way as a television series that hooks viewers from episode to episode," explained Ugand.
Both Ugand and Arem also highlighted that mobile gaming is expected to overtake PC and consoles this year.
"This is interesting as freemium games are much more successful on mobile than premium games," said Ugand.
The panel went on to predict that AR (Augmented Reality) will soon be the frontrunner in the virtual content space.