Black Nights festival's animation strand has unveiled its 2016 winners.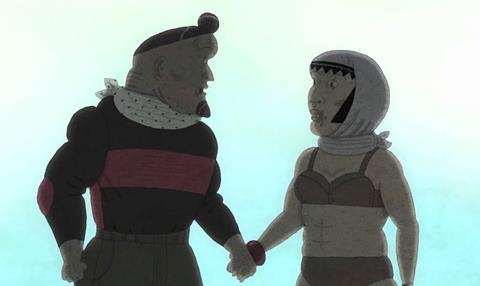 The 18th edition of the Animated Dreams festival at Tallinn Black Nights (Nov 11-27) has revealed its winners.
Ukrainian-born Russian director Igor Kovalyov took the top prize for his 20-minute short film Before Love [pictured], which had its premiere at the Holland Animation Film Festival earlier this year
Devised around a classic love triangle, the film follows a construction worker on a scaffold who observes a young woman spying on a man.
Kovalyov is an experienced animator, having worked on TV series The Rugrats between 1992 and 2006 as well as two spin-off features from that franchise and The Wild Thornberrys Movie. He has also directed multiple short films, including Milch in 2005, which was nominated for an Annie Award.
The Animated Dreams competition jury consisted of Giannalberto Bendazzi (Italy), Pedro Rivero (Spain) and Agne Nelk (Estonia). They commented that the prize was awarded to Before Love for "the smart way it combines tragedy and comedy in describing common everyday life".
Three jury prizes were also handed out to Spela Cadez's Nighthawk, Koji Yamamura's Satie's Parade, and Phil Mulloy's Endgame.
The Animated Dreams festival screened 206 films, of which four were feature films, from more than 30 countries.
Full list of winners:
Grand competition
Grand Prix' Heino Pars' NAEL, presented by Nukufilm and Eesti Joonisfilm:
Igor Kovalyov – Before Love
Very Special Jury Prize:
Spela Cadez – Nighthawk
Special Jury Prize:
Koji Yamamura – Satie's Parade
Jury prize:
Phil Mulloy – Endgame
Student competition
Best student film:
Sophia Markatatos – How Are You Today?
Jury special mention:
Viktor Stickel, Iring Freytag – Child
Shut Up! Competition
Golden Prize
Vessela Dantcheva, Ivan Bogdanov – Travelling Country
Silver Prize
Rafael Sommerhalder – Au revoir, Balthazar
Bronze Prize
Kristjan Holm – Full House