The Lesson by co-directors Kristina Grozeva and Petar Valchanov was the big winner at this year's Sofia International Film Festival in Bulgaria.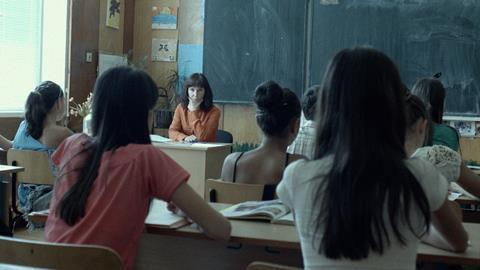 The duo's feature debut became the second Bulgarian feature in SIFF's 19-year history to receive the international jury's Grand Prix after Dragomir Sholev's Shelter in 2011.
The Lesson also picked up the Audience Award, the FIPRESCI International Critics' Prize and the award for the Best Bulgarian Feature Film.
Accepting the award, Valchanov pointed to the importance of the Sofia Meetings where The Lesson had originally been pitched and said that this event should be ¨an example¨ to the Bulgarian state to develop a long-term and sustainable film policy for the future.
The sentiment was echoed by international jury president Stephan Komanderev (The Judgement) when he presented the ¨Sofia City Of Film¨ Grand Prix to the young directors.
The Lesson, which is handled internationally by Wide Management, premiered last year at Toronto and has also won awards in San Sebastian, Warsaw, Tokyo and Gothenburg among others.
The film's success on its home turf was particularly appropriate given that SIFF's 19th edition (March 5-15) gave over a large part of its programme to celebrating 100 Years Bulgarian Cinema with a retrospective of the nation's extensive film heritage.
Past pitches receive prizes
Apart from The Lesson, a number of other films pitched at previous editions of the Sofia Meetings were among the prize-winners at this year's festival:
The Special Jury Award went to German-Afghan director Burhan Qurbani's We Are Young, We Are Strong;


The Best Balkan Film Award was presented to Hüseyin Karabey's Come To My Voice, which premiered at the Berlinale's Generation sidebar last year.

Karabey had also won this award with his debut feature My Marlon and Brando at SIFF's 13th edition and found his German co-producer Alexander Ris of Neue Mediopolis Filmproduktion when he pitched Come To My Voice in Sofia;


A Special Mention was made by the Balkan Film Competition jury of Radu Jude's Berlinale 2015 winner Aferim!
Other awards
The main competition's International Jury, which also included last year's Grand Prix winner Georgia's Levan Koguashvili (Blind Dates), gave its Best Director Award to Hungarian film-maker Gábor Reisz for For Some Inexplicable Reasons and a Special Mention to Mexico's Andres Clariond Rangel for the debut Hilda, while the Youth Jury Award went to Iranian director Amirhossein Asgari's Borderless..
The Millennium Award for Best Documentary added another trophy to Joshua Oppenheimer's growing line of prizes for his new film The Look Of Silence, while the Bulgarian Film Critics' Award for the Best Balkan Film went to Tudor Giurgiu's Why Me? which was co-produced by the Sofia-based Chouchkov Brothers and premiered in the Panorama at last month's Berlinale.
SIFF's 19th edition had opened on March 5 with the premiere of French-based Georgi Balabanov's debut The File Petrov and closed its main section yesterday evening (March 15) with Andrey Zvyagintsev's Cannes and Golden Globe winner Leviathan.
The festival programme of over 200 titles included a Focus on Georgia, a sidebar marking the 100th anniversary of the genocide in Armenia, a retrospective of 100 Years of Bulgarian Cinema, and a 13-film tribute to the producer Karl 'Baumi' Baumgartner, while the Sofia Awards for Contribution in Cinema were presented to the veteran Bulgarian actor Ivan Ivanov, legendary Italian actor Franco Nero, Georgian film-maker Nana Djordjadze, and to Martina-Valentina Baumgartner on behalf of her late father.
Sofia Meetings winners
Projects from Georgia, the UK, Turkey, Bulgaria and Italy were the prize-winners at the festival's industry section, the Sofia Meetings (March 12-15).
Two Hungarian postproduction companies gave awards to Iranian-born writer-director Ali Jaberansari and his producers Duccio Chiarini and Babak Jalali for his second feature The Ladder, to be produced by London-based Here & There Productions, and to Georgian film-maker Grigol Abashidze's debut feature Neighbours, which was also the winner of the Georgian National Film Centre's recent debut feature project competition.
Meanwhile, Hüseyin Karabey continued his winning streak on Saturday evening by picking up the postproduction services award from Vienna-based Synchro Film, Video & Audio for his third feature project Misty Illumination, which will have Neue Mediopolis' Alexander Ris onboard again as the German production partner.
Moreover, another Sofia Meetings veteran, Dragomir Sholev (Shelter), received the newly created Yapimlab Award from the hands of Winter Sleep's producer Zeynep Ozbatur Atakan who will serve as a consultant for his second feature project Pig during the week-long Yapimlab training programme.
And Italian writer-director Francesco Costabile was awarded a scholarship from the Mediterranean Film Institute to work on developing the screenplay of his debut feature The T-Factor.
In total, sixteen projects were selected for the public pitchings in the "Second Feature Film Projects" or "Plus Minus One" line-ups, including Dancehall Bitch by Ireland's Terry McMahon (Patrick's Day), I Hate Berlin by Romania's Valentin Hotea (Roxanne), and Breathing Into Marble by Lithuania's Giedre Beinoriute.
In addition, Israeli director Tom Shoval returned to Sofia with Sol Bondy of Berlin-based One Two Films to pitch his second feature Shake Your Cares Away. Shoval and Bonday had been partners on his debut Youth which the director and his producer Gal Greenspan had pitched at the Sofia Meetings in 2011.
The Meetings - which also included works-in-progress screenings of new Bulgarian films - were attended by such industry figures as MDM's CEO Manfred Schmidt, Medienboard Berlin-Brandenburg's Brigitte Manthey, Film Center Serbia's Miroljub Vuckovic, producers Cedomir Kolar, Marc Baschet, Antoine de Clermont-Tonnerre, sales agents Sasha Wieser (East West Filmdistribution), Keiko Fumato (Alpha Violet), festival programmers from San Sebastian, Cottbus, Warsaw, Tallinn, Galway, Karlovy Vary, and members of the Europa Cinemas and Europa Distribution networks, among others.
Sofia launches Film Commission
The City of Sofia used the Sofia Meetings to announce the launching of a film commission as one of the first actions since the Bulgarian capital was designated as a ¨City of Film¨ by UNESCO in December 2014.
Malina Edreva, chairwoman of the Sofia Municipality Cultural Commission, explained that the film commission was established to facilitate co-productions with international producers and work towards a film-friendly climate for shooting in the city.
Sofia Municipality's Deputy Mayor Todor Chobanov added that the city will ¨proceed with long-term investments in the film industry¨ and stressed that being named ¨City of Film¨ by UNESCO ¨is only the beginning for us.¨
Sofia joins another four cities worldwide - Bradford (UK), Galway (Ireland), Sydney (Australia), and Busan (South Korea) - who were given the UNESCO label in recent years.
SOFIA BRIEFS
Muted VOICES
Korinna Danielou, art director for Russia's VOICES film festival in Vologda, revealed to Screen that the showcase of young European cinema is not likely to take place this July.
VOICES, which was the only festival in Russia dedicated to young European cinema, is the latest in a line of film festivals and events to fall victim to the current political climate in the Russian Federation.
The five editions of VOICES had included spotlights on films from the UK, The Netherlands, Italy, Germany and France and been visited by such international figures as Uberto Pasolini, Claudia Cardinale, Krzysztof Zanussi, Nik Powell, Katja Riemann, Hans Weingartner, Alexander Sokurov, Paolo Taviani, Goran Paskaljevic, Hugh Hudson, Claude Brasseur, and Sergei Loznitsa. .
Let's CEE plans Industry Days
Vienna's Let's CEE Film Festival (Oct 1-15, 2015) is to introduce an Industry Days section for its fourth edition.
Festival director Magdalena Zelasko told Screen during the Sofia Meetings that Let's CEE will be holding a two-day Film Funding & Financing Forum (Oct 8-9) with projects being pitched from Central and Eastern Europe, China, Austria and Germany.
Let's CEE's film programme will present around 100 feature films, documentaries and shorts from Central and Eastern Europe, the Caucasus and Turkey.
Febiofest joins the culinary club
Prague's Febiofest (March 19-27) has become the latest in a series of international film festivals to adopt the Berlinale's model of Culinary Cinema with three evenings of film presentations followed by menus prepared by master chefs at a pop-up restaurant in Ateliér 2 of the Barrandov Studios.
Korean Gina Kim's Final Recipe will be followed by a menu of Asian cuisine, Luca Guadangino's I Am Love by a menu of Italian dishes, and a menu inspired by the best Michelin restaurants to be served after the Swedish documentary Foodies.
Actress Alba Rohrwacher (I Am Love), and one of the Foodies directors, Charlotte Landelius are expected to attend.
This year's edition of Febiofest will open this Thursday (March 19) with screenings of the actor Alan Rickman's second outing as a director with A Little Chaos and Jean-Jacques Annaud's Wolf Totem.
A Northern Lights sidebar will include such films as Bille August's Silent Heart, Pernilla Fischer Christensen's Someone You Love, Bent Hamer's 1001 Grams, Erik Poppe's A Thousand Times Goodnight, Hisham Zaman's Letter to the King, Ilmar Raag's I Won't Come Back, and Henrik Hellström's The Quiet Roar.
In addition, there will be a film tribute to UK producer Mike Downey, a Focus on Holland, and special events dedicated to the imprisoned Ukrainian director Oleg Sentsov who was an honorary member of Sofia's International Jury this last week.
International guests due to attend this year include Katarina von Richthofen, who will present her late husband's documentary 35 Cows and a Kalashnikov, the actor Isaach de Bankolé, the director Szabolcs Hajdu and the actress, Orsolya Török-Illyes of Mirage, producers Rick McCallum and Denis Vaslin, actor Jeroen Krabbe, film-makers Urszula Antoniak, Dusan Milic and Anders Rune.
The festival will close on March 27 with the Czech avant-premiere of The Second Best Exotic Marigold Hotel with director John Madden attending.