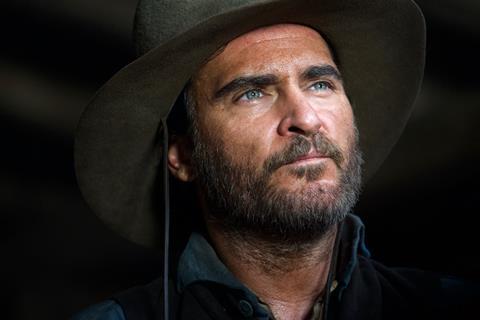 A mixed bag of nominations for the 24th edition of France's Lumière awards was unveiled in Paris on Monday (Dec 17).
Jacques Audiard's US-set, English-language The Sisters Brothers, period comedy-drama Mademoiselle de Jonquières, adoption drama Pupille and Venice-winning relationship drama Custody came out as the front-runners with four nominations each.
Following with three nominations each were Alex Lutz's comedy-drama Guy, about a man who discovers he is the illegitimate son of a fading variety star and decides to follow him on tour; comedy The Trouble With You, sexual abuse drama Little Tickles, and Sheherarzade, a love story between a young delinquent and a prostitute in Marseille.
The awards are the Golden Globe of France in that the 80 members of the Académie des Lumières are drawn from the international media community based in France.
The mixed bag of nominations, in which no one or two films have come out on top, reflects the performance of French independent featuresat the local box office this year at which there have no break-out local titles aside from mainstream comedies and family franchises.
Unusually, three of the highest nominated films – Sheherazade, Custody and Little Tickles - are first time features.
Memoir Of War (aka Memoir of Pain), France's entry to the foreign-language Oscar, garnered just one nomination for Melanie Thierry in the best actress category. She plays writer Marguerite Duras as she struggled to resume life with her husband following his return from a concentration camp after the Second World War.
Surprise shut-outs included Christophe Honoré's Sorry Angel, Claire Denis's High Life, Jean-Stéphane's A Prayer Before Dawn and Coralie Fargeat's Revenge.
Nominees in the category for non-French productions from Francophone territories comprised two titles from Lebanon, Nadine Labaki's Capernaum and Ziad Doueiri's The Insult, as well as Belgian director Lukas's Dhont's Girl and Anja Kofmel's Chris The Swiss.
In total 37 titles have picked up nominations out of the 130 French films that were released theatrically in France during the selection period.
This year voters were also able to view films on a dedicated site run in partnership with Cannes Marché du Film's Cinando platform, which received 1145 visits.
The 24th Lumiere ceremony will take place at the Institute of the Arab World in Paris on Feb 4, 2019.
The full list of nominations
Best fiilm
Amanda, dir. Mikhaël Hers
The Sisters Brothers, dir. Jacques Audiard
Guy, dir. Alex Lutz
Mademoiselle de Joncquières, dir. Emmanuel Mouret
Pupille, dir. Jeanne Herry
Best director
Jacques Audiard, The Sisters Brothers
Jeanne Herry, Pupille

Xavier Legrand, Custody
Gaspar Noé, Climax
Pierre Salvadori, The Trouble With You (En Liberté!)
Best actress
Elodie Bouchez, Pupille

Cécile de France, Mademoiselle de Joncquières
Léa Drucker, Custody
Virginie Efira, An Impossible Love
Mélanie Thierry, Memoir Of War
Best actor
Romain Duris, Our Struggles
Vincent Lacoste, Amanda
Vincent Lindon, At War
Alex Lutz, Guy
Denis Ménochet, Custody
Best screenplay
Andréa Bescond and Eric Métayer, Little Tickles (Les Chatouilles)

Jeanne Herry, Pupille

Thomas Lilti, The Freshman (Première année)

Emmanuel Mouret, Mademoiselle de Joncquières

Pierre Salvadori, Benoît Graffin and Benjamin Charbit, The Trouble With You
Best cinematography
Benoît Debie, Climax

Benoît Debie, The Sisters Brothers
Laurent Desmet, Mademoiselle de Joncquières
Julien Hirsch, One Nation, One King
David Ungaro, To The Ends Of The World
Best male newcomer
Anthony Bajon, The Prayer
William Lebghil, The Freshman
Andranic Manet, A Paris Education
Félix Maritaud, Sauvage

Dylan Robert, Shéhérazade
Best female newcomer
Ophélie Bau, Mektoub My Love
Galatéa Bellugi, The Apparition
Andréa Bescond, Little Tickles
Jeanne Cohendy, Head Above Water
Kenza Fortas, Shéhérazade
Best first film
Little Tickles, Andréa Bescond and Eric Métayer
The Wild Boys (Les Garçons sauvages), Bertrand Mandico
Custory, Xavier Legrand

Sauvage, Camille Vidal-Naquet
Shéhérazade, Jean-Bernard Marlin
Best film from French-speaking territories
Capharnaüm, dir. Nadine Labaki
Chris the Swiss, dir. Anja Kofmel
Girl, dir. Lukas Dhont
The Insult, dir. Ziad Doueiri
Our Battles, dir. Guillaume Senez
Best feature animation
Asterix – The Secret of The Magic Potion, dir. Louis Clichy and Alexandre Astier Dilili à Paris, dir Michel Ocelot

Mutafukaz, dir. Shojiro Nishimi and Run

Pachamama, dir. Juan Antín
Best documentary
Cassandro, the Exotico!, dir Marie Losier

Each And Every Moment (De chaque instant), dir. Nicolas Philibert

No Man Is An Island, dir. Dominique Marchais
Young Solitude, dir. Claire Simon

Samouni Road, dir. Stephano Savona
Best music
Camille Bazbaz, The Trouble With You
Vincent Blanchard and Romain Greffe, Guy
Alexandre Desplat, The Sisters Brothers
Pierre Desprats, The Wild Boys
Grégoire Hetzel – Un amour impossible