From crowd funding, to worthy subject matters, Sarah Cooper looks at the issues that have been getting the documentary world talking at this year's Sheffield Doc/Fest.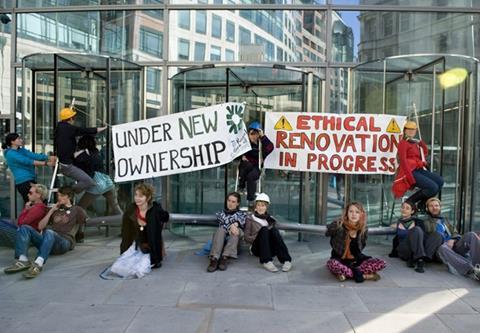 "Is there a cause behind your documentary? Should you crowd source? Talk to brands about identifying and connecting with your project? Go to NGOs? It's exciting and scary times," said Rob Alexander, who was at Sheffield Doc/Fest last week to raise funds for his documentary A Bow Project, and who summed up the mood at the 17th edition which closed on Sunday.
"It's all about widening the opportunities for documentaries. So we are speaking to brands, foundations and philanthropists who haven't necessarily funded docs before," agrees Jess Search, the chief executive of the documentary support body, the Channel 4 BRITDOC foundation.
To prove the point, BRITDOC announced during the festival that it would be producing a feature aimed at highlighting the importance of nature, which has been commissioned and will be part funded by the National Trust, following a similar model to the 2009 doc about privacy, Erasing David, which was funded by the Joseph Rowntree Trust.
And it's not just about raising money, says Search. "When you partner with an NGO [Non-Governmental Organisation], they might bring a campaigning function; when you partner with a foundation you might get further up the chain with policy makers, and with brands you might get distribution because they have got products that can carry messages."
But despite picking up £10,000 of funding from cosmetics brand Lush for her feature documentary about climate activists, Just Do It (pictured); film-maker Emily James is more sceptical. "Lush put no demands on us, but if we allow it to become a situation where the arts are dependent on corporate money, it means that more difficult and challenging creative work won't find sponsorship."
Drawing in the crowds
James is one of a growing number of doc film-makers turning to another financing model – crowd funding - to raise money for her film. The new model also happened to be the hottest topic in Sheffield last week.
But is it viable? "It has to be appropriate to the project," says James. "We are making a film about the power of crowds, the mirrors are so strong that it was like, how can we not crowd fund this film."
But, says James, don't expect to make mega bucks. "We've managed to raise £13,000 from the public, but that puts us pretty much at the top of the league in terms of what you can get from crowd funding. And it's still not enough to make the film," add James, who admits that she needs to raise a minimum of £50,000 to finish the film.
For Just Do It, James and her team set up their own crowd funding website to pick up donations, but other film-makers are turning to online platforms such as IndiGoGO and Kickstarter who will do the crowd funding for a cut of the profits, and who are now becoming regular faces at Sheffield's MeetMarket, the festival's annual pitching and networking event.
Charlie Phillips, who runs MeetMarket also points out two new crowd funding platforms at this year's edition, the UK company BuzzBank and French platform Touscoprod. "It's a great new source for people to collaborate on and while they may not get their whole budget, they can at least get some of it," says Phillips.
Producer Ash Jenkins of Roundtable Films, who was in Sheffield trying to raise money for his documentary Yoga For Unity, about the positive effects of Yoga in Kenya, believes that crowd funding brings more than just money to the table. "When you are pitching the project to commissioners and they ask who your audience is, you can show you have a following already who want to see the film."
James has gone one step further for Just Do It, by giving people the option to sign up, say where they live, and pledge that they want to see the film. "It doesn't cost them anything, but it means we can go to the distributor and demonstrate that we already have, say, 2000 people who want to see it, and tell them exactly where they are."
Still, not all documentary film-makers are convinced. Producer Natasha Dack of Tigerlily Films, who was in Sheffield with Anthony Butt's doc After the Apocalypse, about the hangover of nuclear testing in Kazakhstan, says that while she's happy to explore all options to get a film made, she's "still to be convinced by crowd sourcing as a means of raising significant money."
And despite exec producing the pioneering example of a crowd funded doc, Fanny Armstrong's Age Of Stupid, Oscar winning documentary producer John Battsek admits that he doesn't have the energy or time to invest in crowd funding. "I take my hat off to them, if people can fund films that way, then fantastic. But I've got to be honest, we are doing three or four things at one time and I don't think I have the patience to go down that road, because you have to really focus on it."
We are not worthy
With a heavy emphasis on "social issue" films in this year's Sheffield line-up, together with a increased focus on targeting money from NGOs and charities who have a "message" to put across, does this mean that docs at the other end of the scale, such as Sheffield's opening doc Joan Rivers: A Piece of Work, will begin to pay the price?
It's already happening, says the film's director Ricki Stern, who revealed that she struggled to find support from the industry and had to rule out the idea of releasing the doc theatrically in the UK for fear that its takings would be eaten up by P&A costs. "When people heard they would say 'why are you making a doc about Joan Rivers?'," said Stern, whose previous project, The Devil Came On Horseback, was about the genocide in Dafur.
"I think one thing that is starting chafe is the idea that each documentary has to have a social mission," added the film's co-director Annie Sturnberg.
Battsek agrees that it is not about whether a documentary is "worthy", but that "it's a great story and well told. I think rating a film because it's about something important is unfair on films that aren't about issues. It's about how good the films are."
Sheffield's festival programme Hussain Curimbhoy's analysis of opening night was that, "I've never seen people at the festival so happy". Is that the point? It's a debate that will no doubt continue to rage in seven months when Doc/Fest moves to its new June slot next year.