Dir/scr: Mohammad Rasoulof. Iran. 2011. 104mins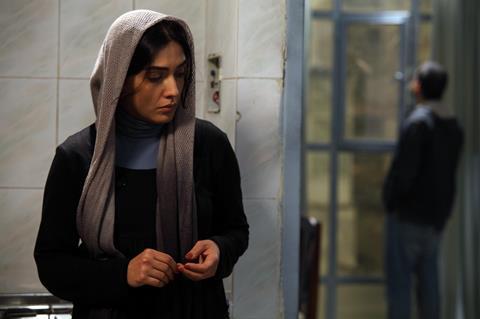 Shot in semi-clandestine conditions in Teheran in the winter of 2010-11 by Iranian filmmaker Mohammad Rasoulof, who together with colleague Jafar Panahi is currently serving a six-year jail sentence for 'propagandising against the regime', Goodbye (Be Omid e Didar) is a sombre and courageous portrait of the open prison that present-day Iran has become.
Goodbye is also a slow-moving and rather bleak film that demands a certain resilience of its audience.
Shot with a careful eye for colour, light and framing, this story of a politically suspect female lawyer doggedly trying to secure the visa that will allow her to leave Iran creates beauty out of desperation, but it's a dour kind of beauty, as befits a film which refuses to give much space to luxuries like hope or optimism.
Visually, and in its rich sound design, the film betrays none of the presumably difficult conditions of the shoot: it's a fully-formed contemporary screen tragedy, and a worthy addition to an oeuvre that includes two much more allusively allegorical films about Iran, The White Meadows (2009) and Iron Island (2005).
But Goodbye is also a slow-moving and rather bleak film that demands a certain resilience of its audience. A couple of days before the film's Cannes premiere (the film was a surprise late addition to Un Certain Regard), it was announced that Fortissimo would be partnering with Pretty Pictures on sales, with Pretty Pictures releasing in France and Fortissimo handling the rest of the world.
With Rasoulof's incarceration creating sympathy and interest, the film is likely to travel more widely than the director's previous three features, but is unlikely to chalk up the territorial coverage of fellow Iranian Asghar Farhadi's Berlin breakout title A Separation.
The film takes its time to establish the story, keeping us guessing even while we pick up on little signs that suggest the cloud that Noora (Zahreh, convincing and intense) is living under. We see her in a crowded tube train removing her nail polish and donning full chador before getting off at Imam Khomeini station; we see her at home refilling a leaking glass tank in which a pet terrapin lives; we see her pleading with a hostile secretary to be allowed to see her boss, a certain Mr Lofti. Gradually the key plot points emerge through fragments of dialogue, some of which seems voiceover until, well into the scene, the camera finally focuses on the speaker.
Noora is a lawyer who, for some unspoken reason, has been banned from practicing her profession. She is trying to leave Iran - "If you feel like a foreigner in your own land, it's better to be a foreigner abroad", she tells the editor of a banned newspaper towards the end. Noora is also pregnant - something recommended by Mr Lofti, the fixer who will organise the visa, whose scheme (never fully explained) involves her giving birth outside of the country.
But Noora's husband, Mehrdad is not around - he's 'down south' she tells people, working as a crane driver. Noora is uncertain whether she even wants the baby, and meanwhile complications arise in the pregnancy.
There's an implacable quality to the setbacks that Noora suffers: when two plain clothes policemen come to search her flat, the menace is all the more disturbing for being suppressed: she cannot tell the neighbours, or her visiting mother, what is happening. Noora's isolation is stressed by offscreen sounds that suggest a world indifferent to the plight of the individual: we hear traffic noise, airplane roars and, towards the end, the howling of the wind and a rumble of distant thunder.
The one thing missing - and the reason why Goodbye is unlikely to have the audience purchase of A Separation - is dramatic tension: the film is more funeral march than thriller.

Production companies/producer/cinematography/editor: Mohammad Rasoulof
International sales: Fortissimo (outside France) www.fortissimo.nl
Main cast: Leyla Zareh, Fereshteh Sadreorafai, Shahab Hoseini, Roya Teymorian