UK in Focus goes behind the scenes of the UK film and television industry, and includes a foreword by Sir Ridley Scott.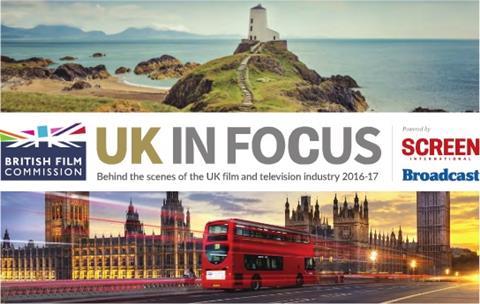 The British Film Commission has launched a new magazine at Cannes Film Festival in partnership with MBI, the publisher of Screen International and Broadcast.
UK in Focus showcases major upcoming productions across the UK's regions and nations, spotlighting areas of excellence in the country's infrastructure and skills base.
UK in Focus will be distributed by Screen International and Broadcast at Cannes, Mipcom, MipTV, Media Summit, Media Production Show, Toronto, AFM, Berlin, AFCI Locations Show and Hong Kong Filmart.
Sir Ridley Scott, the British director of Alien, Blade Runner and The Martian, wrote the foreword for the publication, in which he said: "UK in Focus profiles just a few of the areas in which the UK excels: highlighting the emerging British talent of whom we'll be seeing more in the future, showing major feature and television titles produced in the UK and speaking to some of the British individuals and companies that have made it all happen – including the British Film Commission whose support I have relied on more than once."
Adrian Wootton, chief executive of the British Film Commission and Film London, said: "It has been a real pleasure working with our new partners, MBI. We have collaboratively produced a publication with genuinely interesting content which also showcases the breadth of skills, facilities and talent on offer throughout the UK."
The magazine includes features such as:
Made in the UK: A snapshot of forthcoming film and TV projects
Marvel's Magical Mystery Tour: Doctor Strange makes the most of its south east England locations
Dressed for Success: The UK costume designers making their mark across all genres
A Different Perspective: Amma Asante on the importance of diversity
A Crowning Achievement: London's calling for Netflix show The Crown
Visual Pioneers: How UK effects are fuelling production of all sizes
Southern Charms: The south west England locations that are at the heart of Poldark
Small Screen, Big Success: The global impact of UK television
Locations Mood Board: Stunning film locations across the UK's Nations and Regions
Magic and Mood: JA Bayona's A Monster Calls finds inspiration in north west England
Behind the Music: The UK facilities and talent creating award-winning soundtracks
Fit for a Queen: Game Of Thrones returns to Northern Ireland for its sixth season
Land of Opportunity: An overview of the UK's ever-expanding filming spaces
Dram Catchers: The remake of Whisky Galore takes root in Scotland
Fantastic Feats: David Yates takes on two of 2016's biggest blockbusters
Flying the Flag: The new UK talent making its mark on the international industry
Bang on Trend: TV show The Collection found Wales the perfect fit
Support Network: How the British Film Commission provides frontline support at every stage of production