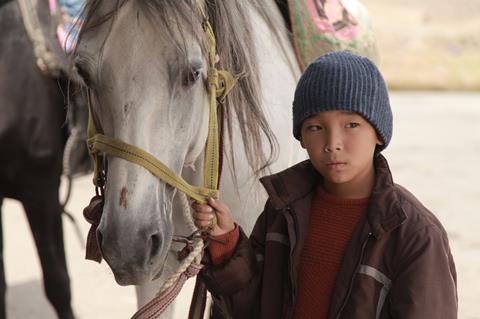 Busan International Film Festival (BIFF) opening film The Horse Thieves. Roads Of Time is a rare Kazakhstan-Japan co-production, which has been co-directed by Yerlan Nurmukhambetov – winner of Busan's New Currents award in 2015 for The Walnut Tree – and Lisa Takeba, who screened in Rotterdam's Tiger Awards competition in 2015 with Haruko's Paranormal Laboratory.
Financed by national film studio Kazakhfilm and Tokyo New Cinema (headed by CEO Hikaru Kinouchi), Nurmukhambetov and Takeba's first collaboration follows a 12-year-old boy whose mother has to sell the family house and move after his father is killed by horse thieves. The cast includes Samal Yeslyamova, who won Cannes' best actress award in 2018 for Ayka, newcomer Madi Minaidarov and Japanese actor Mirai Moriyama.
What brought the two of you together on this project?
Nurmukhambetov: We met at a Cannes party when Kazakhstan had a national pavilion in 2017. When I came back to Kazakhstan, Lisa told me that [producer] Shozo Ichiyama was interested in my story and we arranged a video-conference call. After that, we wrote the first draft with the help of some of my students from Kazakh National University of Arts [where Yerlan is the chair of the cinema and TV directing department]. Before the shoot began, Lisa and I worked through each scene in detail from start to finish. I think we did a good job together.
Takeba: I watched [1999 Tajikistan-shot feature] Luna Papa in high school, which inspired me to visit Central Asia. When I met Yerlan in the party, it was sad to hear from him that [Luna Papa director] Bakhtyar Khudojnazarov has passed away. The feeling of loss that I felt urged me to ask Yerlan whether we could create a film together, and he said yes. People tend to think of me as a multi-genre film director: my previous films are quirky and cute, while my upcoming film Signal 100 produced by Toei is a horror and this new film is completely different.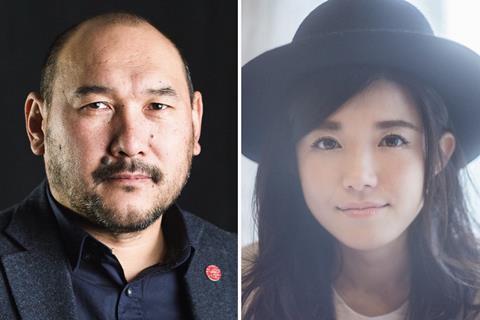 How did you decide on your main cast?
Nurmukhambetov: We had very little time for casting. When I saw Madi's eyes, I could tell there's the "spirit of the steppe" in them. At the early stage of scripting, one of my students said that Samal seemed to fit my description of her character. I didn't think of her because I knew that she was working on [Ayka director] Sergey Dvortsevoy's new film and his productions take years. But I made a call and she said yes, maybe because we know each other well as I worked as first assistant director on [Dvortsevoy's 2008 feature] Tulpan for four years. Later, when Samal won best actress in Cannes for Ayka, I thought she would get quite busy but she called me and said, "I promised you, Yerlan, and so I confirm that I'll be in this project." I am very thankful to her.
What were some of the challenges and surprises shooting the film entirely in Kazakhstan?
Takeba: When I was at university, I travelled around the world in a backpack, including Uzbekistan. I've since fallen in love with the beauty of Central Asia, but I never expected to shoot a film there. It's a four-way communication on set - Kazakh, Japanese, English and Russian. Our translators helped us a lot and I also picked up some Russian and Kazakh. Surprisingly, the Kazakh language is easy for Japanese speakers because their grammar is very similar. I was surprised with the high standards of the Kazakh actors who didn't need any rehearsal, unlike Japanese actors who always rehearse at the shooting locations.
This is not Yerlan's first time working with Japanese filmmakers. How is this co-production different from your previous ones?
Nurmukhambetov: I co-wrote, co-directed and shot The First Rains Of Spring in Kazakhstan with [Japanese director] Sano Shinju. Japanese filmmakers are very hard-working. There are moments when you get distracted and Japanese partners will pull you back into focus. Co-production work is not easy because of the big differences between Japan and Kazakhstan in their economy and culture. But I never consider a film as being a work of one person. When the production starts, it is also a film of the DOP and a film of the production designer. Cinema is a collective work.
How did the major filming locations facilitate the storytelling and the visual imagery?
Nurmukhambetov: The project started to gain momentum when we found the major location of the summer house on Tuzkol Lake. When I saw the top of Khan-Tengri Mountain in the distance from the lake, the images of the film began to form more vividly in my head. Together with the cinematographer Aziz Zhambakiyev, we decided to use Khan-Tengri to open the film and the story. The mountain itself gave a very interesting, almost spiritual kind of feeling.
Why do you like to feature children in your films so prominently?
Nurmukhambetov: Many Kazakh filmmakers and writers of the past liked to tell their stories through the eyes of children, maybe because they are a symbol of the future. Also, there are lots of children wherever you go in Kazakhstan and I myself am a father of five children. I know for sure that without children, all of my films including Anshi Bala, The First Rains Of Spring and even Walnut Tree wouldn't have the same energy.
Can you describe the current state of Kazakh filmmaking?
Nurmukhambetov: Kazakh cinema is getting better these days. Back in the day, only three or four films were made a year whereas now up to 60 projects in different genres and budget levels are produced annually. Kazakh cinema is not only gaining international interest – for instance, Adilkhan Yerzhanov's A Dark, Dark Man in San Sebastian and Sharipa Urazbayeva's Mariam in Locarno and Toronto this year – but our commercial films are also finding their audiences in our country.