Green's award-winning coming-of-age drama about a troubled teen who flees from her uncle into the Alaskan interior has won hearts and minds on the US festival trail and stars Ella Purnell, Bruce Greenwood and Brian Geraghty.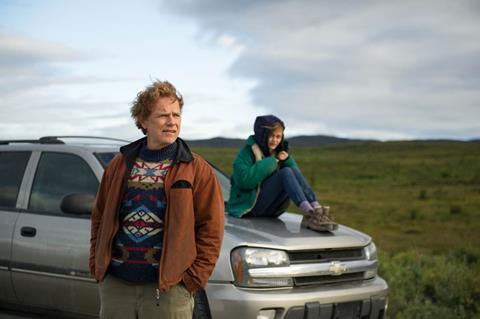 Jeremy Berkowitz talks to Green about kites, sexual abuse and shooting in one of the world's great natural wonderlands.
Christine Vachon served as executive producer and Green produced with Julie Christeas, Schuyler Weiss and Joseph Stephans. Wildlike is a Greenmachine film and a Tandem Pictures production and will open on September 25 through Amplify Releasing.
I just wanted to start by saying that Wildlike was one of the best, most beautiful movies I've seen in along time. I was particularly moved by the story Mackenzie hears when she and Rene fly kites with strangers.
There's an interesting story behind that part of the movie. The man who tells that story is Tom. When I wrote this script, I wanted to incorporate something about kites and people. Although it's sort of tangential, it's a good part in the movie where Bruce and Ella come together and are able to be complicit with one another for the rest of the journey.
When we cast this part, I wanted the kite-fliers to be Japanese people because I lived in Japan briefly and I had an affinity for some things that were there. I just thought it would be a neat thing to do.
What inspired you to make this movie?
There were a few different interests. First, sexual assault was something I wanted to tackle. It was an issue that became increasingly important to me. It was one of those things that came out of the periphery. The subject matter kept coming up. Originally, when I was a teenager, I had a friend that told me fairly intimately what had happened to her. And then it just kept coming up for me. I wanted to tackle a first feature and I wanted to make a movie that had a message. It seemed like that was the thing to grasp on.
I'm also a heavy backpacker and I wanted to tell a story that took place in the outdoors and involved nature and backpacking. I'd gone to Alaska with my wife and we did a backpacking trip in Denali National Park for eight days. And we went back to the same places as at the movie. And lastly, I wanted to tell a story about a journey; something that changes you.
Would you says Mackenzie's journey is an attempt to get victims of sexual abuse to talk about it?
I think so. The silence of the movie reflects the silence of the subject matter and the silence of the character, which is a key to why it's an issue. If people speak out sooner and find trustworthy people to help their cause then the issue will become much easier to handle.
I noticed the most silence along the trail itself. Were those scenes improvised or part of the script?
That's very much in the script. I wanted to make a quiet film that reflects a tone that I feel is missing in the movies for the most part. I think that you can actually find great suspense in silence and in the moments when something is not happening. Maybe you can just go a little longer, wait just a couple more seconds and you might actually find that it's something more rich and more powerful than if you just keep moving along. So, yeah. Very intentional.
The camera work often suggested a connection between Mackenzie's eyesight and the nature around her. Would you say there's a connection between loss and the wilderness?
For me, it's a direct connection. It's extremely powerful when you take yourself away from society and the norms and mores of what's around you but then replace that with this incredible, powerful scenery that I think speaks to you as a person… as a human. Maybe it simplifies life in a way.
Were there any difficult shoot dates because of weather in Alaska?
I have to say we got very lucky. People say it's so difficult shooting in Alaska. Compared to New York City, it's actually a pretty good shooting location. We were there in summer, in August [2012]. I think it was a good time to be there. It was actually quite warm. And we were in T-shirts some of the days. It rained when we wanted it to rain. And the people of Alaska are so friendly and the locations and location owners are so approachable. It's hard to find a location not worthy of the camera. The crew had a blast. They wanted to go on this adventure. They wanted to see Alaska. So, they had a lot of fun.
How long were you in Alaska for? What were the shoot dates?
I was there for three months. A lot of the crew was there for two months. We shot for five weeks. There were 31 shooting days. We covered 3,000 miles of terrain. Some of that being water. So, we were always on the move. The first six shooting days were in Anchorage and we went on a huge caravan of truck and cars. Got on the boat. Went down to Juneau. Basically took the exact journey that Kenzie takes in the movie.
Ella and Bruce carried the movie wonderfully. Was Ella who you originally envisioned to play the lead?
Bruce came on late in the project, probably a few weeks before we shot. He was definitely one of my top choices. Ella came on early. I did a casting call and had a casting director. We looked all over, but we weren't finding anyone. I went home and turned on the TV and saw Never Let Me Go. Ella is in that film. I saw her for all of five minutes and thought, that's her. Coincidentally, I'd just met with her agent at UTA, so I offered her the part. She's British. She lives in London now. I went to London and met with her. I kind of knew it. I had this feeling that this was her. She was on for almost a year-and-a-half before we shot the movie.
You mentioned you'd been to the park before. Was Kenzie's journey the same as yours? Was it something you already knew how to follow?
In the movies you're always faking things a little bit. Basically, when I went for the first time my wife and I got on the bus that takes you deep into the park. It's about 90 miles into the centre of the park. We got off at a place called the Toklat River where there's this huge running river. I think it's at mile 45. And then we hiked into nowhere. There's no trails, you just go with a compass, and we said when we went back to make the movie we went back to that exact same place. So, yeah. We filmed in a lot of the same exact locations that my wife and I went to. We couldn't go quite as deep because we're filming on a daily basis off of our vehicles and so forth.
Who funded Wildlike?
It's an independent film so it was privately financed. A combination of some family money and everybody I knew was basically an investor in the film. There's no professional film money in it. It's all private investors or people that knew me; people who believed in it and believed. It was the script being in Alaska and the subject matter [that] sold the story to the financiers.
Do you have any projects coming up?
I'm writing number two. I've got something. It's sort of exciting. It's a thriller. I'm not gonna reveal it till the time is right. I actually do producing work. I have a partner, Tom Heller. We have a company. We do development and funding. We have a couple projects we're working on as well.