The author of bestselling novel The Lemon Grove turns her hand to filmmaking with The Violators, about two girls growing up in dysfunctional families in the urban wastelands on the outskirts of Cheshire.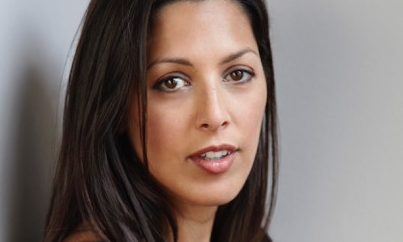 The film has its world premiere last week in Edinburgh where it competes for the Michael Powell Award and will also play in the Forum of Independents competition at Karlovy Vary.
Had you always thought about moving into film?
Before I was a published writer I was always out with my camera. The college where I studied photography was right in the heart of the city's red light district. I was snapping hookers and their johns long before I started writing Brass. At university I did my final year dissertation on queer pornography and the female gaze. In the same year, Baise Moi came out. I applied to study film and gender at Birkbeck College under Laura Mulvey, but by then I had written my first novel and found a literary agent.
How did the story for The Violators come to you? Is this an idea you had been mulling over for a while?
The themes of transgressive sex, female desire and inter-generational relationships are recurring leitmotifs in my novels. In the case of The Violators, I wanted to say something about the deeply nuanced and morally ambiguous relationship between a teenage girl and her groomer.
Why did want to write it as a screenplay rather than as a novel?
The Violators was born out of its landscape. I always – and only ever – conceived it as a film. The rusting cranes, the dirge of seagulls, the scuffed baby pink of Shelly's nails – this is a lonely but hugely cinematic world I'm depicting.
Was the leap to directing a big step for you or did it feel natural? Are there similarities between directing and writing fiction?
It was a natural progression. As a novelist, you are already directing your characters; you are spatially organising them within a scene, you are controlling their actions and emotions. Some of my favourite directors – Lukas Moodysson, for one – started out as writers. I guess the biggest difference between film and the novel is that as a novelist you have complete control over the execution of your vision. Even as the director you have to fight for that degree of creative control in film.
Was it important to you to tell a story set outside London? Do you have a connection to this area around Cheshire?
In my head, I had already set the story in the post-industrialised wasteland of Birkenhead. When people hear 'Cheshire' they immediately think money, but the area upriver from Runcorn – Barton, Partington – is a real forsaken hinterland. The Violators is set in a housing estate near the Ship Canal. I shot the entire film within a seven-mile radius of Birkenhead docks, so that the landscape would have a truth to it.
How did you come to cast Lauren McQueen and Brogan Ellis as your leads?
I saw Lauren when she was 15 on an episode of Little Crackers. I waited till she was 16 before we approached her and gave her the script to read. She had little experience in acting - which was a major advantage to me. We did an informal casting at her local drama group. I was blown away by how naturalistic her performance was. She brought a certain integrity and vulnerability to Shelly's character that I hadn't anticipated, so I re-wrote some of her scenes with these qualities in mind. And I met Brogan at a play! As soon as I saw her I thought – Rachel. Sometimes you just know, straight away. Once I had my leads, I cast everyone else around them.
Any plans for turning The Lemon Grove into a film?
The Lemon Grove will more than likely be my third film. I think my sensibility is quite European, so the dream is for Marion Cotillard to play Jen!
What's next for you in film?
I'm very excited about my next film, Boy, which is about a mother and father's relationship with the Syrian refugee who murdered their son.