Screen discusses the genre's origins, growth and prospects with the local scene's key players.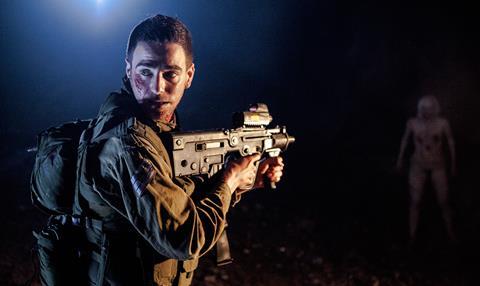 Five years ago, the Israeli horror genre didn't exist.
Since the release of Aharon Keshales and Navot Papushado's Rabies in 2010 and their follow-up Big Bad Wolves in 2013, as well as Eitan Gafny's Cannon Fodder in the same year, all of which toured festivals around the world, murmurs have begun to circulate about a new player in the genre market.
"We are now in the middle of a revolution," Doron Paz.
This year at the Jerusalem Film Festival the genre may have announced itself as a contender on the world stage after a work-in-progress screening of Israeli apocalyptic horror JeruZalem, from fraternal directing duo Yoav and Doron Paz.
The film is set to receive its official premiere in Montreal at Fantasia today (July 22).
Director Keshales recalls the beginnings of the genre. "Up until we came along, people had said you couldn't do a horror film in Israel," he says. "Nobody was ever going to make them because of money and also, because of the political situation, nobody in Israel wanted to see bloodshed on the screen."
"The birth was kind of difficult but now we're on the verge of a movement," says Gafny, who presented his second horror feature Children Of The Fall as a work-in-progress at this year's Pitch Point event, in a bid to secure funding to complete the film ahead of a release next year.
When Gafny's debut film Cannon Fodder emerged alongside Big Bad Wolves in 2013, the pair were sometimes shown at festivals in tandem; for the first time, the existence of Israeli horror was acknowledged. "People were saying there's a new movement now in Israel," he says. "At FrightFest in London, they called it 'Hebrew horror'."
Gafny believes the release of those two films was the moment when the genre began to be taken seriously. "As we say in Israel, 'We bring receipts,'" he smiles. "We now have proof around the world that Israeli horror works and people want to see these films."
"Genre films did not exist in Israel five years ago," observes Israeli film critic Yair Raveh, a leading voice in genre films in Israel. "Rabies was the breakthrough in 2010. That's when the genre was born."
JeruZalem, with its technical prowess and impressive production values, looks set to raise the bar once again in terms of the perception of Israeli genre films overseas. "We are now in the middle of a revolution," claims Doron Paz.
"It's not just a phase, it keeps getting bigger and bigger." Aharon Keshales.
One of the debates raging among Israeli genre film-makers is whether or not to shoot their films in the English language. While Keshales' Rabies and Big Bad Wolves were both largely in Hebrew, JeruZalem's main characters (played by an Israeli cast) are Americans arriving in Israel on holiday and events unfold, for the most part, in English; the film screened with Hebrew subtitles at Jerusalem Film Festival.
Gafny's first feature Cannon Fodder was also in the Hebrew language, though it featured one character who spoke entirely in English, which the director cites as his deliberate attempt to give the film a broader appeal to international audiences and assist international sales.
But should film-makers potentially compromise the Israeli identity of their films to cater to international sales and distribution companies and maximise their potential to be seen globally? The Paz brothers believe shooting their film in English will give JeruZalem - sold by Epic Pictures - a much wider international reach.
"You have to remember that Israel is not like a lot of countries," says Gafny, who has shot most of Children Of The Fall in English. "When we see movies in the cinema it's never dubbed, it's always in English with subtitles. We can relate to writing and speaking in English because we all do it and Hebrew is kind of a difficult language. If you shoot a film in Spanish, there's no problem showing it in a lot of countries around the world because they know the language."
Keshales disagrees. "I think every movie in Israel should be in the spoken language of the country," he asserts. "I see Korean cinema and it doesn't try to copycat American horror, it does its own stuff, in Korean, and everybody likes it for being so different."
"Everybody can make a slasher film," he adds. "If I had made Rabies in English, it is like Scream or A Nightmare On Elm Street; we've seen those movies. But if you hear it in another language, it gives it another spice, you get something different and unique."
Raveh believes that shooting in Hebrew could ultimately bring considerable financial advantage. "I understand it, [being in English] sells easier. But then you have to compete with films that are way more expensive than your film, you have to fight them on equal terms," he says. "If you promote the Israeli factor, that you are smaller in scale and from a country that doesn't really have a horror cinema, then there's a novelty. When you see horror films from Israel, you want to see Israel in them."
The releases of JeruZalem and Children Of The Fall will prove interesting indicators of how prepared international audiences are to embrace Israeli genre films that unfold primarily in English, and how favourably they will compare with international genre competitors. Their success or failure could influence future productions.
Cultural censorship
While Israeli horror films have already shown their potential for international financial success and recognition - Big Bad Wolves won best film at Fantasia in 2013 - questions remain around their ability to perform domestically, particularly at the box office.
"The people in the film funds are aware there is a cultural shift within the film-making community." Yair Raveh.
"It's something that's known," says Raveh about the lack of local success for Israeli genre films. "Rabies and Big Bad Wolves made their money back in Israel but they were not huge. Their real success came from distributing all over the world." Raveh speculates that an audience for horror films in Israel could exist, but they aren't being catered for by distributors.
"The distributors here are the same since the 1970s," he notes. "They're very adult and I think they object to horror on a personal level. They see it as too violent, not moral enough. You could call it cultural censorship. It's not state censorship. The distributors prefer to invest money in films they feel more comfortable with." But while Israel's distribution landscape hasn't altered much in recent decades, the film-makers themselves are beginning to instigate change.
Traditionally, international horror films weren't distributed in Israeli cinemas, meaning that young Israeli film-makers were rarely exposed to the genre. This began to change in the 1990s with the home-entertainment boom. "From the 1990s, film-makers began to grow up not on movie houses but on video stores," says Raveh. "They could see all the films that local distributors did not show the general public."
"There are no new distributors but there are new film-makers," he continues. "The people in the film funds are aware there is a cultural shift within the film-making community." For the Paz brothers, the lack of film-fund support meant putting their own money into JeruZalem, which started as a completely independent production, before they managed to secure US backing.
"Our wives wanted to kill us!" Yoav Paz recalls. "We didn¹t get the film funds because they don't know how to take genre films here yet. If you have a drama about soldiers, Palestinians, the Holocaust, then it's easier." The consensus among Israeli film-makers is that things may be about to change. "We are halfway towards real acceptance," say Doron Paz.
When JeruZalem entered the post-production stage, the Jerusalem Film & Television Fund stepped up with some money.
Keshales believes that receiving funds from Israeli sources is entirely dependent on film-makers proving their ability to create good genre films, and for the horror genre to prove it can make money. He forecasts that JeruZalem could be a key moment. "If the Paz brothers have even a modest success with JeruZalem, it will be easier for everyone further along the line," he says.
Gafny also believes change is imminent. "The funds don't really have a choice any more," he argues. "It's not just a phase, it keeps getting bigger and bigger. People love genre films and there are a lot of people in Israel who want to make genre films. And why the hell not?"