Karlovy Vary (June 28-July 6) celebrates its 48th edition by welcoming veterans as well as newcomers to its diverse programme of 425 screenings. Andreas Wiseman talks to the organisers.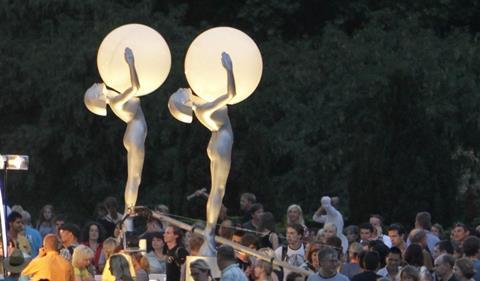 With something old and something new, the 48th Karlovy Vary International Film Festival (June 28-July 6), based in the Czech spa town, has something for everyone, explains artistic director Karel Och: "This is a year of diversity and returns. Six of the 14 directors in main competition are returning to the main competition with films that will surprise and challenge the audience."
Och, a long-time programmer at the festival who was appointed artistic director in 2010, adds: "Very different genres and styles are represented in the main competition, from a psychological drama to a stylised period-biopic, a psychedelic trip set in the 17th century and a political satire."
Among the line-up are new films from previous Crystal Globe winners Yossi Madmoni and duo Krzysztof Krauze and Joanna Kos-Krauze, as well as new projects from Iceland's Marteinn Thorsson, Spain's Xavier Bermudez, France's Philippe Godeau and the US's Lance Edmands.
The festival also achieved a significant coup in securing the first screening of Ben Wheatley's hotly anticipated A Field In England. Och describes the film's competition berth as "a dream come true".
This year's event will host around 425 screenings in total and an anticipated 12,000 accredited visitors, at least 800 of them from the industry.
Guests will include Michel Gondry, whose Mood Indigo will open the festival; Oliver Stone, who will receive the festival's Crystal Globe for outstanding artistic contribution to world cinema; Jerry Schatzberg, the subject of a festival retrospective; and the Borderline Films delegation including Antonio Campos, Sean Durkin and Josh Mond [click here for Borderline feature].
Director and screenwriter Agnieszka Holland is president of the festival grand jury.
While the international element of the festival booms, there is only one Czech entry in this year's main competition.
"It is no secret that Czech cinema lacks continuity," explains Och about the decision. "Every few years there is a talented film-maker who presents an exciting debut, and every now and then we do not have a Czech film in the competition. But in the past we have not wanted to present a mediocre title just for the sake of satisfying the patriots.
"There are only a couple of new features getting their world premieres in the competition this year and among Czech potentials we went for Jan Hrebejk's Honeymoon, which we consider a very strong contender with potential to appeal to foreign industry representatives as much as to the local audience."
Some 12 films will compete in the East of the West competition, including seven world premieres. Och adds: "We are also introducing a new programme called Imagina, which features films with an unconventional approach to narrative and style."
The festival is looking to build on its growing industry programme - 55 features applied to take part in the event's lauded works-in-progress section, which last year introduced a $7,500 (€10,000) prize to the winner. Among this year's 18 successful projects are new films from directors Levan Koguashvili and Stephan Komandarev.
The section has an excellent track record as a festival springboard with films from last year including A Fold In My Blanket, Mother, I Love You and The Eternal Return Of Antonis P, which all went on to play at the Berlinale, as well as My Dog Killer, which played at Rotterdam and A Month In Thailand, which screened in Venice.
"Last year we introduced a few new industry initiatives that we would like to extend," says Andrea Szczukova, head of Karlovy Vary's industry office.
"We are inviting more Central and Eastern Europe producers to the festival to network and have meetings with international industry."
There will be a workshop on the sustainability of European film distribution, and a panel about co-productions between film and TV producers.
The festival will also renew successful industry strand Pitch & Feedback, which introduces Czech and Slovak producers looking for international co-producers, and for the third year unveil the 10 films competing for the European Parliament LUX Prize.
And of course, for those in need of some downtime, or a salubrious script-reading session, there are always the famous spas.